Red Mist[1] Squidward is a minor character in SpongeBob SquarePants. He is an alternate-universe version of Squidward Tentacles who lives behind one of the many mysterious doors in RandomLand. He appears in the uncut version of the episode "SpongeBob in RandomLand."
Development
Red Mist Squidward is a reference to a popular online creepypasta based on SpongeBob, titled "Red Mist."[2] The story was made in 2010 and was accompanied by an edited image of Squidward with red, misty eyes. Red Mist Squidward was drawn into the storyboard by Adam Paloian, who originally wanted the face to get closer and closer until Squidward slams the door shut.[3] Vincent Waller said that the show's crew wanted to make a "reference to truly silly 'trying to be dark' fan fiction."[2]
Ego Plum, a composer who joined the SpongeBob crew in 2019, created an original music track for Red Mist Squidward's appearance. It is titled "Red Mist Cue," in a direct reference to the 2010 story.[1] The original track is 15 seconds long, but only about four seconds can be heard clearly in the finished episode.
Waller clarified that the plot of the original "Red Mist" story is not canonical to Red Mist Squidward as a character in the official series. In a response to a question about the story being canon, he said: "No not all. But we can certainly make fun of it in all of its mythic stupidity."[4] He later said, "No, other than us poking fun, at that ridiculous fan fiction is FAR from canon."[5]
In the UK, future United States airings (starting in November 2019), and international digital versions of "SpongeBob in RandomLand," the scene featuring Red Mist Squidward was censored due to a Standards and Practices issue, with the clip being replaced with a short animation of Baby Squidward.[6][7] However, the original version of the scene remains on the Nick app version of the episode and, as of December 2019, Canadian airings on YTV.[8]
In response to the censorship, Paloian stated, "It's actually kind of fun that it got censored."[9]
Description
He is a "scary" version of Squidward. His head is the only part of him that is shown. He is a turquoise octopus with the same head shape as Squidward. Unlike Squidward, his eyes are bulging and circular. He has black pupils and scarlet-red irises, unlike Squidward's rectangular maroon-red pupils. Red Mist Squidward's defining trait is that he has bleeding black mascara around his eyes.
Role in episode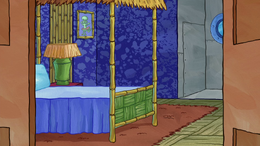 Red Mist Squidward lives in RandomLand in an empty bedroom identical to Squidward's room.
When SpongeBob and Squidward go to RandomLand, they find a wall of doors. Squidward tries opening them and finds strange, warped versions of himself and SpongeBob. In one of the doors, Squidward finds what looks to be his bedroom, before it is quickly replaced by a background of TV static. Red Mist Squidward then appears in front of it, staring menacingly. Squidward quickly closes the door, terrified.
Trivia
His jumpscare in the deleted scene became a popular meme with a bold text saying "Don't ask who Joe is."
Kaz, the writer of the episode, acknowledged the popularity of Red Mist Squidward and noticed an article from The AV Club about the scene featuring him.[10]
In "A Place for Pets", Squidward faces the camera with two red soda cups stuck in his eye sockets. Many viewers consider this a reference to Red Mist Squidward.
Gallery
References