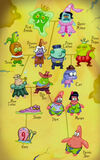 Prince Callous was the great-granduncle of Patrick Star, Gary the Snail, and Sam Star.
Description
He seems to be some kind of dolphin. He is light turquoise. His scleras were dark green with black pupils. He wore a light blue shirt, white belt, gold belt buckle, dark blue pants, and a round, blue hat.
Biography
He was one of two children, and the only son, of King Amoeba and Queen Mildew. When he was an adult, he and Prince Dingus had a son, Carl.
History
He appears in "Rule of Dumb" on the family tree.
Family
Gallery