Patrick Stars & Stripes Weekend was an event that started on July 3, 2021 at 7:00 AM and concluded on July 5, 2021 at 9:00 PM. This event served as an early promotion of The Patrick Star Show, as well as the celebration of Independence Day, showcasing the proclaimed best of Patrick Star's episodes.
Schedule (July 3)[1][2]
Schedule (July 4)[3][4]
Schedule (July 5)[5]
Trivia
General
This is the second Patrick related marathon, the first being Best Patrick Episodes.
Despite the event's theme, "Artist Unknown," "Goo Goo Gas," "Le Big Switch," "A Day Without Tears," "Summer Job," "Dear Vikings," "Ditchin'," "Goons on the Moon," "Hello Bikini Bottom!," "Help Wanted," "Reef Blower," "Squeaky Boots," "Restraining SpongeBob," "Fiasco!," "The Krabby Patty That Ate Bikini Bottom," "Bubble Buddy Returns," "Walking Small," "Ugh," "Band Geeks," "Sponge-Cano!," "The Curse of the Hex," Prehibernation Week," "SpongeBob You're Fired," "The Bad Guy Club for Villains," "Out of the Picture" and "Feral Friends" are episodes where Patrick either doesn't have the main focus or doesn't appear at all.
All the TV movies were broadcast during the event. However, the second movie was the only theatrical film to be broadcast.
Similar to the 2021 Every SpongeBob Ever event, the subtitle "PATRICK STARS & STRIPES WEEKEND" appeared on top of the summer Nickelodeon logo, along with an animated stock art of Patrick Star during the first and last minute of all segments. In addition, during the second segment, "NEW SERIES / THE PATRICK STAR SHOW / FRIDAY NIGHT" also appeared on the lower left corner.
During the event, it was extended for 1 more day, as it was intended to last from July 3 to July 4.
Errors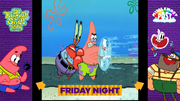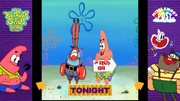 During the weekend broadcast of a few episodes, Nickelodeon used the letterboxed ad to promote The Patrick Star Show and Middlemost Post. While the advertisement correctly promoted new episodes to be broadcast on "Friday night," it was erroneously switched to "tonight" seconds later. The only new episodes broadcast were Danger Force and Tyler Perry's Young Dylan on Saturday night, and a movie was broadcast on Sunday night.[6]
Gallery
Video
References