Who is Patchy the Pirate?
Play Sound
"

Oh! Hi. I'm Patchy the Pirate, president of the SpongeBob SquarePants fan club!

"
 
Character
Patchy the Pirate is the live-action host of SpongeBob SquarePants. He presents many special episodes and Nickelodeon commercials from his small home in North Hollywood, Los Angeles, California. His co-host is his sarcastic pet parrot Potty, who tends to start arguments and cause trouble. Patchy is portrayed by SpongeBob's voice actor, Tom Kenny, and first appears in the episode "Christmas Who?"
Patchy is the self-appointed president of the fictional SpongeBob SquarePants fan club, which he founded himself. His house is filled with SpongeBob-themed items such as plush toys, collectibles, bedspreads, and pillows. Patchy's other belongings are all pirate-themed, like a wooden boat on wheels that he uses instead of a car.
Not counting the main cast, Patchy is one of the show's most prominent figures. He has had the most screen time, individual lines, and major roles out of any supporting character. Nickelodeon's character guide bills him at the top of the supporting cast, and Tom Kenny has repeatedly named Patchy as his favorite secondary character.
Description
Patchy is an intentionally stereotypical pirate character. He has a black eye patch and hook, which he frequently switches between eyes and hands, respectively. Patchy has a black beard and wears many pirate accessories, like a hat with a skull-crossbones symbol on it and a purple pirate jacket. One of his teeth is usually blacked out to look like he is missing one. In "The Sponge Who Could Fly," it is inferred that he must remove his hook and peg leg in order to take a shower. Patchy even has a spare foot, for when he goes outside.
Despite being live-action, Patchy behaves like a cartoon character. He is able to recover from virtually any injury, such as being shot out of cannon and being bit by a dinosaur. When his head is blown off in an explosion in "Party Pooper Pants," he is still completely alive and just puts his head on a barrel to move around.
According to Tom Kenny, Patchy is more like a "suburban guy" than a pirate, and "the only thing that makes him a pirate is that he says he's one and dresses like one."[2]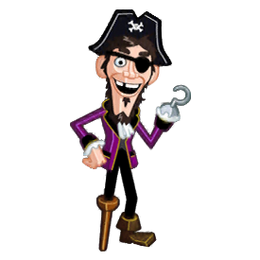 Patchy has also appeared in animation, with two different designs. His first animated design is used in "It's a SpongeBob Christmas!" and the SpongeBob Moves In! game. He resembles his live-action counterpart, but with a bigger head, a slimmer jacket, and a goatee in addition to his beard. His eyepatch and hook stay on the same side and do not switch. His second animated design is used in "SpongeBob's Road to Christmas." He has darker pink skin, a longer nose, and slimmer features overall.
Creation and development
Patchy was added to the show in season 2 as a way to make more content for double-length episodes. In the first season, there were no extended episodes. When Nickelodeon ordered a Christmas special in season two, Stephen Hillenburg and the show's crew thought about how to achieve a 22-minute running time. Hillenburg thought that a live-action host would be a good idea; he wanted Tom Kenny to play Patchy, so that the main character of both segments would be played by the same person.[3]
Patchy was made as an homage to the hosts of children's shows on local-access television channels.[4] Because locally produced shows are known for low-production values, a variety of in-jokes were created with Patchy to evoke a low-budget look: Patchy's patch switching eyes, his hook changing hands, and his lip-syncing being poor.[5]
When the crew had to decide on Patchy's house and hometown, they tried to think of a place where it "looked like a pirate would never live."[6] They chose a stock photo of a quaint, single-story home in Encino, feeling that it would create a funny contrast from the viewers' expectations of a pirate's home.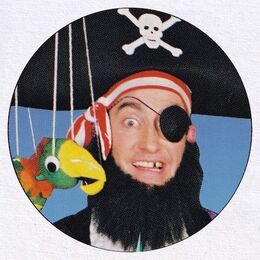 Patchy's original design included a peg leg. To create the illusion of only having half a leg, Tom Kenny wore baggy pants and bent his knee to wear the peg leg. It became too difficult for him to walk in the peg leg after a while, so Patchy started wearing two boots all the time. Patchy's hook was originally made out of cardboard spray-painted silver. When it got wet during the production of "Feral Friends," a new hook had to be made.[7]
Patchy was very popular with younger viewers of the show, so he became a mainstay of Nickelodeon's commercials and continuity in the early and mid-2000s. In the 2010s, an executive for Nickelodeon expressed that the intentionally low-budget feel of Patchy's segments made SpongeBob as a whole look too cheap. As a result, Patchy's 2011 segments for Legends of Bikini Bottom were given higher production values than ever before. Patchy hosted from an actual pirate ship with a lot of new special effects.
The Legends promotions did well in the ratings, and eventually, the unnamed executive was either fired or replaced.[8] As a result, Patchy continued to appear in more events with his usual campy style, such as the I ♥ SpongeBob week. According to showrunner Vincent Waller, the crew tries to include Patchy at least once a season and are "always looking for a place for Patchy and Potty to make an appearance."[9][10]
History
He co-hosts specials with his pet parrot, Potty, a string puppet whose strings are clearly shown. Potty is known for being poorly controlled by the puppeteer. They tend to not get along, such as in "Ugh," where they fight over whether prehistory or the future is better. His next door neighbor, an elderly woman named Mrs. Johnson, has been known to help him out and is shown to be a motherly figure to him and Potty. Patchy says he became president of the SpongeBob fan club by electing himself and accepting graciously.
The live-action segments featuring Patchy and Potty typically appear at the beginning and end of the show, as well as immediately before or after commercial breaks. A logo sequence featuring Patchy appears at the start of several episodes of seasons 4 and 5, identifying the episode as "a SpongeBob SquarePants special." Often, Patchy's segments will reflect the theme of SpongeBob's story; in "Ugh," Patchy attempts to host the show in a prehistoric setting but is invaded by Potty's futuristic technology, and in "Friend or Foe," Patchy and Potty work in a fast-food restaurant where they end up becoming enemies.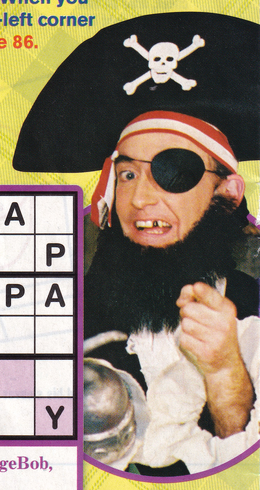 Other times, Patchy does things to seem more natural reflecting the episode. In "Christmas Who?," he gets ready for Christmas. In the first airing of "Shanghaied," he hosts a voting contest in which the viewers get to pick the ending, via the phone or the Internet. After the voting ended, it got changed to "Patchy's Pick," where he announces the episode's name and opens fan mail. In "Truth or Square," he tries to find some celebrities for his "10th Anniversary of SpongeBob" special, an event that was happening at the time.
Apart from special episodes themselves, Patchy has appeared in an extremely wide variety of Nickelodeon special events. He was a regular cast member on Nickelodeon's show U-Pick Live, where he would often help the hosts Brent and Candace introduce episodes of Nicktoons. Leading up to the premiere of "Have You Seen This Snail?," Patchy and Tony Hawk looked for Gary by following a slime trail. Patchy ended up on Friday Night Slimetime, while Tony ended up in Times Square.
For the 2004 Kids' Choice Awards, Patchy appeared in a variety of promotional bumpers. During the lead-up, he chatted with the U-Pick hosts and sang his own version of an Avril Lavigne song. Patchy then called SpongeBob over the phone, to let him know that he won the award for Favorite Cartoon.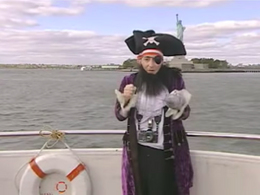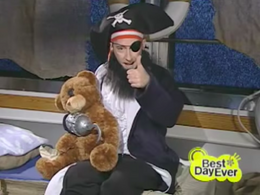 Patchy hosted the Best Day Ever marathon on a boat in New York City harbor. In his opinion, Chicago is the best city ever. While hosting the marathon, he played chess with his teddy bear and lost, read magazines (including one about Jessica Alba), and wrote in his diary with a seahorse pen. He also revealed that he had a terrible childhood fear of seahorses, and was thereby frightened by his pen. He also drank hot cocoa and ate cookies. He fell asleep at midnight, and missed episode #85, "Shell of a Man."
He was still asleep after this episode, with his hook in his mouth. In the middle of the night, Patchy woke up to announce #61, "Suds," and came up with the excuse that he was "resting his eyes." However, he was mumbling and stumbling over his words in the process as a sign that he was half-asleep, accidentally skipping numbers 62-73. After that, he went back to sleep and did not fully wake up until after #43, "Nature Pants," when his alarm clock rang at 8 a.m. He had Pirate Flakes cereal and orange juice for breakfast. He also got a back massage and told the viewers about the Empire State Building.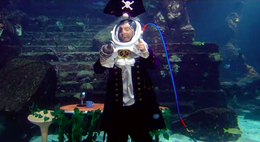 Patchy hosted the Z to A countdown from the Bahamas starting at 9:00a.m. on November 12, 2007. It was revealed that he cannot swim, but he still went through with an underwater talk show to present "Atlantis SquarePantis." He put on a glass diving helmet and jumped into a giant aquarium fish tank with Devon Werkheiser. He stayed underwater for the remainder of the event, and even Potty came down in a scuba mask to co-host. In The Ultimate SpongeBob SpongeBash, Patchy was the DJ at a party.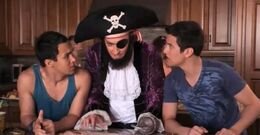 Patchy is notable for being the only SpongeBob character ever to cross over into another scripted Nickelodeon show. He appeared in the Big Time Rush special, "Big Time Beach Party," searching for his family's lost treasure. Carlos and Logan, two members of Big Time Rush, join his treasure hunt. They find out that it is buried under the beach house of Griffin, the evil owner of Big Time Rush's record label. When they manage to dig it up, Griffin shows up and collects the treasure as compensation for the damages they caused in their search. In a behind-the-scenes promo for the special, it was revealed that Patchy is a big fan of Big Time Rush's music.
One of Patchy's biggest adventures occurred in January 2011 during the Legends of Bikini Bottom miniseries. At night, he and Potty boarded an old pirate ship that housed an ancient book of underwater legends. Patchy read each legend to Potty as a bedtime story. Although these segments only appeared in the original airings of the episodes, Patchy's book still appears at the beginning of each episode in the miniseries.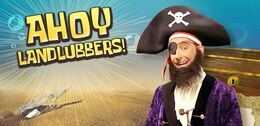 Also in 2011, Nickelodeon's website Nick.com launched a feature called "Patchy's Dispatchy." It involved Patchy giving fans decodable poems that tied into upcoming episodes. To promote the premiere of "Frozen Face-Off" on July 15, Nick.com featured snow-themed poems from Patchy that gave clues about the abominable snow mollusk. They were advertised in on-air commercials, and viewers could visit Nick.com to guess what Patchy's clues meant. If they guessed correctly, they unlocked virtual items for their Nick.com club accounts.
"It's a SpongeBob Christmas!" features Patchy and Potty in their usual host roles, but this time, they are fully animated in stop-motion. In the episode, Patchy steals a mail truck to drive to the North Pole and make sure that Santa Claus grants his Christmas wish: to meet SpongeBob. When the truck hits a literal fork in the road, Patchy has to stop and make a campfire. Out of a sense of hunger, Patchy hallucinates and imagines Potty as a platter of buffalo wings. Patchy nearly eats Potty, only to snap out of it. Potty also hallucinates and imagines Patchy's head as a suet cake topped with birdseed and pecks on him.
For the second stop-motion special, "The Legend of Boo-Kini Bottom," a new wraparound starring Patchy was storyboarded and scripted.[11] However, the episode filled itself out with so much material that various segments had to be trimmed and cut. Patchy's wraparound was removed from the final episode.[12]
In 2018, Patchy joined the I ♥ SpongeBob week celebration. He talked about his favorite things regarding SpongeBob. He also talked about Mr. Krabs and the Krabby Patty secret formula. Patchy complimented Mr. Krabs, saying that he is tight with a dollar but knows how to run a good restaurant. Patchy then revealed that he has considered helping Plankton and Karen steal the secret formula. He later joined a bunch of other Nickelodeon stars to imitate SpongeBob's "Imagination!" line and sing a rendition of the show's theme song. When Patchy said "Imagination," he started using SpongeBob's voice, then backtracked and used his normal voice. Afterwards, he laughed and winked.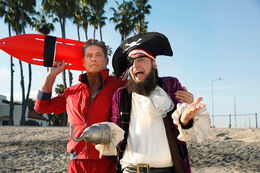 During "SpongeBob's Big Birthday Blowout," he goes out to deliver his idol's present and goes through a series of events, while ironically missing SpongeBob. At the end, he is able to give the present, which is his head in a box. Patchy finally meets SpongeBob in person and wishes him a happy birthday, to SpongeBob's gratitude. After he states he is unsure of what to do now, SpongeBob suggests singing the birthday song and this inspires Patchy along with SpongeBob's friends to perform.
Patchy appears in 2-D animated form for the season 13 episode "SpongeBob's Road to Christmas," disguised as Santa Claus in the Christmas Land Theme Park.
Trivia
The writing staff of SpongeBob has discussed making an episode that solely focuses on Patchy, rather than including a mix of live-action and animation.[13]

The closest they got to that was "Patchy's Playlist," which actually got a production number, just like a regular episode.

Whenever Patchy's left hand is seen up close, a wedding ring can be seen. This is because Tom Kenny is married to Jill Talley, the voice of Karen.
Patchy and Potty are the only major live-action characters in the series.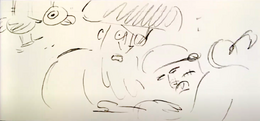 In the animatic version of The SpongeBob SquarePants Movie that's included on the special features of the DVD release, Patchy and Potty's string puppet were meant to appear. In the final film, Potty was replaced by a real-life parrot and Patchy was replaced by a different pirate captain who, unlike Patchy, does not wear a hook on his hand.[14]

According to Vincent Waller, the Patchy and Potty replacements in theatrical movies were "because the movie folks don't really understand [Patchy and Potty's] appeal. Intentionally low production values scare them."[15]

"Friend or Foe" reveals that Patchy had his beard as a kid.
In "Atlantis SquarePantis," it is revealed that Patchy does not like mayonnaise.
In "Truth or Square," Patchy doesn't have a peg leg and actually has two legs. After a few appearances of Patchy, the cast realized how hard using the peg-leg was for Tom Kenny and just let him walk on two legs.
As shown in an issue of Nickelodeon Magazine, Patchy owns a lot of SpongeBob comic books, which are obviously spoofs on actual comics.
According to an issue of Nickelodeon Magazine, Patchy admires pirates like Captain Jack Sparrow, Captain Hook, and more.
Patchy once got to the dumpster of Krusty Krab, as the words "Patchy was here" can be seen on it in "Sailor Mouth."
When the gorilla is throwing food at him in "Friend or Foe," Patchy can be heard saying "I have a tomato allergy."
Patchy has a hook hand very much like Captain Hook from the Disney film, Peter Pan.
In the current aired version of "Shanghaied," Patchy's lips sometimes don't match with what he is saying. This is because, in the current rerun version of the episode, some scenes are edited down and dubbed over, due to the originally aired version being a contest where people were able to select one of the three alternate endings 'live' by calling an on-screen number, which is no longer in service.
He also has a 8-track tape called "Frampton Comes Alive." It breaks during a traffic jam when he tries to put on some music. Later, it gets fixed until it breaks once again.
In the Croatian dub, his name is "Jednooki Pirat," which translates to "One-Eyed Pirate."
It is revealed in "Feral Friends" that Patchy knows the French Narrator.

Coincidentally, both characters are played by Tom Kenny.

In "SpongeBob's Big Birthday Blowout," he finally meets SpongeBob in person and interacts with him, with SpongeBob remembering him in "SpongeBob's Road to Christmas."
References