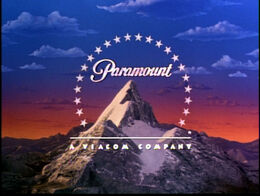 Paramount Pictures is a ViacomCBS American film and television production/distribution company that distributes SpongeBob SquarePants as well as the first movie, the second movie, the third movie, and other Nickelodeon shows and movies.
Located at 5555 Melrose Avenue in Hollywood, founded on May 8, 1912 and currently owned by media conglomerate ViacomCBS, it is America's oldest existing film studio, and the last major film studio still headquartered in the Hollywood district of Los Angeles. Paramount is consistently ranked as one of the largest movie studios.
It was founded by Adolph Zukor, William Wadsworth Hodkinson, and Jesse L. Lasky.
Paramount Pictures is a member of the Motion Picture Association (MPA).
Gallery
Logos
Trivia