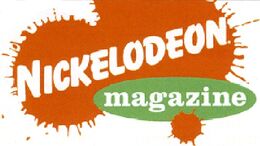 Nickelodeon Magazine was a series of magazines made specifically for Nickelodeon and all its services. It ran from July 1993 until December 2009.
Around the time that SpongeBob SquarePants premiered, the magazine began to regularly feature comics and news about SpongeBob. The November 1999 issue was the first issue to include a SpongeBob comic.
In July 2009, subscribers entered a contest to come up with a new SpongeBob SquarePants character. The winner was named Fredrick, a computer who is Karen's father and made his official debut in the magazine.
On February 5, 2015, Papercutz announced that they had worked a deal with Nickelodeon to revive the magazine. The first issue of the new magazine was released in June 2015. However, only eleven issues of the new Nickelodeon Magazine were published before it was cancelled again the following summer.
Trivia
Although the October 2009 and December 2009/January 2010 issues were released after Nick's 2009 rebrand, they still use the old Nick logo.
In total, there were 159 issues in the original magazine's run.

Out of all 159 issues, SpongeBob was featured on the cover at least 12 times.
Gallery