Nickelodeon Kingdoms is a SpongeBob SquarePants online game.
It was released on Nick.com in 2014.
Story
In this game, the Nicktoon universe is divided into many kingdoms. Each one is based on a different show and each has its own powerful relic. The original four relics are the SpongeBob Kingdom's Spatula of Friendship, the Winx Club Kingdom's Magic Rose of Courage, the TMNT Kingdom's Pizza of Justice, and the Sanjay and Craig Kingdom's Hot Wing of Awesomeness. Ancient legend says that the relics can be combined into one.
Gameplay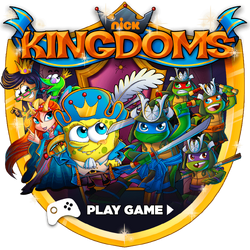 Nickelodeon Kingdoms is a tower defense game. The player must defend their own kingdom (their "home base") before they can attack any other kingdoms. To build up their defense, the player can drag items from the menu to the map. Items include walls and towers. Invaders travel predetermined paths that lead to the kingdom's castle, and the player must stop them from reaching the castle.
The player's end goal is to conquer all of the other kingdoms and bring the relics to the Temple of Tremendous Tendency. There, the player will find out if the legend behind the relics is true.
Walkthrough