If you were looking for the article about the
channel
, then see
Nickelodeon
.
Location
Nickelodeon Animation Studio (formerly Games Animation), is an American animation studio. The studio is owned and operated by television network Nickelodeon. The studio produces many animated series, including SpongeBob SquarePants. Writing, directing, storyboarding, and voice acting duties are handled at the studio, while the animation for SpongeBob is completed by Rough Draft Studios in South Korea.
The studio is featured in many behind-the-scenes bonus features included on the SpongeBob DVDs. It has made occasional appearances in the episodes themselves, usually as part of a brief gag. "Truth or Square" features the studio as a major setting.
On May 8, 2015, it was revealed that the studios were expanding.[1] Nickelodeon bought out a United Rentals lot, tore down their building, and built a new animation building.[2] Construction started in June 2015.[3] The building was finished in 2016.[4]
Role in series
Don the former parking attendant at Nickelodeon Animation Studio is seen standing at the front entrance at the beginning of this episode.[5]
The studio is mention in the prologue of the book.
Crew members like Tom Kenny, Bill Fagerbakke, and many more expand how they did the characters' voices.
Pick Boy is seen running to the studio to meet SpongeBob and invade a recording session.
The studio makes a cameo at the start of the special.
It's seen throughout the special.
"Truth or Square"
Patchy is seen getting dropped off there by his mom in a car. He is later seen using the back door and driving away in his own boat car.
Ernest Borgnine is seen standing at the front entrance as he looks up high in the sky to see a small rocket passing by.
The storyboard artist played by Rodger Bumpass is seen in his office at the studio.
Trivia
"Mooncation" is the only non-special/regular-length episode that the studio appears in.
While the pilot was being made in 1997, the studio's name was still Games Animation. It did not change to Nickelodeon Animation Studio until 1998.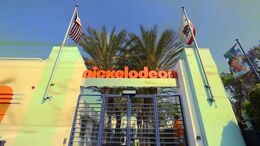 Nickelodeon's logo in the 1990s was used on over a hundred different shapes, and for some of the studio's appearances on SpongeBob, the Nickelodeon logo was in the shape of a cartoon foot. Since the late-2009 logo rebrand, the front entrance of the studio has been updated to use the standard Nickelodeon logo without a shape around it.
The studio's new appearance was finished on January 12, 2017.
References