Video game
Nickelodeon All-Star Brawl is a Nickelodeon fighting game. It is a follow-up to the Nickelodeon Super Brawl series,[5][6] and it is the first-ever console game in the franchise (the earlier titles were either online games or mobile games). It was released on October 5, 2021 digitally and on October 8, 2021 physically for the Nintendo Switch, Xbox One, Xbox Series X and S, Microsoft Windows, PlayStation 4, and PlayStation 5.
Gameplay
Nickelodeon All-Star Brawl is a platform fighter, with players battling on different stages and attempting to knock their opponents outside the boundaries of the arena. Each stage offers a different layout, with some also having additional hazards that can cause damage to the characters. Movement takes place on a two-dimensional plane, with characters able to move around by running, jumping, double-jumping, or performing a mid-air dash in any of eight directions. Characters have three different types of attacks: light attacks, which are weak but quick and can be used to perform combos; strong attacks, which are slower but do more damage and knock opponents back further; and special attacks, the properties of which vary by character. Different attacks can be performed by pushing up or down or running in combination with one of the three attack buttons. Players can also grab and throw opponents or enemy projectiles, even in the air, and guard against attacks without penalty, though they will be pushed back in doing so. Unique to the game is the "strafe" function, where players can hold a button to prevent their character from turning around while moving in different directions; this can be used to continue attacking an opponent while actively retreating from them. As characters take damage, the amount of knockback caused by opponents' attacks will increase, making them easier to knock off the stage.
The game supports local and online multiplayer for up to four players, with the game's online functionality utilizing rollback netcode on supported platforms. The game also features a single-player arcade mode and a "Sports" mode, based on the "Slap Ball" game type from the developer's previous fighting game Slap City. In Sports mode, players must knock a ball into an opponent's goal, with different types of balls having different properties, such as soccer balls being unable to be grabbed. Players are able to unlock images displayed in an in-game gallery, music for the game's sound test, and online profile icons.
Playable characters
At launch, the game featured 20 characters.[7] Additional DLC characters have been revealed since.
Stages
Jellyfish Fields (SpongeBob SquarePants)
The Flying Dutchman's ship (SpongeBob SquarePants)
Glove World (SpongeBob SquarePants)
Western Air Temple (Avatar: The Last Airbender)
Omashu (Avatar: The Last Airbender)
Harmonic Convergence (The Legend of Korra)
The Loud House (The Loud House)
Royal Woods Cemetery (The Loud House)
Rooftop Rumble (Teenage Mutant Ninja Turtles)
Sewer Slam (Teenage Mutant Ninja Turtles)
Technodrome Takedown (Teenage Mutant Ninja Turtles)
Space Madness (The Ren & Stimpy Show)
Powdered Toast Trouble (The Ren & Stimpy Show)
Irken Armada Invasion (Invader Zim)
CatDog's House (CatDog)
Showdown at Teeter Totter Gulch (Rugrats)
Wild Waterfall (The Wild Thornberrys)
Traffic Jam (Hey Arnold!)
Ghost Zone (Danny Phantom)
The Dump (Aaahh!!! Real Monsters)
Sweet Dreams (Garfield)
Slime Time (Double Dare)
Tremorton Joyride (My Life as a Teenage Robot)
TBA (The Adventures of Jimmy Neutron, Boy Genius)
TBA (Rocko's Modern Life)
Items
Anchor
Guidance chip
Lawn Gnome
Tommy's ball
Reptar Toy Car
Log from Blammo
Arnold's boombox
Sooka's boomerang
Suck-O-Matic
Fenton Thermos
Trash can
Voice cast
Unused content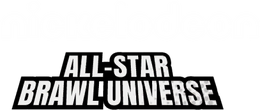 When the game was first released, files for three unused fighters were found. Those fighters are: Garfield (announced as a free DLC on December 7, 2021[8]), Shredder (released as a free DLC on February 3, 2022[9]), and Rocksteady. Two unused levels were also found: Garfield's stage called Sweet Dreams and a stage based on the television game show Double Dare which turned out to be Shredder' stage. Items were also found in the game code at launch before being added in an update. Many announcer calls for unreleased characters also exist.
Reception
Nickelodeon All-Star Brawl was met with high anticipation following its reveal, but upon release, the game has received "mixed or average" reviews on all platforms, according to review aggregator Metacritic.[10][11][12][13] Reviewers praised the gameplay but criticized the game's presentation and lack of content.[14]
Push Square called the game "the best Super Smash Bros. clone we have ever played," but criticized the lack of modes offered and lamented that the lack of voice acting made the game feel "a bit cheap overall."[15] IGN felt that the mechanical differences and good online play made the game a great alternative to similar fighting games like Super Smash Bros. Ultimate, though noted it was far less polished or fully-featured than such other games.[16] Destructoid believed that the game provided a solid framework for a future franchise, and hoped GameMill would invest more time and money into a sequel.[17]
Despite receiving mixed reviews, Nickelodeon All-Star Brawl was nominated for Best Fighting Game at The Game Awards 2021 and Fighting Game of the Year at the 2022 D.I.C.E. Awards,[18] but lost to Guilty Gear Strive for the former.[19]
Walkthrough
Trivia
General
This game's existence was first confirmed by Gamefly.com, with a release date listed for October 5, 2021.
A free DLC update featuring alternate character costumes was announced on November 20, 2021[20][21][22] and was released on December 2, 2021 for the Xbox One, Xbox Series X and Series S, Microsoft Windows, PlayStation 4, and PlayStation 5.[23][24] The free alternate character costumes DLC will be available for the Nintendo Switch sometime later on.[25][26][27]
Garfield was announced to be a playable character in a free DLC on December 7, 2021[28][29] and was released on December 9, 2021 for the Xbox One, Xbox Series X and Series S, Microsoft Windows, PlayStation 4, and PlayStation 5.[30][31] The Garfield character free DLC will be available for the Nintendo Switch sometime later on.[32]
On December 15, 2021, the game's art director Diego Hernandez had announced that official character voice acting, more characters, more stages, and crossplay would be added in a DLC update sometime in 2022.[34][35][36]
On January 27, 2022, it was revealed that a "huge" update was planned for February 3, 2022.[37][38][39] This update added Shredder and a Double Dare stage called "Slime Time" to the game.[40]
On May 6, 2022, it was revealed that another "huge" update was planned for May 13, 2022.[41][42][43] This update added Jenny Wakeman and her stage "Tremorton Joyride" as a paid DLC.[44][45][46][47]
On June 6, 2022, another major free update was released which added voice acting and items to the game.[52][53][54][55][56][57][58]
This is the first SpongeBob/Nickelodeon video game to be released for the PlayStation 5 and Xbox Series X and Series S.
The game was developed by Ludosity, which had experience with working on the platform fighter genre with Slap City.
A developer from Ludosity, sinxtanx, confirmed via the official Ludosity Discord server that the game will support features and techniques popular or highly demanded by fighting game fans (especially fans of Super Smash Bros).
Sports Ball is taken from Ludocity's Slap City.
The game uses the 1987 versions of the Teenage Mutant Ninja Turtles (a series that was not produced by Nickelodeon), rather than the 2012 Nickelodeon designs.
There are currently 3 fighters from SpongeBob SquarePants.
The game was published by GameMill Entertainment, who previously published both Nickelodeon Kart Racers and Nickelodeon Kart Racers 2: Grand Prix in North America.
The game has been featured in a few competitive tournaments such as the Nicktoons Throwdown Invitational hosted by Nickelodeon.[59] And the All-Star Nickvitational hosted by Panda, featuring popular YouTubers and Twitch streamers such as Ludwig, MoistCr1TiKaL, JaidenAnimations, ConnorEatsPants and many more.[60]
Target leaked the box-art for Nickelodeon All-Star Brawl the day it was announced, but was eventually changed to only have its logo. The leaked box-art featured unrevealed fighters such as Aang, Korra, Ren, Stimpy, CatDog, and April.
In the character data for SpongeBob, there is mention in the code of an ability called "yummerSummon" which is a reference to the infamous placeholder character, "Yummer" found in SpongeBob Saves the Day!. There are no associated assets to this code and it was simply put there by one of the developers as a joke.[61][62]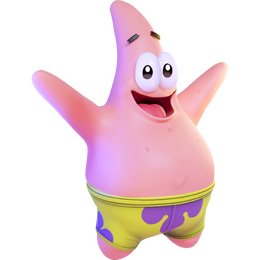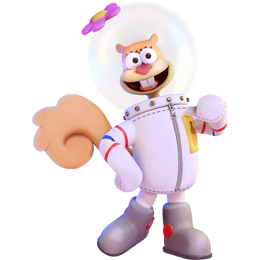 Coincidently, the game was announced on the day of Tom Kenny's birthday, and a day before SpongeBob SquarePants' birthday.
Every fighter has a stage associated with them.

SpongeBob's stage is Jellyfish Fields.
Sandy's stage is Glove World.
Patrick's stage is The Flying Dutchman's ship.

Every fighter has a codename associated with them, possibly to prevent any potential spoilers.

SpongeBob's codename is apple
Patrick's codename is star
Sandy's codename is diver

This is the second time a cartoon channel has been the focus of a Super Smash Bros.' game, with the first instance being Cartoon Network: Punch Time Explosion, which was released on the Nintendo 3DS, Xbox 360, PlayStation 3, and Nintendo Wii in 2011.

Cartoon Network: Punch Time Explosion received mixed reviews, often reasoned because of its flawed roster and not having the amount of care like Super Smash Bros. had.

From what has been revealed, there are 5 fighters from the 1980s, 11 fighters from the 1990s, 6 fighters from the 2000s, and 3 fighters from the 2010s.
This is the first Nickelodeon fighting game on a home console.
The voice actor of Zim from Invader Zim, Richard Horvitz, has confirmed that he did not voice Zim for this game and he is not sure if the game even contains character voice acting.[63][64] Joel Nyström, CEO of developer Ludosity, has since stated that "as we continue to build the Nick All-Star Brawl franchise, we will be reviewing all options, which may include adding character voice acting down the road."[2] Voice acting was eventually added in "Update 06-06-2022."
GameMill Entertainment released a 2nd teaser trailer for Nickelodeon All-Star Brawl on August 23, 2021, announcing 8 more mystery fighters are coming. The video was then made private shortly after.

Two more fighters were revealed at Gamescom 2021 on August 26, 2021.

SpongeBob, Patrick, Sandy, Helga, Leonardo, Michelangelo, Reptar, Lincoln, Zim, GIR, Danny, CatDog, Jenny and Rocko are the only playable characters from Super Brawl Universe to return in this game.
Music from the shows are referenced in the game's sound track.
Cultural references
This game is inspired by Super Smash Bros., a crossover fighter featuring Nintendo characters and other video game characters.

Like Super Smash Bros., Nickelodeon All-Star Brawl takes references from certain episodes of the fighters' shows and make them a part of their movesets.
Episode references
Prototype covers
Videos
External links
References