"Future!"

This video game has not yet been released. The information about this video game may rapidly change as soon as more information becomes available.
Video game
Nickelodeon All-Star Brawl is an upcoming Nickelodeon video game. It will be released in October 2021 for the Nintendo Switch, Xbox One, Xbox Series X and S, Microsoft Windows, PlayStation 4 and PlayStation 5.
Fighters
"At launch, there will be 20 characters, with 2 more following soon after. Additional DLC characters will be revealed after that."[2]
Michelangelo (Teenage Mutant Ninja Turtles)
Leonardo (Teenage Mutant Ninja Turtles)
April O'Neil (Teenage Mutant Ninja Turtles)
Lincoln Loud (The Loud House)
Lucy Loud (The Loud House)
Nigel Thornberry (The Wild Thornberrys)
Oblina (Aaahh!!! Real Monsters)
Helga (Hey Arnold!)
Danny Phantom (Danny Phantom)
Reptar (Rugrats)
Zim (Invader Zim)
Ren & Stimpy (The Ren & Stimpy Show)
Powdered Toast Man (The Ren & Stimpy Show)
CatDog (CatDog)
This list is incomplete, but you can help Encyclopedia SpongeBobia by expanding it.
Stages
Loud House
Technodrome (Teenage Mutant Ninja Turtles)
Trivia
General
This game's existence was first confirmed by Gamefly.com, with a release date listed for October 5, 2021.
This will be the first SpongeBob SquarePants video game for the PlayStation 5 and Xbox Series X|S.
The game is developed by Ludosity, which had experience with working on the platform fighter genre with Slap City.
A developer from Ludosity, sinxtanx, confirmed via the official Ludosity Discord server that the game will support features and techniques popular or highly demanded by fighting game fans (especially fans of Super Smash Bros).
The game uses the 1987 versions of the Teenage Mutant Ninja Turtles (a series that was not produced by Nickelodeon), rather than the 2012 Nickelodeon designs.
There are currently 3 fighters from SpongeBob SquarePants.
The game is being published by GameMill Entertainment, who previously published both Nickelodeon Kart Racers and Nickelodeon Kart Racers 2: Grand Prix for the United States of America.
Target leaked the box-art for Nickelodeon All-Star Brawl the day it was announced, but was eventually changed to only have its logo. The leaked box-art featured unrevealed fighters such as Aang, Korra, Ren, Stimpy, CatDog, and more.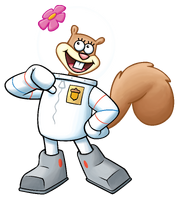 Coincidently, the game was announced on the day of Tom Kenny's birthday, and a day before SpongeBob SquarePants' birthday.
Every fighter has a stage associated with them.

SpongeBob's stage is Jellyfish Fields.
Sandy's stage is Glove World.

Every fighter has a codename associated with them, possibly to prevent any potential spoilers.

SpongeBob's codename is apple
Patrick's codename is star
Sandy's codename is diver

This is the second time a cartoon channel has been the focus of a Super Smash Bros.' game, with the first instance being Cartoon Network: Punch Time Explosion, which was released on the Nintendo 3DS, Xbox 360, PlayStation 3, and Nintendo Wii in 2011.

Cartoon Network: Punch Time Explosion received mixed reviews, often reasoned because of its flawed roster and not having the amount of care like Super Smash Bros. had.

From what has been revealed, there are 2 fighters from the 1980s, 9 fighters from the 1990s, 1 fighter from debatably either the 1990s or the 2000s, 1 fighter from the 2000s, and 2 fighters from the 2010s.
This will be the first Nickelodeon fighting game on a home console.
The voice actor of Zim from Invader Zim, Richard Horvitz, has confirmed that he did not voice Zim for this game and he is not sure if the game even contains voice acting.[4][5] Joel Nyström, CEO of developer Ludosity, has since stated that "as we continue to build the Nick All-Star Brawl franchise, we will be reviewing all options, which may include adding VO down the road."[2]
GameMill Entertainment released a 2nd teaser trailer for Nickelodeon All-Star Brawl on August 23, 2021, announcing 8 more mystery fighters are coming. The video was then made private shortly after.

Two more fighters were revealed at Gamescom 2021 on August 26, 2021.

SpongeBob, Patrick, Sandy, Helga, Leonardo, Michelangelo, Reptar, Lincoln, Zim, GIR, Danny and CatDog are the only playable characters from Super Brawl Universe to return in this game.
Cultural References
This game is inspired by Super Smash Bros., a crossover fighter featuring Nintendo characters and other video game characters.

Like Super Smash Bros., Nickelodeon All-Star Brawl takes references from certain episodes of the fighters' shows and make them apart of their movesets.
Episode References
Gallery
Screenshots
Move list
Concept Art
Video
External links
References