Nick Picks Volume 1 is a Nicktoon compilation DVD that features one episode from season 3 of SpongeBob SquarePants, along with select episodes of All Grown Up, The Fairly OddParents, The Adventures of Jimmy Neutron: Boy Genius, Danny Phantom, My Life As a Teenage Robot, and Rugrats.
Episodes
Trivia
This DVD was released on exactly the same day as the Fear of a Krabby Patty DVD.
This DVD contains previews for other Nickelodeon DVDs and VHS tapes. These include Lemony Snicket's A Series of Unfortunate Events, The SpongeBob SquarePants Movie, SpongeBob SquarePants DVDs and VHSs, The Fairly OddParents DVDs and VHSs, and All Grown Up: Lucky 13 on DVD and VHS.
Rugrats is the only show on the DVD not to have one of its characters on the cover.
In 2008, at some point, this and Nick Picks Volume 2 were released together in a bundle Nickelodeon Double Feature.
Errors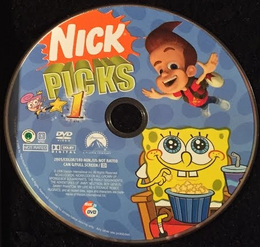 For unknown reasons, the disc reads "Nick Jr. DVD" instead of "Nick DVD."
DVD Menus
Print advertisement