If you were looking for the article about the
episode
, then see
"My Leg!."
"My leg!" is a stock sound effect provided by Doug Lawrence that consists of the titular exclamation and is mostly associated with the character Fred. The effect has been used throughout the series as a running gag when his leg is injured, akin to the Wilhelm scream. The season 11 episode "My Leg!" pays homage to this gag, as it is the main focus of the episode.
List of instances
"Something Smells" — SpongeBob inadvertently uses a smoke of bad breath as a bowling ball to knock down a marching band like bowling pins.
"No Free Rides" — Mrs. Puff imagines SpongeBob running over a birthday party with a boat.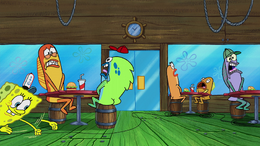 "The String" — Fred screams this when SpongeBob unravels everyone's clothes with a loose thread. This time he quickly corrects himself by saying "Of my pants!"
Movies
Other
Related gags
"My eye(s)!"
"My foot!"
"My nails!"
"My brain!"
Other media
TV
Trivia
In seasons 9 to present, the voice is different than the rest of the series barring "Culture Shock," "The Chaperone," and "Mermaid Man and Barnacle Boy IV," instead heard more as a direct saying instead of a sound effect.
Seasons 1 and 11 are currently tied with having the most amount of episodes that use the "My leg!" gag, with a total of nine episodes that had it in those seasons. This is probably because The latter has an entire episode themed about it.
The gag was never used in seasons 4 or 7. Fred still makes many appearances during those seasons.
Sometimes, the "My leg!" voice has him say it again but in a sad hurt tone.
On the topic of the gag, Doug Lawrence said "and if you've ever wondered where the show's often-used exclamation of "My leg!" came from, Mr. Lawrence (voice of Plankton) had a definitive answer: "It was an ad-lib. [The scene called for] everyone writhing in pain and I said it and I kept saying it. Fans started talking about it and named him Fred. He has his own episode."[1]
Sometimes when Fred yells the closed-captions say, "My Legs," thus making it plural.
In Filipino dub In Tagalog of "My Leg!" is "Ang Binti Ko!" but just aired in TV5.
Videos
References