My Nephews Are Coming to Visit is a SpongeBob SquarePants comic in a Nickelodeon Magazine issue.
Characters
Plot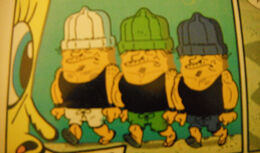 SpongeBob's 3 nephews, SpongeBrian, SpongeKevin, and SpongeCarl, are coming to visit. Everyone in town wants to see them, but when they get off the bus, they are older and bigger, and now they are teens. SpongeBob cannot believe this. The 3 nephews wreck the house, causing SpongeBob to plan ideas to get them out. One day, the nephews are over at Squidward's, and they love Squidward's culture.
Things that the nephews do
Wreck SpongeBob's house
"Accidentally" hurt SpongeBob
Tattoo Gary
Body-slam houses
Eat people's Kelpo
Use people as skating ramps
Rip SpongeBob's landlord's mustache off, mistaking him for SpongeBob wearing a mustache.
Accidentally hurt Squidward
Trivia
References
Community content is available under
CC-BY-SA
unless otherwise noted.