Object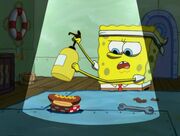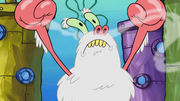 Mustard is a condiment frequently used in the SpongeBob SquarePants series.
Role in series
This item is mainly used by SpongeBob when making Krabby Patties. It was also used on Krusty Dogs in the episode of the same name.
Mustard has been packaged in various types of packaging throughout the series, including jugs and packets like one would have to package crisps.
In "Fools in April," Squidward sprays a bottle of mustard on the Krusty Krab's floor to make SpongeBob clean up after him and thus fall for his tragic April Fool's prank.
In "Restraining SpongeBob," Squidward sprays mustard onto Patrick's eyes when Patrick thought Squidward was a monster and was going for SpongeBob.
In "Cave Dwelling Sponge," a brand of mustard called Sea Mustard appears in the kitchen.
Appearances
This list is incomplete, but you can help Encyclopedia SpongeBobia by expanding it.
Trivia
In the episode "Earworm," SpongeBob gets addicted to a song because of the Earworm and as a result the kitchen has mustard writings on the wall because he has gone crazy.
In the song "Oh, Krusty Krab" from the episode "Truth or Square," it is shown that the Krusty Krab has mustard stains on the wall.
The Jelliens appear to like mustard, as revealed in "Planet of the Jellyfish" by Jellien Fred.
External links