Location
Mrs. Puff's Boating School is Bikini Bottom's local boat-driving school, where Mrs. Puff teaches students how to drive. The school is run more like an elementary school classroom than a driver's education facility. It first appears in the episode "Boating School."
SpongeBob has attended the school ever since it was founded, and he is Mrs. Puff's only student who has never passed a single test. He loves school and always aces the oral and written exams, but whenever he has to drive a boat, he panics, gets reckless and usually causes mass destruction of the boating school.
Description

The boating school features the main building, a lighthouse, and a driving course. The lighthouse is at the school. The track features a parking lot for the boats used in the tests. The track is sponsored by ½ Shell, a Bikini Bottom gas station (and a parody of Shell gas stations).
In some episodes, the school is a one-room place; however, in others, it is a full academy. The school features the Hallway of Learning, which includes the Fountain of Learning, the Lockers of Learning, the Stairs of Learning and the Stairs. The hallway also features a trophy display case.
There are many classrooms and teachers such as Mrs. Flounder, who is a teacher working in here. Mrs. Puff's classroom includes a chalkboard, a Good Noodle Board, Roger's glass box, the teacher's desk, ten student desks, and the supply closet. Mrs. Puff's desk is in front of the chalkboard. It features some other students' desks, including an empty, broken-down desk in the very back of the room where the bad students sit as seen on "New Student Starfish." At the back of the room, there is a hand-drawn picture of the Boating School track and 2 emergency exits. There is also a supply closet, which is next door of the classroom, behind the chalkboard. The classes commonly begin at 9:00 AM (as seen in the episode "New Student Starfish"). In "Hall Monitor," students go home at 2:05 PM and in "Summer Job" it shows they go home at 3:00 PM.
Even though the school is a boating school, there are many characteristics of the school which make it seem more like an average grade school. This includes having a Hall Monitor ("Hall Monitor"), having hallways, outside lunch periods, trophy cases, recess, school pictures, school bells, field trips ("Procrastination" and "Nautical Novice"), and the good noodle board. Also, SpongeBob is seen wearing a backpack in the episode "New Student Starfish."
In the book, Class Confusion, a substitute temporarily takes over for Mrs. Puff. SpongeBob and a classmate, Horace, switch places. Horace initially passes SpongeBob through school, enabling him to drive, which flabbergasts Mrs. Puff. In the end, the truth is revealed, and everything returns to normal.
In "New Student Starfish," there were 24 students, the greatest number of students. The student enrollment minimum number is nine. In "Hall Monitor," there were also more than nine.
In "Burst Your Bubble," it was temporarily turned into a "Bubble Boating School," which was owned by SpongeBob after he creates his bubble boat and everyone in Bikini Bottom starts using them. Bubble boats later became illegal, the school was shut down, and the original school took its place once again.
Building damages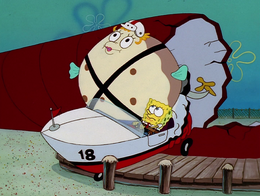 The school has been damaged in numerous ways, mainly because of SpongeBob.
"Don't Feed the Clowns": The building caught on fire off-screen, and was unable to be saved before burning to the ground.
Exams
There are two exams that must be completed correctly, and with an excellent grade in order to graduate and obtain a license.
Oral Exam: The Oral Exam consists of ten questions, many of them simple, such as asking the name of the front of the boat. In the episode "Boating School," Mrs. Puff starts his exam with an "oral test." She is only able to ask three questions; SpongeBob has the rest of the test memorized.
Question 1: What is the front of the boat? The bow.
Question 2: What is the back of the boat? The stern.
Question 3: "Right" is? Starboard...
(From this point, SpongeBob gives the answers without Mrs. Puff's questions; the questions listed are only speculation as to what she might've asked.)
Answer: port; question 4: "Left" is?
Answer: Skipper; question 5: Who is the person in command of a boat?
Answer: deck; question 6: What is the floor level of a ship?
Answer: cabin; question 7: What is an enclosed room of a ship?
Answer: galley; question 8: What is the kitchen of a boat called?
Answer: keel; question 9: What is the name of what the hull of a ship is built around?
Answer: 1924; question 10: What year did the British submarine L-24 sink in the English Channel?
Driving Exam: The driving exam is the only part of the test that SpongeBob has trouble with. The steps to the exam are listed below.
1. Start the Boat.
2. Put it in drive.
3. Floor it. (big toe)
4. Turn.
5. Stop at Stop Sign.
6. Continue driving.
7. Turn around flagpole.
8. Drive vertically up road.
9. Drive vertically down road.
10. Jump over anchor.
11. Fly through a ring of fire.
12. Watch out for man. (SpongeBob actually helped him cross.)
13. Drive to the Finish Line. 600 points passes.
Assignments
There has also been known for assignments given out for homework by Mrs. Puff during the series.
In "Procrastination," Mrs. Puff assigned an 800-word essay on "What Not to Do at a Stoplight" which was due for the next day. SpongeBob, finding it very hard to do, tried to do everything to get out of writing his essay. All these things then inspired him on what to write for his essay. He then came in the next day, just to find out that Mrs. Puff canceled the assignment and class for the day, and later deciding to just have a field trip to a stop light instead.
In "Oral Report," Mrs. Puff assigns the entire class to each do an oral report, in which SpongeBob's subject is "Boating Safety." After a scary encounter of public speaking, he was very afraid of doing his report in front of his class, so he takes one of the boats and drives aimlessly through town. Since he was unsupervised, Mrs. Puff is then arrested.
Theme park attractions
Mrs. Puff's boating school is a very common attraction at SpongeBob areas of theme parks, and a mascot costume of Mrs. Puff herself is usually meetable at attractions as well.
Boating School Blast
Link: Gold Coast Parks
This is a steel family roller coaster at the Nickelodeon Land area of Sea World in Queensland, Australia. It has six coaster cars, each of them modeled after the testing boats at Mrs. Puff's school with the front car representing SpongeBob's main testing boat. It has an oval-shaped layout and a single helix. The ticket booth is made to look like her schoolhouse. It is the biggest and most extensive recreation of Mrs. Puff's school ever made so far.
It was opened in 2015 and made by the amusement rides company Zamperla SpA. It is similar to other Zamperla coasters, but with redesigned curves and banking. Throughout the paths of Nickelodeon Land, there are signs advertising the ride with Mrs. Puff's Boating School logo. At the right entrance of the ride is a statue of SpongeBob taking his driving test in a boat where visitors can sit and take a photo.
SpongeBob's Boatmobiles
Link: Ultimate Rollercoaster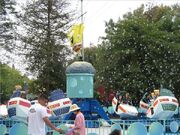 This ride was at Paramount's Great America (now known as California's Great Adventure). It features Mrs. Puff's testing boats, which visitors can sit in and move around in a similar fashion to the classic spinning teacup ride. Unlike most of the other theme park recreations of Mrs. Puff's school, this one is rather minimal in regards to its theme, with not much decor outside of the boats and a lighthouse-esque statue in the center.
Crash Course Boating School
Link: CoasterBuzz
Mrs. Puff's Crash Course Boating School was a cancelled ride, scheduled to be the first amusement ride ever based on SpongeBob. It was announced in 2003 in a proposal to expand the Nickelodeon Central area of Paramount's Kings Island. It was going to be a dark ride roller coaster with sound, music, and special effects. The description for the ride was:
"Climb aboard a boat with SpongeBob SquarePants at the wheel, and you're in for a completely wacky ride! The rip-roaring indoor family coaster ride will put guests on a twisting, turning, underwater crash course with all of the creatures of Bikini Bottom! With SpongeBob behind the wheel, surprises are sure to be around every corner, as guests whiz through a cartoon environment full of spectacular sights, silly sounds, and crazy "underwater" special effects! Buckle up and take the wheel with everyone's favorite sponge at Mrs. Puff's Driving School for a wild, wet, and whacked-out underwater adventure with SpongeBob and friends!"
Students enrolled
Trivia
The Boating School was originally created as part of a compromise between Stephen Hillenburg and Nickelodeon executives. The executives wanted a high school drama involving SpongeBob but Hillenburg didn't because he saw SpongeBob as an adult, and felt it "would be Hey Arnold underwater." To appease executives and get the show green-lit, this was created as a compromise.
In Kamp Koral: SpongeBob's Under Years, Mrs. Puff lives in a lighthouse in the middle of the campsite. The lighthouse is a reference to her Boating School lighthouse.
In some episodes, such as "New Student Starfish," it is shown as a full school with different rooms and lockers, and in other episodes, it shows Mrs. Puff's Boating School as a one-room school. This could be due to the building constantly being destroyed and rebuilt.
Occasionally, a replacement testing course is used instead of the original, or the basic one is simply changed with a few modifications.
In "Dying for Pie," the Boating School's lighthouse is visible in the aerial shot of Bikini Bottom at the end. However, aerial views in other episodes usually do not feature it.
"Dying for Pie," "Gone," and "A Day Without Tears" are the only episodes in which Mrs. Puff's Boating School is shown without Mrs. Puff herself. Despite this, she is mentioned and imitated by SpongeBob in "Gone."
In the episode "The Bully," it is revealed that there is more than one classroom in the boating school.
It is unknown who teaches the other classrooms.
In "Sandy's Rocket" and "No Free Rides," a high-pitched foghorn sound effect is played as a motif for Mrs. Puff's Boating School.