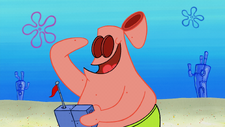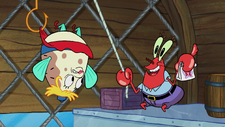 As of season 10, Mr. Krabs and Mrs. Puff have been dating for sixteen years. Their relationship is one of the few canon romantic pairings in the series.
They go on dates in five episodes: "Krusty Love," "Whirly Brains," "Feral Friends," "My Two Krabses," and "Kooky Cooks."
Their opinion on each other
Mr. Krabs considers Mrs. Puff one of his "two great loves," with the other one being his money (rather than Pearl).
Mrs. Puff thinks Mr. Krabs is very sweet. She has called him sweet twice.
Mr. Krabs has the following pet names for Mrs. Puff:

"Beautiful bell buoy"
"Little dream boat"
"Little lobster bib"
"My beautiful Puff"
"Prickly peach"
"Pufflily-poo"
"Puffy"
"Sweet Mrs. Puff"
Episode instances
Times of conflict
Other instances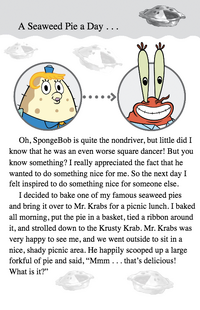 In the comic "Dollars and Scents," which was featured in an issue of Nickelodeon Magazine and illustrated by C.H. Greenblatt, Mr. Krabs needs his employees' help to find the perfect cologne for his upcoming date with Mrs. Puff. At the end of the story, Mrs. Puff shows up with a Krabby Patty-scented perfume, and the couple shares a kiss before walking into the sunset.
Mr. Krabs and Mrs. Puff's relationship is heavily featured in Chuckle and Cringe. In it, Mrs. Puff confesses to the reader, "I like Eugene Krabs. I really do."
In Good Ideas... and Other Disasters, Mr. Krabs and Mrs. Puff go on a date in the park. Mrs. Puff brings a seaweed pie that Mr. Krabs ends up having an allergic reaction to. She takes him to the hospital and waits for him to get better. At the end of the story, he appreciates the thought and doesn't mind that he had to visit the hospital. His last line is "sweet Mrs. Puff made me a seaweed pie."
In UFO!, every page featuring both Mr. Krabs and Mrs. Puff has them standing right next to each other.
In Yo-Ho-Ha-Ha-Ha!: A Pirate Joke Book, Mr. Krabs and Mrs. Puff tell a joke together.
In Party Time!, Mr. Krabs and Mrs. Puff are together at Squidward's party.
In the second volume of SpongeBob Comics Annual-Size Super-Giant Swimtacular, Mrs. Puff (as her superhero alter-ego Mrs. Explode) helps save Mr. Krabs from Gene Scallop.
SpongeBob Saves the Day features a retelling of "Krusty Love."
In The SpongeBob SquarePants Oracle, Mr. Krabs calls Mrs. Puff his "little shrimp boat."
They are together on the cover of The Complete Fifth Season DVD.
In a bumper commissioned by Nickelodeon Germany to celebrate the show's 10th anniversary, Mr. Krabs and Mrs. Puff are depicted in live-action versions, as the parents of a family.
Gallery
Community content is available under
CC-BY-SA
unless otherwise noted.