"You think I'm special!"

This article is in need of one or more images. Therefore, you can improve Encyclopedia SpongeBobia by uploading one. Please remember to remove this template once the images for this article have been uploaded.
Movies & TV Collection is a SpongeBob SquarePants DVD box-set that was released on June 11, 2019 and contains 40 episodes from the first season except for "Help Wanted." It also contains the first and second movies.
DVD releases
Episodes
Season 1
Disc 1
Disc 2
Disc 3
Movies
Disc 4
Disc 5
Special features
Specials
Audio commentaries
Music videos
In the Key of Sea: Krusty Krab Karaoke
SpongeBob Dancin' Pants
Other
Animatics
Trailers
The SpongeBob SquarePants Movie teaser trailer
Video game demos
Trivia
General
"Help Wanted," the pilot episode of the series, was not included due to copyright issues with Tiny Tim's song "Livin' in the Sunlight, Lovin' in the Moonlight" being played in this episode. According to Derek Drymon, this is because Nickelodeon did not want to pay Tiny Tim's estate for the rights.[1] However, it is included as a bonus feature on disc 3 of The Complete 3rd Season, The Third & Fourth Seasons, and 10 Happiest Moments DVDs. It is also available as a normal episode on The First 100 Episodes, SpongeBob, You're Fired!, The Pilot a Mini-Movie and the Square Shorts, and The Best 200 Episodes Ever DVDs.
Both movies were previously featured on the SpongeBob Double Feature and The SpongeBob Movie Double Pack digital DVDs.
Errors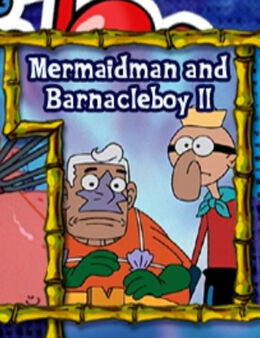 In the closing credits for "Reef Blower" and "Tea at the Treedome," Bill Fagerbakke's name is misspelled as "Bill Faberbakke."
Alternate covers
The Complete First Season
The SpongeBob SquarePants Movie
The SpongeBob Movie: Sponge Out of Water
References