The mop is a cleaning tool that is used in various episodes throughout the series, starting with the episode "Culture Shock."
Description
It has a white head and a bamboo structure.
Role in series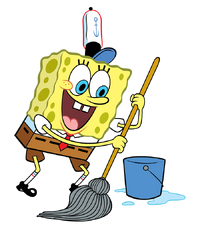 It is commonly used by SpongeBob whenever he has cleaning duty at the Krusty Krab.
The mop is seen throughout the whole episode, but it is notably used at the end when SpongeBob is cleaning. Everyone loves when SpongeBob does this, though when Squidward uses the mop, nobody cheers. The act is deemed so great that Mr. Krabs orders three more shows to happen.
SpongeBob mops the floor and then the dishes he accidentally dropped, to prove himself a candidate for the Employee of the Month Award.
Patrick improperly uses the mop during his job at the Krusty Krab.
SpongeBob uses the mop to remove the kiss from his forehead, to no avail.
SpongeBob mops the ceiling at night.
Fred is seen working as a janitor and using a mop to clean the floor of Shady Shoals. When Mrs. Puff and SpongeBob cause Shady Shoals to fill with cranberry juice, Fred does not look up from his mop and continues to clean the same spot.
SpongeBob is seen mopping the Krusty Krab at the beginning of the episode.
One of the pictures in the end credits shows SpongeBob using the mop.
Plankton slips on the floor of the Krusty Krab after SpongeBob mops it. He sues the restaurant for failing to mark the mopped spot with a "wet floor" sign. At the trial, SpongeBob interrogates the mop itself, scolding it for having made the floor slippery.
One of the tasks that Mr. Krabs occupies Patrick with during his shift at the Krusty Krab is mopping the bathroom floors, which Patrick does stupidly.
SpongeBob is seen mopping the floors of the Krusty Krab at the beginning of the episode as the restaurant's temperature is too warm.
SpongeBob is seen on mop duty as Patrick eats his Krusty Kid's Meal.
When Mr. Krabs finds out that SpongeBob summoned ghosts to the Krusty Krab, he uses the mop to push them back into the orb they came from. He says "Time for the bossman to mop up!" and swings the mop like a baseball bat.
Trivia
Community content is available under
CC-BY-SA
unless otherwise noted.