This is the page about
Milk Shake
. If you were looking for the article about
the beverage
, then see
Milkshake
.
Location
Milk Shake is a restaurant that appears in Captain Frostymug's flashback in the episode "License to Milkshake."
About
Description
Exterior
The outside is shaped as a giant milkshake cup. It is painted pink, white, and blue on the outside. The restaurant's name is written in purple text that is outlined in blue.
It appears to have no doors and also a single window just beside the opening. It also has yellow lights around the top and just over the entrance. It has two straw as exhaust pipes.
Interior
The inside is in very good condition. It was run by younger Frostymug and has pink walls and purple and white tile floors to match the exterior. It has a milkshake machine that was located behind Frostymug. It had chrome-like chairs and tables, and posters of milkshakes.
Role in episode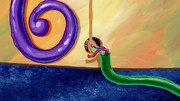 Milk Shake appears in Captain Frostymug's flashback when he starts to cringe when trying to blend a milkshake. The place appeared to be very popular with kids and teens and they loved Frostymug's milkshakes. However, things turned sour when Frostymug was blending a milkshake and some of the ice cream landed on an electrical wire.
This caused the milkshake machine to malfunction and it sprayed ice cream in all of the kids' faces, who ran around screaming.
Trivia
Milk Shake complied with the '70s dance/party theme.
Community content is available under
CC-BY-SA
unless otherwise noted.