Mighty Friday Nights was a weekly event that started on April 2, 2021 and concluded on June 25, 2021. This event premiered Kamp Koral: SpongeBob's Under Years, new SpongeBob episodes from Season 12 and Season 13, as well as puppet versions of "Dying for Pie", "Wet Painters" and "Can You Spare a Dime?". They preceded premieres of new The Barbarian and the Troll episodes. On April 2, the "Jellyfishing in Bikini Bottom" marathon led up to the Kamp Koral premiere. During the months of May and June, the new episodes of SpongeBob were replaced with The Loud House and The Casagrandes premieres respectively.
Premieres
Title card
#
Title
U.S. airdate
U.S. viewers

(millions)

2a
"Sugar Squeeze"
April 2, 2021

0.71

The campers meet two backwoods narwhals named Narlene and Nobby, who treat them to a sweet surprise.

2b
"Tag, You're It"
April 2, 2021

0.71

On a rainy day, SpongeBob and his friends entertain themselves indoors with a turbulent game of tag.

265a
"Bubble Bass's Tab"
April 9, 2021

0.48

Bubble Bass doesn't pay his tab after ordering food at the Krusty Krab, so Mr. Krabs sends SpongeBob and Squidward to his house to try and make him pay.

265b
"Kooky Cooks"
April 9, 2021

0.48

After a disaster at a fancy restaurant, Mrs. Puff thinks Mr. Krabs is too cheap, so he hires SpongeBob and Squidward as waiters to impress her.

269a
"Under the Small Top"
April 16, 2021

0.59

Squidward's house becomes infested with a mail-order flea circus meant for SpongeBob.

269b
"Squidward's Sick Daze"
April 16, 2021

0.59

Squidward fakes being sick to get out of work, but his agony only begins when SpongeBob arrives to care for him.

'
"Dying for Pie: Puppet Edition!"
April 16, 2021

N/A

It's Employee Brotherhood Day at the Krusty Krab, and Squidward gifts a pie to SpongeBob; the Pineapple Playhouse presents "Dying For Pie," an episode in real life with puppets.

260a
"Knock Knock, Who's There?"
April 23, 2021

0.34

SpongeBob watches Mr. Krabs's house while he's away and goes to extreme measures to prevent burglary.

'
"Wet Painters: Puppet Edition!"
April 23, 2021

N/A

The Pineapple Playhouse presents "Wet Painters" in real life; SpongeBob and Patrick are tasked to paint the inside of Mr. Krabs' house.

264a
"Plankton's Intern"
April 30, 2021

0.54

Plankton needs help to steal the secret formula, so he hires an intern who knows more about Mr. Krabs than anyone else.

'
"Can You Spare a Dime?: Puppet Edition!"
April 30, 2021

N/A

Squidward is fired from the Krusty Krab after Mr. Krabs accuses him of stealing his very first dime; luckily his neighbor SpongeBob is there to take care of him.
Schedule (April 2)
Trivia
Errors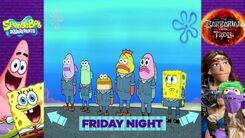 Even though Nick aired new episodes of The Loud House in this event, they mistakenly used the letterboxed ad for new episodes of SpongeBob SquarePants instead of that series.
Gallery
Videos
References