"Mid-Life Crustacean" is a SpongeBob SquarePants episode from season 3. In this episode, Mr. Krabs has a mid-life crisis when he realizes that he is old, so to make him feel young again, he joins SpongeBob and Patrick for a night out in the town.
Characters
Synopsis
The episode starts with Mr. Krabs struggling to get out of his hammock bed. He goes into his kitchen to find that Pearl has made him breakfast. Pearl reminds him to take his pill and Mr. Krabs asks if she thinks he is old. Much to his dismay, Pearl says she does. Later in the morning, he is walking along the street and again denies that he is old, but then discovers a boy-scout fish is helping him walk. When Mr. Krabs tries to walk off, his arm comes off into the boy-scout's hands, and Mr. Krabs apologizes.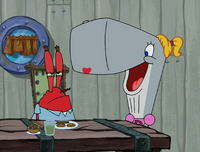 At the Krusty Krab, Mr. Krabs is feeling upset, when he overhears Incidental 103 complaining that his Krabby Patty tastes funny. His mother Incidental 48 tells him that it is 'all old and dried out' in an insulting comparison to Mr. Krabs. Patrick enters the Krusty Krab, and SpongeBob yells at him from the kitchen, asking if he is ready for the big night out, and Patrick yells back saying he is. After Squidward yells at them to keep it down, they continue the conversation in the kitchen, where Mr. Krabs eavesdrops on them from the door to his office. Mr. Krabs asks them if he could come with them on their night out, but Patrick thinks he might cramp their 'style' and he tests Mr. Krabs to see if he knows the "secret cool guy hand shake." It turns out he does, and Patrick says he is in.
At 8:01 PM, SpongeBob and Patrick arrive at Mr. Krabs' house as part of their "fashionably late" promise, ready for the big night out. They first go to The Wash! to watch their faces spin in the mirror reflection of a washing machine, but Mr. Krabs is not amused by this activity and wants to see more of the night life. The scene then changes to them doing many other bizarre activities in various settings such as at the library, dentist, and highway, none of which have yet succeeded in amusing Mr. Krabs.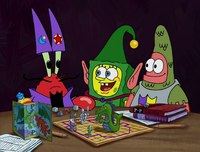 Finally, they are at a children's arcade called Bunny Buns, and SpongeBob once again asks if Mr. Krabs is feeling it. Multiple kids at once ask him this over and over, and then Mr. Krabs gets angry and berates the incidentals for embarrassing him, and then SpongeBob and Patrick for taking him out on a series of bizarre occurrences which do not live up to their promise of coolness and call them names. He then decides to cancel the night and go home, but Patrick tries to change his mind by saying that he will miss out on the "Panty Raid," an occurrence in which the trio will be invading a woman's house at night to steal her underpants. It is at this moment that Mr. Krabs reconsiders and has finally found a highlight of his night out.
SpongeBob, Patrick, and Mr. Krabs arrive at a house, and are successful in obtaining an unspecified woman's underwear. However, they are caught red-handed when the woman turns on the light and catches the boys in the middle of the act, revealing her to be Mr. Krabs' mother. As a result, Mr. Krabs is grounded and sent to his room, being assisted by the boy scout. SpongeBob apologizes for what happened, and Mr. Krabs tells him it was fine, as being in his old bedroom made him feel younger. As the camera pans to show Mr. Krabs' room as a child. After SpongeBob and Mr. Krabs say goodnight and SpongeBob starts to head home, Betsy orders him to turn off the lights and Mr. Krabs says, "Yes, Mommy." He then turns off the lights, ending the episode.
Running gags
Whenever Mr. Krabs is walking, a boy scout helps him and says, "Don't worry Pops, we're almost [to Mr. Krabs' destination]." Mr. Krabs also gets annoyed when the boy scout is helping him.
SpongeBob and Patrick asking Mr. Krabs if he can "feel it."
Production
Art
Music
( ‣ ) Production music

( • ) Original music

( ◦ ) SpongeBob music

 ‣ Drunken Sailor (B) - Robin Jeffrey, Tim Laycock [Title card]
 ◦ You're Old - Eban Schletter, Stephen Hillenburg [plays on the radio]
 ‣ Hawaiian Party - Peter Dennis [breakfast]
 ‣ The Tip Top Polka/The Cliff Polka - Chelmsford Folk Band [Krabs going to work]
 ‣ Hawaiian Link (B) - Richard Myhill [Krabs sighs]
 ‣ Dramatic Cue (E) - Ronald Hanmer [cemetery]
 • Steel Licks 10 - Jeremy Wakefield [exterior of Krusty Krab]
 ‣ Botany Bay (b) - Robert Alexander White [old Krabby Patty]
 ‣ Hilo Rag - Guy Fletcher ["Good morning, Krusty Krew!"]
 ‣ Police Car - Sam Spence ["Style!"]
 ‣ Unease - Dick Stephen Walter [secret cool guy handshake]
 • Steel Licks 4 - Jeremy Wakefield [8:01 PM]
 • Steel Licks 9 - Jeremy Wakefield ["You're embarrassing me, Dad!"]
 ‣ Tympup A - Sammy Burdson, John Charles Fiddy [SpongeBob's bike]
 • Steel Licks 7 - Jeremy Wakefield [Krabs in a wagon]
 ‣ Gruesome - The Surfdusters ["Hey, you guys must be lost."]
 ‣ Konfetti - Claude Carrasu, Krys Moram, Jan Tyski [in the laundromat]
 ‣ Psychedelic Guitar - Ian Henry Marsh, Phil Pickett ["Oh, yeah!"]
 ‣ Konfetti - Claude Carrasu, Krys Moram, Jan Tyski ["You guys want another rinse cycle?"]
 ‣ Ulk-Fox Nr. 2 - Gerhard Trede [picking up trash]
 ‣ Dombummel - Gerhard Trede [Bunny Buns]
 ‣ Kamakani B - Kapono Beamer ["Lame?"]
 • Idea Vibe - Nicolas Carr ["The what?"]
 ‣ Police Car - Sam Spence ["Not lame!"]
 ‣ Tomfoolery - David Snell [panty raid]
 ‣ The Plot Thickens - Dick Stephen Walter [Mama Krabs appears]
 ‣ Drunken Sailor (B) - Robin Jeffrey, Tim Laycock [Krabs grounded]
 ‣ Emotion Blues - Francois Fournet, Eric Gemsa [ending]

Release
This episode is available on the Sponge for Hire, Complete 3rd Season, 3 DVD Pack, Double DVD Fun 2, First 100 Episodes, The Ultimate SpongeBob Box Set, SpongeBob SquarePants Vol. 5, Mighty Sporting of You, Complete Third Season, From the Beginning, Part 2, The SpongeBob SquarePants Collection, The SpongeBob SquarePants 8 Season DVD Collection, Favorite Episodes, 2-Season TV Pack, The Third & Fourth Seasons, and The Best 200 Episodes Ever DVDs and on VideoNow.
Reception
"Mid-Life Crustacean" was ranked #86 during the SpongeBob's Top 100 event in the UK and Ireland from June 4-8, 2012.
Trivia
General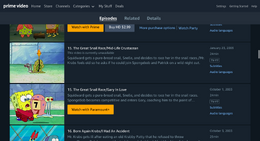 According to a Nickelodeon representative quoted in an IGN article on March 27, 2021, this episode has been confirmed to be pulled from further reruns on American television due to storyline concerns, likely because of the panty raid scene.[4] The last time Nickelodeon USA aired this episode was on August 14, 2018.[5] Although Nicktoons USA continued to broadcast this episode on occasion, the last time it was shown on the network was on February 25, 2021 during the Every SpongeBob Ever event.

This episode is currently missing from Paramount+ (formerly CBS All Access), though it was available for streaming prior to its rebranding on March 4, 2021. Its sister episode "The Great Snail Race" was also missing for a time, but has since been re-added by itself as a stand-alone episode.
This episode was available on season 3[6] and the Mighty Sporting of You collection[7] as a purchase on American iTunes, but it was removed on March 27, 2021.
This episode was available to stream on Amazon Prime Video until March 27, 2021, when it was removed from season 3.[10]

Despite being banned, its sister episode "The Great Snail Race" would later be paired up with the season 7 episode "Gary in Love" on American iTunes and some streaming services.
The episode is available on the Google Play store in the US and Canada for purchase along with its sister episode "The Great Snail Race."
This episode is unavailable for purchase on Vudu on the Complete 3rd Season collection.

In Canada, this episode was available on season 3[11] and the Mighty Sporting of You collection[12] as a purchase on Canadian iTunes, but it was removed in August 2021. It is currently unknown if YTV is still airing this episode. YTV is owned by Corus Entertainment, the same company that runs Nickelodeon Canada and Nick+ in Canada.
As a result of the pulling of the episode, this and "Kwarantined Krab" are the only two episodes so far that have been banned in the United States. This episode was banned due to being considered not kid-appropriate when Patrick brings up the "Panty Raid" and "Kwarantined Krab" was banned due to its plot unintentionally being similar to the COVID-19 pandemic.[13][14][15]
Despite being banned in the US, it is still unbanned in other countries:

MBC 3 (Arabia) aired this episode, but with the panty raid scene cut.
Nickelodeon Poland, Germany, Austria, Switzerland, and Russia still air this episode regularly during season 3 reruns.

The episode also airs frequently on MTV and Comedy Central in Germany.

The Ukrainian television channel PLUSPLUS also airs this episode regularly during season 3 reruns.

However, this episode is missing on 1plus1.video, a Ukrainian video on demand service which is related to Paramount+.[16]

Nickelodeon Latin America airs this episode rarely as part of their "Animation Seamless" block in Mexico.[17]
This episode is still available on DVD releases.
Cultural references
This episode's title is a pun on the phrase "mid-life crisis."
"P and P," the game that SpongeBob, Mr. Krabs, and Patrick were playing, is a parody of Dungeons and Dragons.
One of the locations SpongeBob and Patrick bring Mr. Krabs to is Bunny Buns, which is a parody of Chuck E. Cheese.
Errors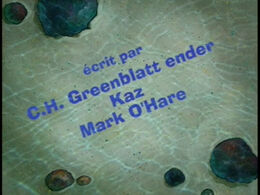 In the French dub, C.H. Greenblatt has the word "ender" after his name in the "written by" section of the credits.
During the shot of the cemetery, the ice cream stand is not seen at the front of the line, but after he ran away, the stand was there.
During the scene transition from the ice cream stand to the Krusty Krab, bubble sounds can be heard, but no bubbles actually appear.
During the "Panty raid" scene, Mrs. Krabs' house is first shown as blue.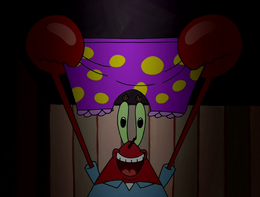 When Mrs. Krabs' bloomers are first seen during the panty raid, they are shaped like normal panties, but when Mr. Krabs pulls one out, it is instantly rather shaped like boxers.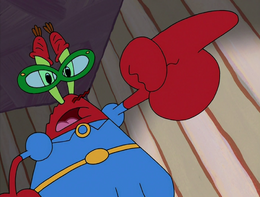 When Betsy says, "Go to your room, mister," her hair is missing, but when it zooms in, her hair is back when she grounds Mr. Krabs.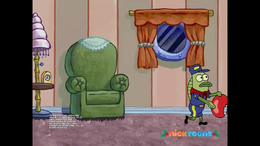 In early airings, the episode had an incorrect copyright year of 2001 in the credits. Later airings (and the original print of this episode) have the correct date of 2002.[18]

Until later airings up to February 25, 2021, the on-screen end credits also referenced the copyright year of 2001 as well.

There is a dubbing error in the Latin American Spanish version. SpongeBob at one point says, "Number one" when he was supposed to say, "numero uno."
References
Golden Reel Awards

Best Sound Editing in Television Animation – Music
Nominees: Stephen Hillenburg, Donna Castricone, Nicholas R. Jennings, Alan Smart, Peter Burns, Doug Lawrence, Derek Drymon, Alex Gordon, Donna Grillo, Jennie Monica, Krandal Crews, Jim Leber, Justin Brinsfield, Tony Ostyn, Nicolas Carr (for "Mermaid Man and Barnacle Boy"/"Pickles;" 2000) • Nicolas Carr (for "Fools in April"/"Neptune's Spatula" in 2001; for "Jellyfish Hunter"/"The Fry Cook Games" in 2002; for "Wet Painters"/"Krusty Krab Training Video" in 2003; for "The Great Snail Race"/"Mid-Life Crustacean" in 2004) • Jimmy Lifton, D.J. Lynch, Jeff Hutchins, Tony Ostyn and Paulette Lifton (for "Mid-Life Crustacean;" 2004)
Best Sound Editing in Television Animation – Sound
Nominees: Nicolas Carr (for "Karate Choppers;" 2000) • Andrea Anderson, Jimmy Lifton, Monette Holderer, D.J. Lynch, Vincent Gutisetti, Jeff Hutchins and Gabriel Rosas (for "Rock Bottom"/"Arrgh!;" 2001)
Best Sound Editing in Television – Animation
Nominees: Timothy J. Borquez, Jeff Hutchins and Daisuke Sawa (for "The Secret Box"/"Band Geeks;" 2002)

Best Sound Editing in Television Animation
Nominees: Jimmy Lifton, Jeff Hutchins, Tony Ostyn and Chris Gresham (for "Nasty Patty"/"Idiot Box;" 2003)

Best Sound Editing in Television: Animated
Nominees: Jimmy Lifton, Nicolas Carr, D.J. Lynch, Jeff Hutchins, Tony Ostyn, Chris Gresham and Paulette Lifton (for "Pranks a Lot"/"SpongeBob Meets the Strangler;" 2005) • Vincent Gutisetti, Jimmy Lifton, Nicolas Carr, Monique Reymond, D.J. Lynch, Mark Howlett, Jeff Hutchins, Aran Tanchum, Mishelle Smith and Paulette Lifton (for "Have You Seen This Snail?;" 2006) • Nicolas Carr, Mishelle Fordham, Monette Becktold, Jeff Hutchins, Timothy J. Borquez, Tom Syslo, Jason Stiff, Tony Orozco and Kimberlee Vanek (for "SpongeHenge;" 2008)
Best Sound Editing: Television Animation
Nominees: : Chiho Oyamada Carr, Nicolas Carr, Mishelle Fordham, Daisuke Sawa, Monette Becktold, Jeff Hutchins, Timothy J. Borquez, Tom Syslo, Eric Freeman, Dan Cubert, Lawrence Reyes, Jason Stiff, Tony Orozco and Kimberlee Vanek (for "Suction Cup Symphony;" 2009) • Chino Oyamada Carr, Nicolas Carr, Mishelle Fordham, Monette Becktold, Jeff Hutchins, Timothy J. Borquez, Eric Freeman, Tom Syslo, Keith Dickens, Jason Stiff, Sergio Silva, Tony Orozco and Kimberlee Vanek (for "SpongeBob SquarePants vs. The Big One;" 2010)
Best Sound Editing – Sound Effects, Foley, Dialogue and ADR Animation in Television
Nominees: Devon Bowman, Justin Brinsfield, Nicolas Carr, Andrea Anderson, Mishelle Fordham, Monette Becktold, Jeff Hutchins, Eric Freeman, Tony Orozco and Danny Tchibinda (for "Gary's New Toy;" 2013) • Mishelle Fordham, Monette Becktold, Jeff Hutchins, Timothy J. Borquez, Tom Syslo, Eric Freeman, Bobby Crew, Keith Dickens, Gabriel Rossas and Tony Orozco (for "It's a SpongeBob Christmas!;" 2013)