"Mermaid Man and Barnacle Boy" is a SpongeBob SquarePants episode from season 1. In this episode, SpongeBob and Patrick learn that their favorite heroes retired, and try to convince them to fight evil again.
Characters
Synopsis
SpongeBob and Patrick begin the episode watching a TV series centered around the famous superhero duo - Mermaid Man and Barnacle Boy, and subsequently roleplay as them. They decide to visit Squidward and pretend he is the supervillain Reflecto. Squidward is quickly annoyed at his neighbors' antics, and tell them that Mermaid Man and Barnacle Boy actually live in a nursing home, having retired years earlier. SpongeBob and Patrick decide that these crime fighters have resume their careers, and go to the Shady Shoals Rest Home, where they are met by its caretaker. He escorts the friends to the superheroes and tells them not to surprise them. SpongeBob tells them that superheroes should no longer be retired, but they should continue to fight evil. Mermaid Man creates a panic when he hears the word, "evil," leading the caretaker of the nursing home to throw SpongeBob and Patrick out for surprising them.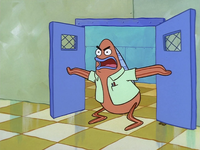 While the former crime fighters are going to the cafeteria for lunch, SpongeBob arrives and makes an inspiring speech about how superheroes should not be retired. After SpongeBob is done with his speech, Mermaid Man angrily tells SpongeBob that needs to eat his lunch before the caretaker comes again and throws him right out to his house for surprising them again.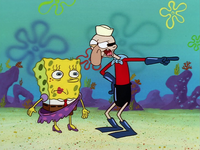 SpongeBob and Patrick come up with a new plan to free the superheroes from retirement: SpongeBob, disguised as a woman, "complains" about the weight of a purse he is holding, and Patrick, disguised as a criminal, "steals" it. Suddenly, Barnacle Boy, who is in no way deceived by the disguises, comes to SpongeBob and says that they will always be retired, because there is not enough evil activity for them to thwart. Mermaid Man interrupts him and replies that there is always evil. They start arguing, until SpongeBob interrupts them and says that he and Patrick have painted their invisible boatmobile. After telling SpongeBob and Patrick that their invisible boatmobile is supposed to be invisible, Barnacle Boy becomes fed up with SpongeBob and Patrick bothering and irritating him and Mermaid Man as he decides to end the argument and convinces Mermaid Man that evil is right in front of them. He takes out their rings, and they resume their careers. The newly reunited crime-fighters get into a fight with SpongeBob and Patrick, who are impervious to their attacks and joyed that they have brought their heroes out of retirement. Finally, the heroes are lucky: they are helped by elderly residents of a nursing home, who pick up SpongeBob and Patrick and throw them away from the retirement home. The heroes then celebrate on a job well done.
Eventually, a new show of Mermaid Man and Barnacle Boy is created: The New Adventures of Mermaid Man and Barnacle Boy. The duo play checkers, then suddenly, the phone rings. Mermaid Man picks up upside-down, fails to hear the person on the other line, and hangs up, thinking the phone is broken. The announcer says, "Will our heroes ever get their phone fixed? Tune in next week and find out." After watching the new episode SpongeBob enjoyed it as he thought it was better than the old show, and when SpongeBob winks, the words appear: "Wink!"
Running gags
Mermaid Man screaming "Evil!"
SpongeBob and Barnacle Boy saying, "There's evil afoot!"
Barnacle Boy calling Mermaid Man an old coot.
Mermaid Man thinking SpongeBob and/or Patrick are TV repairmen.
Production
Art
Music
( ‣ ) Production music

( • ) Original music

( ◦ ) SpongeBob music

 ‣ The Lineman - Sam Spence [Title card]
 ‣ Arizona Fanfare - Jack Shaindlin [Opening.]
 ‣ The Adventure Begins - Jonathan Neal [SpongeBob and Patrick dressed as Mermaid Man and Barnacle Boy.]
 ‣ Enter the Villain - Chris Payne, Paul Rogers ["Reflecto, up to no good!"]
 ‣ Super Hero - Tony Hymas ["Donuts!"]
 ‣ Call to Destiny (A) - Ron Goodwin ["Creatures of the deep, assemble!"]
 ‣ Police Car - Sam Spence [A jellyfish appears.]
 ‣ Death Trap [#25] - Gregor F. Narholz ["Reflecto has found our secret lab!"]
 ‣ Super Hero - Tony Hymas ["Mermaid Man and Barnacle Boy reunite!"]
 ‣ Hawaiian Link (B) - Richard Myhill [Rest home exterior.]
 • Gator - Steve Belfer [Mermaid Man, Barnacle Boy watching TV.]
 ‣ War Agitato - Jack Shaindlin [Mermaid Man panics/Mermaid Man panics again.]
 ‣ Hymn of Achievement [#7.03] - Gregor F. Narholz [SpongeBob's speech about old people.]
 ‣ Queen's Aloha Oe B - Kapono Beamer, Queen Lili'uokalani [Mermaid Man and Barnacle Boy get lunch.]
 • You're Nice - Sage Guyton, Jeremy Wakefield ["Do you remember when the food supply in Atlantis was running low?"]
 ‣ Wedding Procession - Felix Mendelssohn-Bartholdy, Leslie Pearson [SpongeBob gets kicked out.]
 ‣ Hawaiian Link (A) - Richard Myhill [Later...]
 ‣ Sweet Annabelle - Sam Fonteyn [SpongeBob dressed as a lady.]
 ‣ Blackbeard - Sam Fonteyn [Patrick dressed as a burglar.]
 ‣ Blood In The Gutter - Laurie Johnson [Mermaid Man sleeping with eyes open.]
 • SpongeBob Closing Theme - Steve Belfer, Nicolas Carr [Painting the Invisible Boatmobile.]
 ‣ War Agitato - Jack Shaindlin ["Evil!"]
 ‣ Arizona Fanfare - Jack Shaindlin [Fanfare.]
 ‣ The Lineman - Sam Spence [water balls/"Sea creatures, attack!"]
 ‣ Moloka'i Nui A - Kapono Beamer ["I feel five years younger."]
 ‣ Arizona Fanfare - Jack Shaindlin [SpongeBob and Patrick watching the new show.]
 ‣ Caped Crusader - David Farnon [Mermaid Man and Barnacle Boy playing checkers.]
 ‣ Police Car - Sam Spence [Sting at the end.]

Release
This episode is available on the Tales from the Deep, 10 Happiest Moments, Absorbing Favorites, The Underwater Stories, The Adventures of SpongeBob SquarePants, Complete 1st Season, From the Beginning, Part 1, Mermaid Man & Barnacle Boy: Defenders of the Deep, SpongeBob SquarePants, iSponge Offer Pack, Sweet Pineapple Caca, SpongeBob Schwammkopf Folge 3, My house, My pineapple, SpongeBob SquarePants Vol. 1, Lost at Sea (Polish only), First 100 Episodes, The First & Second Seasons, Movies & TV Collection, The Best 200 Episodes Ever, SpongeBob SquarePants Triple Pack, and Hall Monitor DVDs, along with SpongeBob SquarePants Volume 2 on GBA Video.
This episode is also available on the Deep Sea Sillies, Absorbing Favorites, and Tales from the Deep VHS tapes.
Reception
"Mermaid Man and Barnacle Boy" was ranked #37 during the Best Day Ever event from November 9–10, 2006.
Currently retired critic Paul Pritchard of the DVD Verdict, in a review of 10 Happiest Moments, said that this episode "stood out" for him from the rest, by calling it "the perfect encapsulation of everything that makes SpongeBob great." He also praised Mermaid Man for getting "some of the funniest lines in SpongeBob history."[2]
Trivia
General
This episode marks the first for several things:

The first appearance of Mermaid Man and Barnacle Boy (hence the title).
The first time SpongeBob dresses in women's clothes.
The first episode of the Mermaid Man and Barnacle Boy series.
The first episode to use music from the NFL, "The Lineman," which was used in most of the Mermaid Man and Barnacle Boy episodes.
The first appearance of Shady Shoals Rest Home.
The first mention of Man Ray, although he did not appear physically until "Mermaid Man and Barnacle Boy III."

Mermaid Man and Barnacle Boy have five fingers as young men, though in their old age, they have four.
When SpongeBob and Patrick are first asking the man at the front desk to see Mermaid Man and Barnacle Boy, an article on the inside of his newspaper reads, "School Drop Out Rate Soars." This has a double meaning, because "school" is also the name of a group of fish.
The old captain who winks when SpongeBob discusses the wisdom of the elderly is played by Don Newhouse, the man who guarded the gates at Nickelodeon Animation Studio in Burbank, California at the time. He later reappeared in "Sun Bleached" and is also the inspiration for the character "Old Kid" from Invader Zim.
When Mermaid Man picks up the phone during the game of checkers, the phone's ringtone is the same sound effect used for number 11 of the 13 bad words in "Sailor Mouth."
This is the only episode in which the Mermalair is called the Sea Cave.
When Mermaid Man talks with Barnacle Boy realize they are still strong enough to thwart evil, there are two Old Man Walkers, one green and one red.
This episode has been paired up with different episodes:
Subsequent Mermaid Man and Barnacle Boy-focused episodes used the same title card art until "Mermaid Man & Barnacle Boy VI: The Motion Picture."
This episode, along with "Pickles," premiered on Stephen Hillenburg's 38th birthday.
This is Mark O'Hare's first episode as a writer.
Atlantis is first mentioned in this episode before making its first actual appearance in the episode "Neptune's Spatula."
Cultural references
The Adventures of Mermaid Man and Barnacle Boy is a parody of the Batman TV show from the 1960s as well as that of Filmation's Aquaman animated series. The title for MM&BB is also similar to the Aquaman title card, particularly with the inclusion of the whirlpool.
Young Mermaid Man here looks almost exactly like Aquaman, except with a star on his nose, a seashell bra and a belt buckle shaped like an M instead of an A.
The Aquaphone is a parody of the Bat Phone from Batman.
The invisible boatmobile is a parody of both Wonder Woman's Invisible Jet and the Batmobile.
Reflecto is a parody of Spider-Man villain Electro and Birdman villain Reducto.
The Sea Cave is a reference to the Batcave.
Errors
The doughnut Patrick uses as a stand-in for Barnacle Boy's ring is chocolate when he and SpongeBob touch their doughnuts together, but is orange in all other shots.
After Patrick takes SpongeBob's purse and peers out from behind the building, the purse is seen floating beside him.
Barnacle Boy puts the wrong ring on Mermaid Man's hand.
After Mermaid Man says the oath, both his and Barnacle Boy's rings disappear.
When Mermaid Man and Barnacle Boy start dog paddling, Mermaid Man's socks are missing. Afterward, they return.
When Mermaid Man says "Up, up, and away" while rocking, Barnacle Boy appears to be saying it too, but with no voice.

When Barnacle Boy shouts, "It's not me, old coot," the sclerae on both his eyes turn blue.
When Mermaid Man says, "To the broccoli!," his right bra strap turns orange for a split second.
When Mable comes outside after Mermaid Man calls her and other Shady Shoals residents to assemble, the bottom of her cane flashes white for two different frames.
SpongeBob's pores are reversed when he says, "Excuse me, Mermaid Man."
References
Golden Reel Awards

Best Sound Editing in Television Animation – Music
Nominees: Stephen Hillenburg, Donna Castricone, Nicholas R. Jennings, Alan Smart, Peter Burns, Doug Lawrence, Derek Drymon, Alex Gordon, Donna Grillo, Jennie Monica, Krandal Crews, Jim Leber, Justin Brinsfield, Tony Ostyn, Nicolas Carr (for "Mermaid Man and Barnacle Boy"/"Pickles;" 2000) • Nicolas Carr (for "Fools in April"/"Neptune's Spatula" in 2001; for "Jellyfish Hunter"/"The Fry Cook Games" in 2002; for "Wet Painters"/"Krusty Krab Training Video" in 2003; for "The Great Snail Race"/"Mid-Life Crustacean" in 2004) • Jimmy Lifton, D.J. Lynch, Jeff Hutchins, Tony Ostyn and Paulette Lifton (for "Mid-Life Crustacean;" 2004)
Best Sound Editing in Television Animation – Sound
Nominees: Nicolas Carr (for "Karate Choppers;" 2000) • Andrea Anderson, Jimmy Lifton, Monette Holderer, D.J. Lynch, Vincent Gutisetti, Jeff Hutchins and Gabriel Rosas (for "Rock Bottom"/"Arrgh!;" 2001)
Best Sound Editing in Television – Animation
Nominees: Timothy J. Borquez, Jeff Hutchins and Daisuke Sawa (for "The Secret Box"/"Band Geeks;" 2002)

Best Sound Editing in Television Animation
Nominees: Jimmy Lifton, Jeff Hutchins, Tony Ostyn and Chris Gresham (for "Nasty Patty"/"Idiot Box;" 2003)

Best Sound Editing in Television: Animated
Nominees: Jimmy Lifton, Nicolas Carr, D.J. Lynch, Jeff Hutchins, Tony Ostyn, Chris Gresham and Paulette Lifton (for "Pranks a Lot"/"SpongeBob Meets the Strangler;" 2005) • Vincent Gutisetti, Jimmy Lifton, Nicolas Carr, Monique Reymond, D.J. Lynch, Mark Howlett, Jeff Hutchins, Aran Tanchum, Mishelle Smith and Paulette Lifton (for "Have You Seen This Snail?;" 2006) • Nicolas Carr, Mishelle Fordham, Monette Becktold, Jeff Hutchins, Timothy J. Borquez, Tom Syslo, Jason Stiff, Tony Orozco and Kimberlee Vanek (for "SpongeHenge;" 2008)
Best Sound Editing: Television Animation
Nominees: : Chiho Oyamada Carr, Nicolas Carr, Mishelle Fordham, Daisuke Sawa, Monette Becktold, Jeff Hutchins, Timothy J. Borquez, Tom Syslo, Eric Freeman, Dan Cubert, Lawrence Reyes, Jason Stiff, Tony Orozco and Kimberlee Vanek (for "Suction Cup Symphony;" 2009) • Chino Oyamada Carr, Nicolas Carr, Mishelle Fordham, Monette Becktold, Jeff Hutchins, Timothy J. Borquez, Eric Freeman, Tom Syslo, Keith Dickens, Jason Stiff, Sergio Silva, Tony Orozco and Kimberlee Vanek (for "SpongeBob SquarePants vs. The Big One;" 2010)
Best Sound Editing – Sound Effects, Foley, Dialogue and ADR Animation in Television
Nominees: Devon Bowman, Justin Brinsfield, Nicolas Carr, Andrea Anderson, Mishelle Fordham, Monette Becktold, Jeff Hutchins, Eric Freeman, Tony Orozco and Danny Tchibinda (for "Gary's New Toy;" 2013) • Mishelle Fordham, Monette Becktold, Jeff Hutchins, Timothy J. Borquez, Tom Syslo, Eric Freeman, Bobby Crew, Keith Dickens, Gabriel Rossas and Tony Orozco (for "It's a SpongeBob Christmas!;" 2013)