Object
Mermaid Man & Barnacle Boy is a comic book that first appears in the episode "Ditchin'."
Description
The book's cover is darkish-red with a light yellow comic book bubble inside it. The title is written in a blue "3-D" font. On the top left corner is a picture of Mermaid Man's head; on the bottom right corner is a picture of Barnacle Boy's head.
Role in series
"Ditchin'"
SpongeBob and Patrick go get a couple of Mermaid Man & Barnacle Boy comic books, the former having ditched school to get one. Fortunately for them, they are able to get their comic books and get them signed by Mermaid Man and Barnacle Boy themselves.
SpongeBob tells Patrick the story of the origin of King Neptune by sitting beside Patrick's bed and "reading" the story from a Mermaid Man & Barnacle Boy comic book flipped upside down.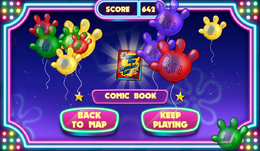 This comic book appears as one of the prizes at Glove Universe. It requires a certain amount of points to earn this prize. It is merely called "comic book."
SpongeBob reads the comic and finds an ad for a pen pal program, which inspires him to write to a pen pal.
A comic can be seen as Squidward takes it off a shelf in a secret comic book room in Mr. Krabs' office.
SpongeBob reads this comic when he bumps into King Neptune and accidentally grabs King Neptune's trident instead of his spatula.
A comic can be seen multiple times throughout the episode as SpongeBob uses them as reference.
It makes a cameo when SpongeBob and Bubble Bass fight with their action figures.
SpongeBob and Squidward are looking at the CCTV footage to find out where the Krabby Patty secret formula has gone and one part of the footage shows Bubble Bass reading a Mermaid Man & Barnacle Boy comic with an advertisement for the invisible helmet Plankton is wearing a bit earlier in the episode.
One comic can be seen briefly in one of the shelves at the Police Station as Plankton walks past it.