May 2018 premiere week was a 2018 event that featured four episode premieres that aired during the second week of May 2018 at 7:00pm EDT.
Premieres
Title card
#
Title
U.S. airdate
U.S. viewers

(millions)

223a
"Sanitation Insanity"
May 7, 2018

1.35

When Mr. Krabs gets in trouble for littering, he makes SpongeBob and Squidward clean up Bikini Bottom.

231a
"My Leg!"
May 8, 2018

1.24

Once Fred's leg heals up, SpongeBob is determined to keep it out of harm's way.

231b
"Ink Lemonade"
May 9, 2018

1.31

Patrick's lemonade stand is unsuccessful until he gets a secret ingredient from Squidward.

232a
"Mustard O' Mine"
May 10, 2018

1.30

When the Krusty Krab runs out of mustard, Mr. Krabs sends SpongeBob, Patrick, and Squidward to dig up some more.
Trivia
General
All of the episodes, except for "Mustard O' Mine," in this event were originally going to be aired in April 2018, but they were pulled back because of low ratings.[1]
After each day's episode, a preview of the next day's episode would be shown.
This is the first 4-day premiere week in 2018.
"Sanitation Insanity" is the highest-viewed episode with 1.35 million views; the lowest-viewed is "My Leg!" with 1.24 million views.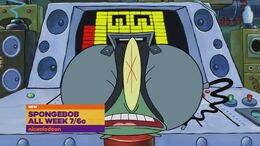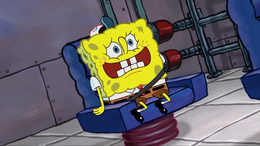 Gallery
Video
References