May 2016 premiere week was a 2016 event that featured five episode premieres that aired during the first week of May 2016 at 5:30pm EST.
Premieres
Title card
#
Title
U.S. airdate
U.S. viewers

(millions)

196a
"The Fish Bowl"
May 2, 2016

1.96

When Sandy is trying to study SpongeBob and Patrick in Behavioral Psychology, the experiment goes awry.

196b
"Married to Money"
May 3, 2016

1.76

After following Plankton's advice, Mr. Krabs marries the only thing he loves: Money!

198a
"Sharks vs. Pods"
May 4, 2016

1.81

The next encounter with 'The Sharks' may be too much for SpongeBob.

198b
"CopyBob DittoPants"
May 5, 2016

1.71

Plankton copies SpongeBob to steal the Secret Formula.

199a
"Sold!"
May 6, 2016

1.80

After SpongeBob and Patrick see a commercial, they think their houses have been sold. So they move away, which thrills Squidward.
Trivia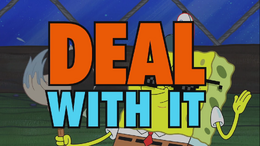 Videos
References