"

Oh, we know how to stay clear of that minefield.

"
 

— Margaret SquarePants after hearing her son failed his driving test again, "

Driven to Tears

"
Character
Margaret[1] Claire Gretchen[2] SquarePants (née BubbleBottom[3]) is SpongeBob's mother and Harold's wife. Unlike their son, who is a squared-off tube sea sponge, Margaret and her husband are designed as round sea sponges. Although both SpongeBob and his parents are modeled after real-life species of sea sponges, it has not been explained why they look so different.
The decision to have SpongeBob's parents resemble round sea sponges was a reference to SpongeBob's original design.
Description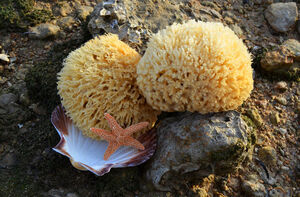 She has black hair and is dressed in a purple matchbox dress with matching sleeveless pantalettes with purple high heels and wears a pearl necklace. She is an orange sea sponge with light brown pores and light blue eyes.
Biography
She was born as Margaret BubbleBottom to Mr. and Mrs. BubbleBottom.
She married Harold SquarePants and took his surname.
She had one known child, named SpongeBob SquarePants.
She once told SpongeBob to never run with a broom.[4]
She now lives only with her husband since SpongeBob moved out.
Role in series
"Home Sweet Pineapple"
She and her husband come to pick up SpongeBob after nematodes eat his pineapple house.
Margaret and Harold watch their son (among others) perform at the Krusty Krab talent show.
Margaret and Harold give their son a boatmobile for "passing" his driver's test.
After SpongeBob shrinks everyone in Bikini Bottom, she tells him that he needs to admit his mistakes.
She and Harold seem disappointed that SpongeBob does not have his driver's license, seeing that even Patrick has a license.
Harold and Margaret are seen in a photo hung on SpongeBob's wall. When Patrick blasts his song "I Wrote This," the photo comes to life and Harold swipes the photograph of him and his wife behind the wall out of disapproval for the song.
Margaret and Harold come to visit SpongeBob ever since he started living at the Krusty Krab.
She drives SpongeBob and Patrick to the Great Barrier Reef as part of the vacation.
She and her husband attend their son's birthday party.
Trivia
The Q&A section of the official SpongeBob SquarePants website for New Zealand states that her name is "Claire Gretchen SquarePants."[5] This, however, is false.
In "A SquarePants Family Vacation," it is revealed that she likes knitting.
In the end credits, she has been listed variously as "Mom," "Ma Sponge," and "Mrs. SquarePants."
In the episode "Sailor Mouth," after SpongeBob uses a swear word imprinted on the dumpster graffiti, Incidental 119 asks if he kisses his mother with that mouth, to which SpongeBob, not realizing what the garbage collector actually meant, replies that he sometimes does but has not recently.
In older seasons up to "The Slumber Party," she appeared wearing a purple hat. Starting in "Truth or Square" and onward, she now appears wearing a black hat which is the same color as her hair.
References