"Love That Squid" is a SpongeBob SquarePants episode from season 7. In this episode, Squidward gets ready to go out on a date and SpongeBob assists him.
Characters
Synopsis
At the Krusty Krab, Frankie is ordering food for Evelyn. He doesn't realize that Squidward was on his break and can't read his sign. Evelyn sees that he can't read and reveals that she can't read either, so they comment that they were meant for each other. Learning that his books about love are only "torturing" him, the depressed Squidward throws away his book and impacts on evil wisdom SpongeBob. When SpongeBob tries returning the book, Squidward claims the book is "just a cruel reminder that I'm single, and likely to remain that way." SpongeBob tries cheering Squidward up by pointing out that while he's currently never found true love, that doesn't automatically mean he won't ever find it, and says, "There's a squid for every pot!," but Squidward complains about that being a very clichéd saying.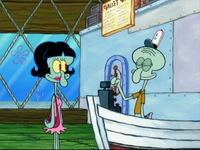 Just then, a female customer walks in and Squidward becomes instantly smitten with her. The woman admires the "décor" and Squidward believes that she's perfect since they seem to have the same interests and hobbies. Squidward decides to ask her out on a date, but when she comes up to the register, and Squidward's too nervous to ask her out on a date. Just as the woman is about to leave the restaurant, SpongeBob turns on the motor that's in the boat containing them and the register, and manages to prevent her from leaving. Squidward's still too nervous and love struck to say anything to her, so SpongeBob introduces them to each other, during which it's revealed that the woman's name is Squilvia. After SpongeBob tells Squilvia about Squidward, she agrees to go on a date with him later that night. After she leaves, SpongeBob points out that Squidward was pretty nervous back there and asks him about the last time he actually went on a date. Squidward gets even more nervous when he realizes just how long it's been since the last time he actually went on a date, so SpongeBob offers to help him prepare for it by making him go on a "practice date."
As practice for the real date, he is tested at SpongeBob's house on complimenting about his date, giving flowers, driving to dinner, and having dinner, much to his annoyance. He drives in a circle from and to SpongeBob's house (which would be where the restaurant is). At the "restaurant" (SpongeBob's roof), Patrick serves plastic dinner which he literally takes a bite out of. When Squidward has had enough, he leaves and shouts angrily over how it was pointless. He goes down the stairs, and SpongeBob convinces Squidward to come back, but his shoe gets caught, causing him to fall down the stairs, revealing his true identity. Frustrated, Squidward yells at him for his pointless acts that wasted his time. Squidward turns around and sees that Squilvia showed up and saw everything. He expects her to be disgusted with him but she reveals that Squidward's true personality was better than what she expected. Squidward is excited with this, as he and Squilvia go on their date before he thanks SpongeBob for the help. Pleased by the display, SpongeBob comments that his work is done, only to find Patrick dressed like a girl, demanding a movie and plastic popcorn.
Production
Art
Music
( ‣ ) Production music

( • ) Original music

( ◦ ) SpongeBob music

 ‣ Romantic Opening [#26] - Harry Bluestone, Emil Cadkin [Title card]
 • Another Krusty Krab Day - Michael Bolger, Nicolas Carr [Opening at Krusty Krab]
 • Luv Harp - Nicolas Carr ["We are meant for each other!"]
 ‣ ? [chimes]
 • Love Theme For Saw & Ukulele Solo Uku - Billy Lincoln, Michael Gurley [Squidward sighs]
 • Love Theme For Saw & Ukulele - Billy Lincoln, Michael Gurley ["Even the illiterate are finding love."]
 • Tiki Land - Nicolas Carr, Sage Guyton, Jeremy Wakefield [Squilvia enters at the Krusty Krab]
 • Nude Sting - Nicolas Carr [closeup of Squilvia's face]
 ‣ Bumbling B - Bernd Gesell [Squidward babbling]
 ‣ Late Night Jinx - Phil Green [Squilvia starts to leave]
 ‣ A Pirate's Life For Me (A) - Ron Goodwin ["Hang on, buddy!"]
 ‣ Befuddled Gent - Phil Green [Squilvia introduces herself]
 • What's This - Nicolas Carr ["Intelligent?"]
 • Proud to Be a Fish - Nicolas Carr, Barry Anthony ["We are talking some serious credentials."]
 • Tip Toe Through the Seaweed - Nicolas Carr, Barry Anthony ["He thinks you look like a breath of pure sunshine in that dress."]
 • Squidward Giant Clarinet - Nicolas Carr, Barry Anthony [clarinet]
 • Harp Gliss & Bell w/ Carrol Chimes - Nicolas Carr [Flower smiles]
 • Tip Toe Through the Seaweed - Nicolas Carr, Barry Anthony ["Oh, he sounds interesting!"]
 ‣ South Pacific Island II - Victor Cavini ["It's his selflessness."]
 ‣ Hawaiian Beauty - Lionel Wendling ["I think that sounds perfect."]
 • Fox Trot - Hiram Titus [flashback to Squidward's last date]
 ‣ Shock Happening 1 - Harry Lubin ["SpongeBob, you gotta help me!"]
 • Steel Licks 31 - Jeremy Wakefield ["You, my friend, are in desperate need of a practice date before going on a real thing."]
 • Vibe Q Sting - Nicolas Carr ["A practice date?"]
 ‣ Droopy - Arthur Wilkinson [Squidward rings SpongeBob's doorbell]
 ‣ Drama Link (D) - Hubert Clifford ["Dear Neptune!"]
 • Steel Licks 6 - Jeremy Wakefield ["Missed a spot."]
 ‣ Cute and Lovable - Phil Green ["Aren't you going to compliment my outfit?"]
 • Tension Bits - Nicolas Carr, Sage Guyton, Jeremy Wakefield [SpongeBob sneezes]
 • Steel Sting - Jeremy Wakefield ["...very allergic to tulips."]
 ‣ Drinks Party - Marc Dall'Anese ["Hop in."]
 ‣ Jalopy - Ron Aspery [Squidward driving]
 • Lounging and Fine Dining - Nicolas Carr, Barry Anthony [chit-chat]
 • Who Said That - Nicolas Carr, Barry Anthony ["Squidward, wait!"]
 ‣ Dramatic Cue (B) - Ronald Hanmer [SpongeBob and Squidward fall down the stairs]
 ‣ Editor's Falling Over (B) - Dick Walter [Squidward's head gets stuck into SpongeBob's door]
 ‣ Comic Walk - Sidney Torch [Squidward yells at SpongeBob]
 • Love Theme For Saw & Ukulele - Billy Lincoln, Michael Gurley ["Um, you just saw that, didn't you?"]
 • Steel Licks 6 - Jeremy Wakefield [ending]

Release
Trivia
General
This and "Gary in Love" are both romance-themed episodes in season 7 and aired near Valentine's Day.
This episode was paired up with "Tunnel of Glove" during its first airing in the Crush Week event, but has since been re-airing with "New Fish in Town."[1]

Coincidentally both are love-themed.

There are twelve kiss marks in the title card.

This is the second episode whose title card features kiss marks. The first is "Grandma's Kisses."

It is revealed in this episode that SpongeBob is allergic to tulips.
This is the first episode where Squidward falls in love with a woman.

The first time he falls in love with someone is in "That's No Lady," when Patrick cross-dresses.

This is the second episode where Patrick cross-dresses. The first is "That's No Lady."
In the French dub, this episode is called "Silvia," which is Squilvia's name in that dub.
In the Russian dub, the "I'm on break" sign on the cash register is translated as "I'm broken."
Vincent Waller posted on Twitter about what probably happened to Squilvia after this episode: "😊She couldn't stand his clarinet playing, or possibly she was eaten by a whale. I hear that happens from time to time 😉."[2]
Cultural references
Errors
Squidward's "I'm on break" sign disappears after Squidward tossed the copy of Squid Love back into the kitchen.
When the book is on SpongeBob's tongue, it disappears after he says to Squidward, "You dropped your ook!"
While Squidward and SpongeBob are talking to each other while huddled inside the boat, the animation becomes tinted a slightly blueish hue.
When Squilvia walks away from the register, a motor appears in the boat, and then disappears again once they get to the front of the dining room.
Squidward's boat disappears in one shot at the door, when the camera focuses on SpongeBob, but is back in the next far out shot.
While SpongeBob is talking to Squilvia about Squidward, there are two buildings behind the window glass in the background. But in the next shot, the one to the left disappears.
When Squidward arrives at SpongeBob's house for the practice date, he rings the doorbell and it disappears in the next shot.
The tulips in Squidward's hand disappear right after SpongeBob sneezes on them.
SpongeBob's purse disappears after he gets into Squidward's car, but reappears after SpongeBob gets out.
Near the end of the episode, where Squidward and Squilvia talk, one of the shots shows three buildings in the background, then pans to Squilvia's face, and returns to the same shot, but this time, the building on the far left has disappeared.
Video
References