This is a list of places in the SpongeBob SquarePants multiverse.
Cities and towns
Bikini Bottom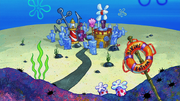 Bikini Bottom is the main setting in SpongeBob SquarePants. Bikini Bottom is a medium-sized city which, according to Squidward, is in the middle of nowhere.[1] It consists of many businesses, including restaurants, stores, and manufacturers. This city also has a booming economy, balanced educational and health systems, a well-structured government, and an exceptional law enforcement system. There are even stadiums, amusement parks, and other recreational facilities.
Rock Bottom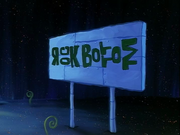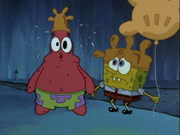 Rock Bottom is a deep-sea trench located beneath Bikini Bottom. The road down to it is exactly 90˚. Everything is pitch black except for a few street lights, and everyone in Rock Bottom speaks a language the same as English, except they blow a raspberry in between every two to four syllables. There is also a candy machine as well as restrooms (though foreigners can't tell which rooms are for men and which are for women). A bus station is present, in which SpongeBob has a hard time catching one (as it kept arriving just as he looked away from the stop). Merlin's Cave is the residence of the weather magician of the sea which is difficult to access. There is also the WSEA news headquarters, the Rusty Anchor, which sells Coral Col and Diet Kelpsi with a lemon twist. Known customers are Patrick, Plankton, and Mermaid Man. In Battle for Bikini Bottom, the Rock Bottom Museum is shown. It features many artworks and has an advanced security system; Barnacle Boy works as a security guard there. The Trench of Advanced Darkness is a trench that is lower than the city itself. Rock Bottom is located past Jellyfish Fields, which is past the Chum Bucket and Krusty Krab. Creatures in Rock Bottom are extremely strange-looking and resemble deep-sea creatures and deep-sea marine life. Some resemble the angler fish, while others are rather abnormal. Many of them resemble the typical "sea monster" someone would describe.
Bottom's Up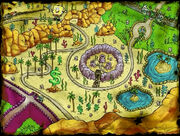 Bottom's Up is a very fancy city seen in the Employee of the Month video game. It is a sister city to Bikini Bottom. The only thing that is not fancy is Cowfish Craig's shack, the owner of which is criticized. Other establishments include the Sublime Seafoods, Oxygen Springs, and the Waverly Hills neighborhood. Waverly Hills is a wealthy district on the cliffs of the Kelp Forest. The sky and water murk seem to be different here; it is always as if it is sunset. Once, Sandy has been to this city.
Tentacle Acres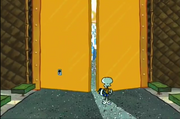 Tentacle Acres
is a gated community of
octopuses
living in Easter Island Heads.
Sponges
and
starfish
aren't allowed to set foot in this town, but SpongeBob and Patrick get in thanks to the smell of fried oyster skins that Patrick had eaten earlier. Activities here include bike riding, clarinet playing, croquet, and interpretive dancing. However, childish games such as playing with
reef blowers
are not allowed in Tentacle Acres. Establishments besides the Easter Island heads include the
Full of Health grocery store
, an
Interpretive Dance Academy
, a park, Le Cafe (food stand) an Ice Cream Stand, and the Security Office. Only one street name is revealed, in which Squidward stayed at, it is called
New Life Street
(containing houses 302, 303, and 304). Most of the people living here resemble Squidward, just with different features (eyes, hair, etc.).
New Kelp City
New Kelp City is a huge modern city that - apart from appearing in books and video games - appears in one episode: "What Ever Happened to SpongeBob?" In this episode, SpongeBob ends up at the city after losing his memory. New Kelp City is terrorized by a gang named The Bubble Poppin' Boys. SpongeBob becomes the new mayor of New Kelp City by defeating The Bubble Poppin' Boys. The city is a parody of the real-life city New York City.
Bass Vegas
Bass Vegas is a neighboring city from Bikini Bottom. It is seen in the episode "Have You Seen This Snail?" where Gary runs away from home and ends up there. It is also featured in the book Fish Happens! and the game Bikini Bottom Brawlers. The city is filled with many shops, casinos, and stores. It appears to be more populated then Bikini Bottom. It is the underwater equivalent of Las Vegas, Nevada.
Dullsville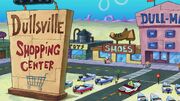 Dullsville is a city which appears in the episode "Plankton Retires." The city has a shopping center in it, called the Dullsville Shopping Center. In this shopping center plaza, there are stores such as Dull-Mart and Shoes. Dullsville also has a retirement home, known as Dullsville Senior Living. Plankton visits this town after retiring.
Far-Out-Ville
Far-Out-Ville is a small town shown in the episode "The Great Patty Caper". All that is seen of the town is its many houses and its bank, which is where Mr. Krabs hides the Krabby Patty secret formula. The town also has a grey sign with the town name on it. According to Mr. Krabs, the town is located across the ocean, and during the camera pan out scene, it pans out from the Gulf of Mexico, not the Pacific Ocean. This means it is one of two cities in the Atlantic Ocean and not the Pacific Ocean, with the other being Atlantis.
Atlantis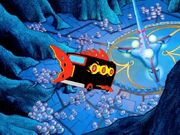 Atlantis is the lost city located in the Atlantic Ocean. There appears to be 2 different versions of Atlantis one of which is ruled by King Neptune and has Roman and Greek architecture. This Atlantis It is home to Neptune's Palace and The Poseidome. This version of the city appears first in the episode "Neptune's Spatula." The other is ruled by Lord Royal Highness and has a very futuristic appearance. It shows up in the special episode "Atlantis SquarePantis" and was the home to the Oldest Living Bubble. Atlantis is based off of the real world legend of Atlantis.
Shell City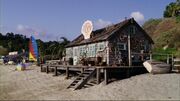 Shell City despite its name, is not actually a city: it is a gift shop called Shell City: Marine Gifts and Sundries. It is located on the surface on a beach and is owned by a Cyclops (in reality, a man in a diving suit), selling dried-out dead sea creatures. The road to Shell City is dangerous and no one has ever returned from there, which makes it the perfect place for Plankton to sell Neptune's crown in the movie. It is located on a beach where SpongeBob and Patrick meet David Hasselhoff. In a deleted scene of the movie, (which can be seen in the SpongeBob SquarePants Movie DVD), Shell City is actually a city and is where Sandy constantly gets pursued all over the place by squirrel exterminators in black suits. She also mentions that there are buses that arrive here going to Bikini Bottom. Although Shell City was filmed in Florida, the location in SpongeBob's world would land Shell City in Australia most likely due to a sign in a SpongeBob book based on the movie that says that Shell City is 3,000 miles away from the Thug Tug. The Thug Tug is not that far from Bikini Bottom. Bikini Atoll is approximately 5,000 miles from the United States, which couldn't mark Shell City in California.
Encino, California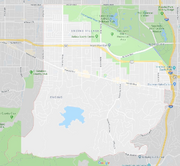 Encino is the hometown of Patchy the Pirate and Potty the Parrot. It is located in the United States Of America. Most of the Patchy segments in specials take place here. Landmarks include Patchy's house, Mrs. Johnson's house, Don's Import Store & Delicatessen, The Forked Tree, Monkey Lagoon, The Poop Deck, and more. Encino is located in the Greater Los Angeles Area, same city as Nickelodeon Animation Studio which is in Burbank, California. There was a song about Encino in the special "Atlantis SquarePantis" titled "Back in Encino."
Minor cities and towns
Ukulele Bottom - Nothing much is known of this town, apart from being the home of the annual jellyfish convention, located at the Jellyfishers' Convention Center. It appears in "I Was a Teenage Gary." It was also mentioned by Patrick.
Leisure Village - Not much is known about this place, except that Mermaid Man and Barnacle Boy went there on vacation while SpongeBob and Patrick watched the Mermalair in "Mermaid Man and Barnacle Boy III."
Palm Bay - Palm Bay is home to the legendary master fry cook who wields a golden spatula. Grease fires engulf this civilization. Palm Bay spoofs Pompeii, another ancient city. It is also mentioned in Legend of the Lost Spatula. Mount Kabloovious erupted and covers Palm Bay. It is the equivalent of Mount Vesuvius.
Barnacle Bay - A city that was mentioned in the episode "Fools in April." The only know establishment is the Art Museum, which also awards artists monthly. Also, as revealed in the SpongeBob book "The Amazing SpongeBobini," a circus called the Stingray Brothers and Barnacle Bay Shrimp's Circus comes from this city and they perform in Bikini Bottom.
Bikinos Bottos - A city located in the jungle are of Drawn to Life: SpongeBob SquarePants Edition. It is the second last level in this area. Its appearance is similar to buildings of the aztecs or maya. It also seems to contain a palace with many precious treasures inside. You have to rescue three citizens of Bikini Bottom there: Margie Star, a female bluefish (probably Incidental 48), and a turquoise kid with a propeller hat (most likely to be Billy).
Mu - An ancient city, seen in the DS version of the SpongeBob's Atlantis SquarePantis video game.
Squirrel City - Mentioned by Sandy in the video game SpongeBob's Atlantis SquarePantis for the console versions.
El Tuna - Mentioned briefly in "SpongeBob's Last Stand."
Base Eight - A town where all the fish have fingers. It appears in the SpongeBob comic strip "Fingers!"
Farawayville - Mentioned in the episode "The Slumber Party." Girly TeenGirl lives there.
Stupidtown - Mentioned when Patrick is sweeping the Krusty Krab floor with the bottom of the broom, and Nat says "Hey pal, you just blow in from Stupidtown?" as seen in "Big Pink Loser."
Quittersville - Mentioned in the episode "Chimps Ahoy." by the bus driver, it is one of the three places in which those who have nowhere else to go can go.
Failuretown - Mentioned in the episode "Chimps Ahoy." by the bus driver, it is one of the three places in which those who have nowhere else to go can go.
Loserburg - Mentioned in the episode "Chimps Ahoy." by the bus driver, it is one of the three places in which those who have nowhere else to go can go.
Locations in Bikini Bottom
Other Locations
Texas the U.S. State in which Sandy Cheeks calls her homeland.

The Moon - The moon has had its very brief debut in the episode "Sandy's Rocket." It was then later seen many seasons later in "Mooncation", a cameo in "A SquarePants Family Vacation", and "Goons on the Moon."
China Sea - A place where one of SpongeBob's Mermaid Man and Barnacle Boy toys were manufactured in. This location is likely a play on how all manufacturing for the United States takes place in China.
Nowhere - A desert-like area with no inhabitants. It was seen in the episode "SpongeBob's Last Stand". It is different than the Nowhere seen in "SB-129".
Far Far Away - A bus takes SpongeBob here in "Squidward in Clarinetland." Also, Squidward gets hit by a bus that will take him there in "Wishing You Well." Little is known about Far Far Away. It is not known if it is a location or an amount of distance away.
Apple World - Mentioned by a worm in "Rock-a-Bye Bivalve." It is inside any apple where there is a worm. The worm says that they bury anyone from Bikini Bottom. He later gets eaten by Junior.
Kahmamoku Cove - The home of Jack Kahuna Laguna on a remote island that is shown in "SpongeBob SquarePants vs. The Big One."
Charted Caverns of Lemuria - An ancient site where an advanced civilization once lived.
Winchell Apartments - An apartment building from the 1950s that was the original home of Mermaid Man and Barnacle Boy. It appears in "Mermaid Man Begins."
Vats of Acid "R" Us - A parody of the now-defunct Toys "R" Us, this odd building was build right beside the apartment building of the original home town of Mermaid Man and Barnacle Boy. It appears in the episode "Mermaid Man Begins".
Secret Bomb Testing Facility - A government bomb testing sight that Mermaid Man and Barnacle Boy land at after being brought by an acid wave that was carrying them. It was featured in "Mermaid Man Begins".
Islands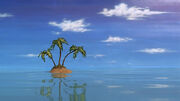 Land forms, barriers, etc.
City Limits - This is near the slope to Rock Bottom outside Bikini Bottom. Buses usually travel down there where SpongeBob and Patrick got stuck in the episode "Rock Bottom."
The County Line - The line that signals you've left the Bikini Bottom county. It is next to the gas station outside Bikini Bottom operated by two Hillbillies. Past the line is very dangerous, and overrun with criminals.
Make-Out Reef - This place appears in the episode "Mermaid Man and Barnacle Boy V." There are a few people making out there, including Sandals, making out with a pillow. It has also been said that Squidward has been there before, because of his quote "Ah, make out reef. Good times, good times."
Mount Climb-up-and-Fall-off - A small cliff where Patrick climbs up and then falls off. It appears in the episode "Valentine's Day" and the PC game Employee of the Month
Brain Coral Fields - Patches of land filled with Brain Coral located near Jellyfish Fields. It shows up in the episode "Patrick SmartPants".
Peep's Cliff - A cliff located near the Kelp Forrest. It is made out of purple sand and has a sign with the location of the name on the top. there is a dam at the bottom of the cliff. It is seen in the episode "Food Con Castaways".
Bikini Bottom Tar Pits - A huge series of Tar pits located near Goo Lagoon in the episode "Ditchin'".
Dutchman's Triangle - An area near Goo Lagoon shaped in a triangle that is said to have very calm waters and rain jelly donuts. It is located right above Davy Jones' Locker. It appears in the special "SpongeBob SquarePants vs. The Big One".
Mt. Bikini - A giant mountain located near Conch Street seen in the episode "Are You Happy Now?" SpongeBob and Squidward were the first people to climb it.
Mt. Bikini Bottom - This volcano is located in Bikini Bottom and somewhat near the Krusty Krab. This volcano erupts in "Sponge-Cano!", which destroys Bikini Bottom and sends its people into a panic. This volcano was also known to kill Dolphin Warrior's race, leaving him the only survivor.
Great Barrier Reef - The largest coral reef system were appeared in "A SquarePants Family Vacation".
Bikini Goodlands - A lush field with a lot of vegetation and wildlife. It makes a cameo in "Scavenger Pants".
Bikini Badlands - A very dry and rocky desert with many rock formations. It also appears in "Scavenger Pants" as one of the locations SpongeBob and Patrick go to during Squidward's scavenger hunt.
Mariana Trench - This is the deepest trench in the entire ocean. In the episode "Scavenger Pants", SpongeBob and Patrick fall down the trench to find the trench, but are able to find the Boxing Begonia for Squidward.

Abyss - Another trench SpongeBob and Patrick accidentally went down in a submarine they found and met a hungry sea monster that they fed Krabby Patties in "20,000 Patties Under the Sea."
The Trench - The Monster Trench is a large trench in the middle of the Pacific Ocean, described as deep, dark, hazardous, and monster-infested. A parody of the Mariana Trench. The trench includes gulper eels, monsters, and other deep-sea creatures who suffer from deep-sea gigantism.
Valley - Between the Monster Trench and Shell City, this is where the Cyclops spotted SpongeBob and Patrick.
The Out Of Bounds Area - A part of the video game Battle for Bikini Bottom, it is a place that you get to by going on sand that is out of bounds. You eventually get palled away by Hans and put back onto normal ground.
Alternate universes, dimensions, & realities
Alternate universes & dimensions
Alternate realities
Alternative Mr. Plankton Universe - An alternative universe in the episode "The Algae's Always Greener" where Plankton replaces Mr. Krabs as the boss of the Krusty Krab, Pearl being Plankton's daughter, and having a Krusty Krab uniform and Mr. Krabs replacing Plankton as the owner of the Chum Bucket and him having no clothes.
Man Rayopolis - An alternate universe in the episode "Back to the Past" that was branched off back in Mermaid Man and Barnacle Boy's youth. Triggered by Patrick, the universe consists of Bikini Bottom being named Man Rayopolis and the Krusty Krab being named The Designated Area Where You Are Permitted by Man Ray, Your Ruler, to Obtain Sandwiches Using Man Ray Dollars. Everything is run by Man Ray including people, having collars around their necks. It isn't explained in the episode how modern Bikini Bottom became back to normal.
References
Community content is available under
CC-BY-SA
unless otherwise noted.