"We're not getting paid to clean stuff!"

This article is in need of cleanup in order to comply with Encyclopedia SpongeBobia's Manual of Style. Please help this Wiki by making this article clean and tidy!
Please remove this message when finished.
Throughout the course of
SpongeBob SquarePants
, many characters have faced life-threatening injuries or experiences. Most of the time, they have been narrowly rescued or escaped from their fates. Other times, they have endured their fates and ended up in the hospital. Other near-death experiences which causes the characters to be put to death due to sickness, enemy attack, destruction etc.
This is a list which covers the characters' near-death experiences. Episodes must be listed in order of the dates they were aired.
SpongeBob's life has most usually been in good luck, except on his boating school driving tests, where he gets himself and others injured or almost injured from his reckless driving. He also gets injuries from when dared to participate in extreme sport activities, due to his weakness. The following is a list of near-death experiences that SpongeBob has faced.
Reef Blower:  He and Squidward almost shrivel up due to the lack of water, which was caused by SpongeBob's usage of the eponymous machine.

Tea at the Treedome: Almost gets swallowed by the clam, and almost dies due to a lack of water.
Pizza Delivery: He and Squidward are almost run over by a truck driver and nearly starved to death from the lack of food.
Home Sweet Pineapple: Gets smashed by Patrick's house multiple times when the latter has a nightmare about spiders.
Nature Pants: He becomes overfilled with water by the firefighter whilst trying to put out the fire, causes him to land on the grill and shrivel up upon putting out the fire. His hand gets stung by the jellyfish's stinger, swelling up in the process. He then becomes itchy by the poisonous sea urchins from the fern.
Fools in April: He nearly gets injured by Squidward's violent prank.
Mermaid Man and Barnacle Boy II: He, Mermaid Man and Barnacle Boy are folded up by the invisible boatmobile's origami function.
Dying for Pie: He trips over a rock while holding the pie in Squidward's face, making a huge explosion.
Prehibernation Week: He gets into several life-threatening accidents caused by Sandy's extreme sports.
Survival of the Idiots: He and Patrick are brutally beaten by Sandy, and are then buried alive and nearly die of hypothermia.
No Free Rides: Crashes the car in his driving test, faints and collapses onto Mrs. Puff's reward cake, accidentally sprays pepper spray in his eyes, booted out of the car by Mrs. Puff, gets massacred by large clams, shredded by cheese graters, and tortured by educational TV. Then he and Mrs. Puff's fight causes SpongeBob's car Boaty to crash into a police car.
I'm Your Biggest Fanatic: Jumps off a building at Kevin C. Cucumber's request. He is later zapped and almost zapped by the fake queen jellyfish. He is also nearly zapped by the king Jellyfish along with Kevin and the Jellyspotters.
Pressure: He, Squidward, Patrick, and Mr. Krabs are almost eaten by seagulls.
Shanghaied: He and Patrick are sprayed multiple times by perfume in the perfume department. He, Patrick, and Squidward are either chased or eaten by the Flying Dutchman depending on the ending.
Gary Takes a Bath: Gets detonated by a time bomb, falls off the ceiling into the bathtub, and lastly falls off a tree into a mud puddle.
Mermaid Man and Barnacle Boy III: He and Patrick are electrocuted by Man Ray.
Squirrel Jokes: Nearly dehydrates from a lack of water in Sandy's treedome and gets inflated in the treedome. That night, he is in bandages.
Squid on Strike: When Squidward tries to pull him off the Krusty Krab doors, parts of his body stay attached to the windows. Squidward's loud megaphone caused his eyes to pop out.
Sandy, SpongeBob, and the Worm: He and Sandy almost get eaten by the massive worm, and nearly fall down an abyss.
Mermaid Man and Barnacle Boy IV: The Bikini Bottomites venture into his body and attack his internal organs. Squidward even saws a vein.
SpongeGuard on Duty: He and Patrick nearly drown at Goo Lagoon. Then both of them get a cramp at the end in a kid's pool.
Mermaid Man and Barnacle Boy V: Accidentally burnt by Squidward as Captain Magma and runs around in a circle until he reduces into ashes with only his shoes still intact. Comes to the Krusty Krab later in a wheelchair with a cast covering his head.
Club SpongeBob: Accidentally hit his face first by Squidward after the flying of the treehouse.
Clams: Along with Squidward, nearly eaten by Old Bluelip the massive clam.
No Weenies Allowed: After he enters the Salty Spitoon, he slips on an ice cube and is rushed to the hospital.
Krabby Land: Pays two thugs to torture him for the entertainment of the children.
I Had an Accident: Crashes into the ground and shatters his buttocks. He is then ripped in half by the gorilla.
The Sponge Who Could Fly: Falls off three cliffs and is eventually blown up by Cannonball Jenkins, who wanted to get revenge on him for destroying the silo of his farm.
SpongeBob Meets the Strangler: His life is almost threatened by the Tattletale Strangler, but the latter is persistently interrupted by SpongeBob's parties, causing him to give up.
The SpongeBob SquarePants Movie: Gets chased by the Frogfish, then he and Patrick almost die from the lamp's heat, only to survive because the sprinklers turn on. Nearly killed by Dennis but he and Patrick hit a catamaran.
Fear of a Krabby Patty: He, Squidward and Mr. Krabs work 24 hours for 43 days (or 1032 hours) without a rest.
Shell of a Man: When Mr. Krabs offers him to punch him in the "Armor Abs," his arm breaks to pieces. In the ceremony, he spits out three teeth then eventually he spits out his ribs. Hit by Torpedo Belly, shattering Mr. Krabs' shell to pieces.
Dunces and Dragons: He and Patrick are nearly executed by the dragon jellyfish, not until he begins feeding it with one of Patrick's Krabby Patties.
Krusty Towers: Injured in the destruction of the Krusty Towers along with Patrick, Squidward, and Mr. Krabs.
Ghost Host: He is grabbed by a hand into a present box at the end.
Squidtastic Voyage: Bumps into Squidward's organs, and nearly drowns in his stomach acid.
The Original Fry Cook: Stepped on by everybody including the Krabby Patty he's going to serve. Then he is shattered by Mr. Krabs after he is not the Employee of the Month anymore.
Spy Buddies: He and Patrick blew up when Patrick hit the self-destruct button on the Spymobile and he and Plankton are nearly killed by the lasers that destroy the Chum Bucket.
A Flea in Her Dome: He, Patrick, and Sandy get savagely attacked by fleas.
Breath of Fresh Squidward: He and Patrick are flung away by a massive catapult and get zapped by Squidward's electric fence at the end.
Atlantis SquarePantis:  He, Patrick, Squidward, Sandy, and Mr. Krabs are nearly killed by Plankton's massive tank but said tank fires ice cream instead of missiles. They are also chased by the Atlantis guards.
The Battle of Bikini Bottom: He and Patrick participate in a war between clean and dirty. The last time he is attacked was when he is smashed by the dumpster on the Krusty Krab by Patrick.
Spongicus: Nearly eaten by the lion fish.
The Splinter: Is almost impaled by the swords and scissors while falling. He is then skinned alive after attempting to remove the splinter in his thumb with his teeth.
A Life in a Day: He, Patrick, and Larry are severely injured by landing into Rippers Reef.
Sun Bleached: Burnt by the tanning machine because Patrick abandoned him. He also removed one of SpongeBob's head pieces. Attacked by a woman for being a monster, and he and Patrick and other Bikini Bottomites are burnt to ashes by the tanning lights.
Plankton's Regular: When Nat Peterson opens the door into SpongeBob's face, his skin peels off. He is then crushed by a giant spoon.
Krusty Krushers: He and Patrick are brutally beaten by Plankton's two wrestlers throughout the episode.
Ditchin': Very nearly drowns in a tar pit but miraculously climbs out of it.
The Slumber Party: Attacked by Pearl's friends several times in the episode. While he is morphed into a frozen pizza, Mr. Krabs eats his left eye.
Sand Castles in the Sand: He and Patrick are severely injured in the collision of their aircrafts after their war of the better sand castle.
Greasy Buffoons: Mistaken for a treat and nearly eaten by Patrick at the end.
Stuck in the Wringer: He gets stuck in his bathroom wringer and gets injured in the carnival after going to some life-threatening rides and games.
Shell Shocked: He knocks all of the shells of Angry Jack's Shell Emporium, breaking them because he would have been stabbed by the shards of the shells, then to pay off the damages of the shells he gives his eyeball and organ and a leg to Angry Jack because his mind won't let him to stop destroying shells.
A Pal for Gary: Almost swallowed by Puffy Fluffy, but Gary saves him.
SpongeBob's Last Stand: Gets run over by Plankton's steamroller and encased in cement.
The Clash of Triton: Gets one of Triton's fingernails stuck in his eye. Then an angry mob chases him and Patrick.
Yours, Mine and Mine: He and Patrick nearly dry out from lack of water in the treedome.
Patrick has a number of near-death experiences, but he rarely gets injured. He mainly gets injured because of his stupidity. He also gets hurt due to his reckless jellyfishing.
Mr. Krabs mainly gets injured by Plankton's evil plans but rescues himself afterwards. He is almost put to death due to seeing some high prices and due to the several idiots' wreckage. He can be nearly killed or injured due to his extreme greed.
Plankton has also had a large number of near-death experiences in the series, and this becomes a running gag in the series, especially on episodes featuring him. He is usually squished by people (mainly stepped and trodden on) because he is a jerk. And when he angers Karen she will zap him. He is also sometimes launched back into the Chum Bucket by Mr. Krabs when caught stealing the Krabby Patty secret formula. He is also hurt when his schemes backfire.
Because she is a computer program, Karen never has a real near-death experience. However, there have been some occasions when Plankton thinks she is almost dead, and her wall form is destroyed whenever the Chum Bucket blows up.
Squidward is probably one of the characters most likely to get injured in the show. He is constantly injured by SpongeBob, Patrick and other Bikini Bottomites. He also got injured when he makes mistakes, but backfires them. He also just gets miraculously injured or hurt by objects.
Sandy rarely gets injured in the show. She is sometimes injured by her science inventions that go wrong.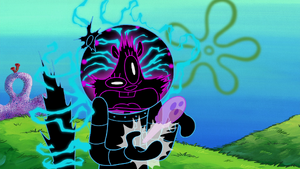 The Legend of Boo-Kini Bottom: Her soul gets taken by the Flying Dutchman. She was saved by SpongeBob afterwards.
Squirrel Jelly: Gets brutally zapped and beaten up by the monster jellyfish.
The String: Almost drowns when her treedome got destroyed by a loose string.
Mrs. Puff has nearly died almost every time SpongeBob takes a driving test with her.
Boating School: SpongeBob crashes and sends Mrs. Puff to the hospital twice.
Valentine's Day: When SpongeBob gives her a valentine, Mrs. Puff gets distracted and crashes her boat into a fire hydrant.
Dying for Pie: The boating school lighthouse is seen as one of the buildings that blow up because of the bomb Squidward gives SpongeBob.
No Free Rides: Mrs. Puff accidentally drives Boaty off of a cliff and onto a police vehicle.
Doing Time: The boating school explodes into a mushroom cloud at the beginning. Later, Mrs. Puff becomes trapped in a seemingly endless cycle of screaming while SpongeBob recklessly drives through the sky.
Pranks a Lot: After SpongeBob and Patrick scare her, Mrs. Puff deflates like a broken balloon.
Mrs. Puff, You're Fired: Mrs. Puff is nearly hit by SpongeBob's boat when he tries to drive without a blindfold.
Driven to Tears: It is not shown, but SpongeBob fails his driving test at the beginning of the episode and likely endangers Mrs. Puff as always.
Boat Smarts: Mrs. Puff and Squidward are greatly endangered when SpongeBob causes them to crash.
Nautical Novice: Mrs. Puff is on board when SpongeBob nearly drives the ship that was turned into the Bikini Bottom Museum of Boating into town. She warns him that they will be "flattening millions of innocent lives" if the boat is not stopped.
Boating Buddies: Mrs. Puff is first endangered when SpongeBob recklessly drives and crashes the testing boat through a variety of shops with her inside. Later, Mrs. Puff is shrunken along with SpongeBob and Squidward. When they run onto a potato chip, a mailman nearly eats them.
Summer Job: She crashes into the Krusty Krab with her boat.
Hide and Then What Happens?: Mrs. Puff starts a fire at the boating school when she throws her boat into the lighthouse.
The Hot Shot: She is severely injured when SpongeBob and Tony Fast Jr. destroy the boating school. At the end of the episode, she is shown in a full-body cast and a wheelchair.
Demolition Doofus: Mrs. Puff becomes crippled and ruptures her inflation sac after SpongeBob crashes the testing boat into the boating school lighthouse.
It's a SpongeBob Christmas!: During the "Don't Be a Jerk (It's Christmas)" sequence, SpongeBob is shown recklessly driving while Mrs. Puff is scared.
Bumper to Bumper: She and SpongeBob take a wrong turn onto a dangerous ten-lane seaway, where they nearly crash into dozens of other boats.
Code Yellow: While Mrs. Puff is being treated by an iron lung machine in the hospital, SpongeBob tries to drive the machine and ends up catapulting Mrs. Puff out the window.
Burst Your Bubble: At the beginning of the episode, SpongeBob crashes the testing boat with Mrs. Puff inside on a busy street. Later, Mrs. Puff tries to drive a bubble boat on the open road and bumps into many other drivers.
The Getaway: At the beginning, she and SpongeBob drive in a graveyard and fall into a grave. Later, she and Dorsal Dan go on a dangerous high-speed chase to catch up with SpongeBob, nearly crashing multiple times.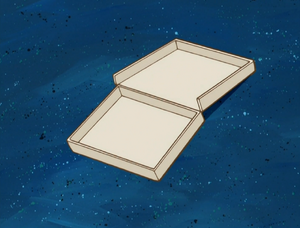 Pearl does not usually get injured on the show, but she has ended up in some harmful situations due to Mr. Krabs' carelessness.
Gary rarely gets in injured in the show. He is mainly injured when he fights with other or evil pets and when SpongeBob is not around and there is no food (it was Patrick's fault who ate all of Gary's food due to his high lack of hunger), he might starve to death.
Shanghaied: He is shot out of a cannon by Potty and ends up brutally burned.
Party Pooper Pants: He gets blown out of his house after the music the Bird Brains were playing got louder, falls through numerous houses and hits a pole. Also, Potty gives Patchy dynamite, causing him to explode. 
Truth or Square: Patchy is eaten by a whale. The whale shoots him out of its blowhole, and he gets knocked out after he crashes into the Nickelodeon building.
Christmas Who?: Potty eats too much cookie dough and becomes decapitated.
Shanghaied: Potty's head has a fuse on it, which causes a huge explosion that burns Potty's feathers off.
Mermaid Man and Barnacle Boy II: He, Barnacle Boy and SpongeBob are folded up due to the origami button.
Mermaid Man Begins: In Mermaid Man's recount of his backstory, it is revealed that he nearly drowned and was sucked into a whirlpool before two mermaids saved him.
A Life in a Day: He, SpongeBob and Patrick are severely injured by landing into Rippers Reef.
Squirrel Jelly: Gets brutally beaten up by Sandy's competitive nature.
Bikini Bottomites
They mainly get injured by Mr. Krabs when he traps them in the Krusty Krab from advancing to the Chum Bucket and SpongeBob and Patrick's bumbling. They also get injured when something bad happens in Bikini Bottom. One Bikini Bottomite, Fred, yells, "My leg!" when he gets injured, which has become a running gag in the series (there's one episode where Fred gets tired of saying it and says "my leg" in a dull tone).
Gallery
Community content is available under
CC-BY-SA
unless otherwise noted.