Note: If you want to help out with the character lists, go here.
"We're not getting paid to clean stuff!"

This article is in need of cleanup in order to comply with Encyclopedia SpongeBobia's Manual of Style. Please help this Wiki by making this article clean and tidy!
Please remove this message when finished.
"It's Squidward, silly!"

This article is in need of one or more better quality images. Please help Encyclopedia SpongeBobia by uploading a better image or editing the current image.
Please remove this message when finished.
The following SpongeBob SquarePants characters have made small appearances during the show.
Non-living and personified characters
Non-animated characters
Robots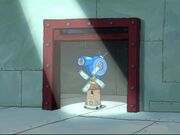 Robo-Plankton - a robot that looks exactly like Plankton seen in The SpongeBob Movie: Sponge Out of Water. Plankton used it to fool Krabs into thinking it was the real Plankton(who was inside a fake penny given to Mr. Krabs). While he was gloating, the real Plankton got into the safe and would've stolen the formula if SpongeBob didn't walk in.
Cashina - Created by Plankton in Married to Money.
Android SpongeBob
Android Patrick
Android Sandy
- Robots That looks Like SpongeBob Patrick and Sandy That Invader Zim Have Created To Stop SpongeBob, Danny, and El tigre, In the game Nicktoons: Android Invasion.
Unnamed characters
Anchovies - There are various anchovies in Bikini Bottom. Some are part of the Jellyspotters, led by Kevin C. Cucumber. They mostly say meep. They have huge appetites and are very demanding customers when they show up at the Krusty Krab. Most of Pearl's boyfriends are anchovies, including Octavius Rex. First seen in "Help Wanted." They were voiced by Rodger Bumpass. Lenny and Mable are also anchovies.
Old Fish and Guard - appeared in the episode "Atlantis SquarePantis."
Ding-a-lings? - appeared in the episode "The Main Drain." Possibly referenced in The SpongeBob SquarePants Movie.
Frank (lifeguard) - Aqua fish, who is another lifeguard at Goo Lagoon. ("Ripped Pants") Voiced by Dee Bradley Baker.
Snack Bar Chef - works in a kitchen at Goo Lagoon making burgers and hotdogs. ("Ripped Pants")
Unnamed fish - Fish who got sand in his buns ("Ripped Pants").
Frank (whale) - Was buried in the sand and forgotten in the episode "Ripped Pants."
Cephalopod Lodge members - Very little is known about this group
Hervy - Asked for a job application for the Krusty Krab. Mistaken for the Hash-Slinging Slasher after calling on the phone and hanging up in the episode "The Graveyard Shift." Voiced by Dee Bradley Baker.
Truck driver (Marlin) - Drives a semi-truck in the episode "Pizza Delivery." Does not like break dancers. He is a purple marlin. Voiced by Doug Lawrence.
Referee - Refereed the Anchor Toss Competition at Goo Lagoon ("MuscleBob BuffPants"). He kept getting hit by anchors.
King Fish - The king that Squidward was performing for in his dream in "Sleepy Time."
Electric eel- The eel who cut in front of SpongeBob at the ice cream vendor at Goo Lagoon in the episode "Walking Small." Later Plankton made SpongeBob make the eel cry "tears of joy."
Perch Perkins- The Announcer of the Anchor Toss Competition who appeared in "MuscleBob BuffPants." He asked the Referee how long each person threw.
Blonde eel - if fish that wanted to tell him how to tie his shoes, but she couldn't since she is an eel. She appeared in "Your Shoe's Untied."
Octopus Vendor - An octopus who works at a burger/hot dog stall at Goo Lagoon ("Walking Small").
Cave Monster - An unnamed monster who ate SpongeBob in the episode "Your Shoe's Untied."
Mrs. Crossing Guard Fish - Crossing Guard in Bikini Bottom seen in the episode "Something Smells."
"Something Smells" Marching Band:

Tuba player
Drummer
Guy with the cymbals
Trumpeter
Tambourine girl
Timpani man
Triangle player
Guy with the kettle drum
Pianist
Guy with the flute

Unnamed Jellyfish - A jellyfish that appears in Nature Pants and 20,000 Patties Under the Sea.

In Nature Pants, he shakes SpongeBob's hand, comically swelling it. In 20,000 Patties Under The Sea, he shrugs when Patrick and SpongeBob run from it screaming.

Large Snail - A snail that appears in Nature Pants. In that following episode, This snail serves as a brief hiding spot for SpongeBob when he is being pursued by Patrick after which, It meows and slithers away. It is very large and has a gray, speckled shell that is covered in coral. It will most likely not be featured in future episodes
Dolly - is a minor character in the movie PC game

.

Pirates - A crew of pirates who sold bomb pies in Dying For Pie.
Huge Guy - He appears in "The Fry Cook Games." He carries Patrick during his introduction. The only word he says is "aaaah" when SpongeBob and Patrick are "getting angry."
Other characters
Community content is available under
CC-BY-SA
unless otherwise noted.