If you want to help out with the character lists, go here.
Background
Following SpongeBob SquarePants characters, that have made a lot of appearances during the show, aren't significantly important.
Bikini Bottom
Template:ChList/Sergeant Sam Roderick
Students of Mrs. Puff's Boating School
Bikini Bottom High School
Non-Bikini Bottomites
Animals and Other Creatures
Worms
Non-Aquatic Creatures
Jellyfish are creatures who wander around Jellyfish Fields. They "sting" other creatures by electrocuting them.
Snails
Snails are creatures in Bikini Bottom and are a parody of cats.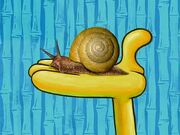 Clams/Scallops/Shells
Wildlife
Insects
Arachnids
Sea Spider
Bubbles
References
Community content is available under
CC-BY-SA
unless otherwise noted.