If you want to help out with the character lists, go here.
Background
Following SpongeBob SquarePants characters, that have made a lot of appearances during the show, aren't significantly important.
Template:ChList/Sergeant Sam Roderick
Students of Mrs. Puff's Boating School
Bikini Bottom High School
Non-Bikini Bottomites
Alternate Universe SpongeBob- Appears in "Chimps Ahoy" when Patrick supposedly invented the already-invented mirror. He lives in the mirror, or in a parallel universe. His only line is, "Well, I thought it was a pretty good idea" after Patrick gets discouraged after he finds out that it was already invented. He speaks in a Ukrainian accent, a reference to the Ukrainian creator, Stephen Hillenburg. He also appears in "Wet Painters". His only line in that episode was, "You're on your own, pal". He also appeared in "Something Smells" in which he cracks his mirror after smelling SpongeBob's breath.
Alternate-Universe Patrick - In the episode "Roller Cowards", he called Patrick a big crybaby before getting knocked out by Patrick.
Alternate-Universe Squidward - In the episode "Squidward in Clarinetland", he played Squidward's Clarinet in his ears to torture him.
Davy Jones - mentioned in few episodes. Also seen wearing a pink T-Shirt in the episode "SpongeBob SquarePants vs. The Big One".
Helga - a female Viking who has only appeared in the episode, "Dear Vikings." She was talking to Gordan when another Viking came, and interrupted "story time." She wears a silver Viking helmet, and has a Sweedish accent.
Moe Blowfish - the host of a television show called Fearless, he appears in the story book of the same name.
Iron Eye - Nickname of one of Mr. Krabs' navy buddies. His fake eye is actually made of Formica (plastic) seen in the episode "Shell of a Man". He is voiced by Tom Kenny.
Lockjaw Jones - Nickname given to one of Mr. Krabs' naval buddies. His teeth are different at the reunion compared to the teeth in the navy ("Shell of a Man").
Muttonchop - Nickname given to one of Mr. Krabs' naval buddies. His muttonchops are actually fake ("Shell of a Man").
Rock Bottom Bus Manager - He stole SpongeBob's candy in "Rock Bottom." Later seen in a commercial for "The SpongeBob SquarePants Movie".
Tentacle Acres Residents - A group of cephalopods who resemble Squidward, both in appearance and in personality. Squidward eventually became bored of them (Squidville).
The Tickler - Tickles Sandy in "Karate Island". Has a weakness for jelly donuts. It should also be noted that he was dressed as a stereotypical Frenchmen and spoke with a French accent.
Three Strong Men - appears in the episode "Karate Island". SpongeBob thinks that he beats them up, but they are just pretending to make SpongeBob look good.
Gordon - the leader of the Vikings who appeared in "Dear Vikings." Ian McShane voices him.
Olafs - the Vikings, all named Olaf. Seen in "Dear Vikings." They are tall, muscular, bearded, and wear a Viking helmet. They all have Swedish accents. Even though they are all different, they all seem to have the same personality. If one of them says something that the others object to, they are catapulted off the ship.
Phil - In "SpongeBob SquarePants the Movie", he had a Krabby Patty WITHOUT CHEESE. He then overreacted and was scared. He has a wife and two children.
Patrick Not-Star - A starfish SpongeBob mistakenly thought was Patrick. He lives in The End of the World and maybe related to Patrick Star.
Animals and Other Creatures
Worms
Alaskan Bull Worm - A giant pink worm, described as "Big, Scary, and Pink!", just like Patrick's belly button. It appeared in "Sandy, SpongeBob, and the Worm". It eats everything in its path. Sandy thought she could beat it up because it ate her tail. She teases SpongeBob into fighting the worm with her. It might be a parody of the Mongolian deth worm.
Mr. Doodles - Mr. Krabs' pet worm. He was first shown in "Sandy's Rocket", but his name was first mentioned in "As Seen on TV." He is the undersea equivalent to a dog (just as Gary is equivalent to a cat).
Rex - a worm with yellow eyes and light blue skin. He was adopted by SpongeBob to replace Gary in "Dumped"; he ends up ditching SpongeBob in less than 10 seconds by leaving on a bus.
Guard Worms- A very vicious worm with a black chain collar, it guards the junkyard where Mr. Krabs's mattress was dumped. Appears in the episode "The Lost Mattress" and again in "Best Frenemies".
Unnamed Worm - Appears briefly in "Karate Choppers". His hole was covered with a Krabby Patty. Only line is "Huh?"
Worm from AppleWorld - Lived in an apple and was eaten by Junior in "Rock-a-Bye Bivalve".
Miss Wormsley and her kids - Appeared in "Pets or Pests"'. It seemed Miss Wormsley was chased away by Gary.
Non-Aquatic Creatures
Birdy - A bird who is one of Sandy's pets, who gets fed twice a day. Appeared in "Wormy."
Cricket - A cricket who is one of Sandy's pets, though in "To Save a Squirrel" there was a different cricket that was lost underwater. SpongeBob and Patrick thought it was a monster, which suggests they have a fear of certain land animals.
Snakey - A snake who is one of Sandy's pets. Eats mice.
Mouse - Eaten by Snakey, in the episode "Wormy."
Spider - Appears in "Scaredy Pants" while some also appear in "Patty Hype".
Wormy - A caterpillar who is one of Sandy's pets. Befriended SpongeBob and Patrick in "Wormy". Wormy turned into a butterfly and caused a panic after the citizens of Bikini Bottom thought he was a monster.
Dog Who Speaks - mentioned twice in "Patty Hype". He lives at the Shell Shack and can speak and sing. However, none of the townspeople know what it is.
Ducks - They go under SpongeBob's shoes, and says "Quack." There are three ducks. SpongeBob kicked one away at the end. They appear in "Karate Choppers."
Jellyfish are creatures who wander around Jellyfish Fields. They "sting" other creatures by electrocuting them.
Snails
Snails are creatures in Bikini Bottom and are a parody of cats. However, it has real snails too.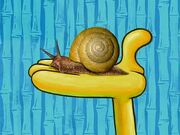 Mary - She appears in "Gary In Love" and Gary loves her. In the middle of the episode, she loves Gary. But in the end of episode when appearances Billy she loves him. She is very similar to Snellie and Mrs. Puff's snail.
Bad Guys - They are appeared in Gary In Love .Their name is unknown. They enters The Snail Park from back and their Leader loves Mary. He is enemy of Gary but end of episode they are friends.
Lary - A pale purple snail adopted by SpongeBob to replace Gary in "Dumped." He has big bushy black eyebrows and a tan shell, as well as a rude and unpleasant personality.
Lightning Larry Luciano - An old, extremely slow snail with a mustache; appeared in "The Great Snail Race". He is snail racing's 1st champion.
Snellie - Squidward's pet. First appeared in "The Great Snail Race". She fails Squidward in the race and loses to Patrick's rock. She looks like Gary, only with blue eyes with long eyelashes, a pink bow and a pale blue navy and purple-spiraled lavender shell. At the end of the race, Gary falls in love with her. But she has so far not been seen again.
Rocky - Patrick's pet snail, whom he entered in "The Great Snail Race"; Rocky appeared to actually be a rock, but managed to overcome this setback to win the race. According to Patrick, he "has nerves of steel".
Mrs. Puff's Snail - In the episode "The Sponge Who Could Fly", Mrs. Puff's pet snail is similar to Snellie. It is unknown whether that is Snellie herself, a different snail but with the same body color and shell color, given to Ms. Puff by Squidward (this is proven false for Mrs. Puff claims to have had her since she was a little girl, and Squidward got Snellie in the series), a twin to Snellie, or if it's just a coincidence.
Large Snail - seen in the episode "Nature Pants", this snail is a life-size gigantic blue-shelled snail appears and says "Meow", in the same way Gary does.
Black Snail - seen in "One Krabs Trash" where it hisses angrily at Mr. Krabs in Floater Cemetery. A parody of a black cat.
Alley snails - parody of alley cats, appeared in the episode "Have You Seen This Snail?", they are a gang of outlaw snails who like nachos, oddly these snails were capable of speaking instead of meowing (although this may be what Gary is hearing). One snail got picked up by grandma.
Deceased snails - there are a number of snail shells in the old lady's closet in "Have You Seen This Snail?".
Picture Frame snails - seen in the portrait of 'Gramma', the snail-eating old lady. Their only line was Run!; seen in the portrait in the old lady's house in the episode "Have You Seen This Snail?."
Leech - A slug or maybe a snail who appears in" Dunces and Dragons" who only says "Meow." It could have been Gary's ancestor.
Whelks - the antagonists from the episode, "Whelk Attack."
Clams/Scallops/Shells
Unnamed clam - In "Tea at the Treedome", this clam tried to eat Sandy, but Sandy defeated him with her karate.
Junior - The orphaned scallop adopted by SpongeBob and Patrick in "Rock-a-Bye Bivalve". Like other scallops, Junior has purple skin and a red tongue. He does not like Krabby Patties, donuts, or French fries, but he does like worms.
Shelly - SpongeBob's pet scallop. Not to be confused with the one from "Rock-a-Bye Bivalve". SpongeBob keeps him in a bird cage in his bedroom. His name was revealed in the SpongeBob: The Complete 1st Season DVD collection.
Magic Conch Shell - Seen in "Club SpongeBob". The Magic Conch Shell is a toy similar to a Magic 8-Ball; pulling its string will provide you an answer to your questions.
Clamu - Seen in "The Smoking Peanut". A giant clam capable of shooting a pearl 100 feet into the air. It was emotionally disturbed when Mr. Krabs stole its egg, claiming it was free day. The name Clamu is a parody of Shamu, one of the star attractions in SeaWorld.
Blue Lip - A giant clam that once ate Mr. Krabs' millionth dollar. In order to get it back, Mr. Krabs traded his entire body, except his head and his left arm. He appears in "Clams".
Pet Clam - SpongeBob's pet clam who lives in a cage in SpongeBob's room and is never mentioned or talked about.
Wildlife
Insects
Kelp Forest Bug ("Club SpongeBob") A very small bug that Squidward cooks in a frying pan until food falls from the sky for SpongeBob and Patrick. When Squidward's jaw drops, the bug jumps out of the pan and hits Squidward on the head with a stick.
Undersea Fly - Much like normal flies, they are normally seen around dumpsters, trash cans and anything smelly.
Cockroaches - appeared in "Mermaid Man and Barnacle Boy IV."
Wormy - One of Sandy's Pets who turns into a butterfly
Bubbles
Kelp Forest Critters
In the episode "Squarepants Family Vacation" Spongebob and Patrick fall into a Ravine filled with mushrooms and Red Kelp. Among the creatures who live there are very strange and unnamed, and are similar in many ways to other trench dwelling creatures from the Spongebob Movie and the episode "Rock Bottom".
A Giant Fruit Fly that stalks the duo
A small, loud bellowing animal that mimics a horrifying sound and scares Spongebob and Patrick into running away.
A beaked monkey that follows the two during their road song.
A Two headed centipede that also follows them during their song.
Three aquatic flower beings, yet again followers of the Road Song.
A burrowing rabbit fish that follows them during the song aswell.
Three turtle like creatures with rocks for shells. Two of them follow Spongebob and Patrick, while the third one puts out a 'Do Not Disturb' sign after the others depart.
A giant blue anemone of which the two bounce off of during their accidental fall from a cliff while avoiding the bellower.
References