The main characters of SpongeBob SquarePants were created by Stephen Hillenburg, a former teacher of marine science. While working at the Ocean Institute in the 1980s, Hillenburg created an educational book about sea creatures called The Intertidal Zone. It served as the basis for the characters of SpongeBob. SpongeBob himself was based on a realistic sea sponge named "Bob the Sponge," who was the book's fictional host.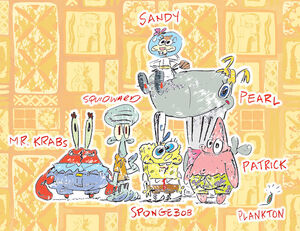 The first five characters made for the show were SpongeBob, Mr. Krabs, Pearl, Patrick, and Squidward.[1] Stephen based Mr. Krabs on his former boss at a seafood restaurant. He was inspired to create Pearl while supervising whale watches at the Ocean Institute. In the mid-1990s, Hillenburg created a "series bible" that outlined the main characters. While writing it, he came up with some new additions to the cast: a diving squirrel named Sandy, the evil Plankton, and Karen the computer (named after his wife, Karen).[1]
The last addition to the main cast, Mrs. Puff, was made at the request of Nickelodeon executives. They told Hillenburg that they would not produce the cartoon unless SpongeBob was a child who went to school, with his teacher as a main character.[2] Hillenburg was ready to "walk out" on Nickelodeon; he insisted that SpongeBob should be a childlike adult so that he could be universally relatable. Hillenburg eventually came up with a compromise that he loved: SpongeBob would go to a boat-driving school, run by a pufferfish named Mrs. Puff.[2] This satisfied Nickelodeon's demands for a teacher while keeping SpongeBob as an adult.[3]
Main characters
Recurring characters
Minor characters
References
Community content is available under
CC-BY-SA
unless otherwise noted.