This article is a list of associated production music used in the series starting with the letter U.
List of associated production music contents
Uh Oh Flutter-Eyed
Uh Oh Flutter-Eyed is a sample from the ProjectSAM Symphobia Colours: Animator sound set.
Ulkereien
Ulkereien was composed by Gerhard Trede.
Ulk-Fox Nr. 2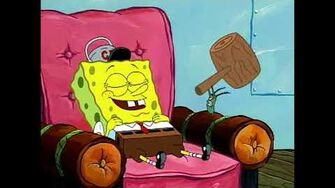 Ulk-Fox Nr. 2 was composed by Gerhard Trede.
Undercover
Undercover was composed by Harry Bluestone and Emil Cadkin.
Une Nuit au Cabaret
Une Nuit au Cabaret was composed by Victor Cavini.
34b. "Frankendoodle" - Opening shot of the artist at sea; "The second most important rule for the artist at sea, always bring a pencil sharpener".
91b. "Le Big Switch" - The inside of the French Restaurant's kitchen is shown.
Unease
Unease was composed by Dick Stephen Walter.
Uneasy Sleep
Uneasy Sleep was composed by Wolf Droysen.
264b. "Patrick's Tantrum" - Tom wants to eat another Krabby Patty as Krabs rings the bell close to him; The big bell starts ringing in Bikini Bottom.
The Unknown
The Unknown was composed by Ralph Dollimore.
Unpreventable
Unpreventable was composed by Gregor F. Narholz.
Unsettled Menace
Unsettled Menace was composed by Phillip Green.
Untitled Tune
Untitled Tune was composed by Jack Shaindlin.
Ups And Downs (D)
Ups And Downs (D) was composed by Richard Myhill.
Upward Glide
Upward Glide was composed by Eric Allen.
54. "Ugh" - "Wait a minute..."
Up She Rises
Up She Rises is an orchestral version of the sea shanty "The Drunken Sailor" by Sam Spence. It is also known as "A Golden Boy Again".
Community content is available under
CC-BY-SA
unless otherwise noted.