"We're not getting paid to clean stuff!"

This article is in need of cleanup in order to comply with Encyclopedia SpongeBobia's Manual of Style. Please help this Wiki by making this article clean and tidy!
Please remove this message when finished.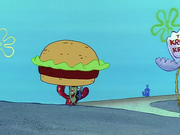 The following is a list of schemes used by Sheldon J. Plankton to steal the Krabby Patty secret formula and/or put the Krusty Krab out of business. Most of Plankton's plans come from Karen, but he usually takes all the credit. Note that all such schemes with the exception of Plan Z and Plan 3,087 have failed.
Plans A-Y - These are all the plans in 25 folders that Plankton had employed before, which all had failed. He thinks he has exhausted every plan until Karen reminds him that there is one more letter in the alphabet for him to try.
Plan Z - The one plan that Plankton missed. This one was the most evil of the other plans, and even lemon-scented. He used this to steal King Neptune's crown, and put the blame on Krabs so King Neptune can freeze Krabs, then Plankton gets his hands on the formula, and brainwashes Bikini Bottom's residents. However, he does not count on SpongeBob and Patrick, and after they retrieve the crown from where Plankton hid it - with some help from David Hasselhoff - the two bring it back in time. When Plankton orders his minions to annihilate SpongeBob, he destroys their helmets via heavy-metal music. All the freed Bikini Bottomites run him over, and he is then arrested for turning Bikini Bottom into a living nightmare by enslaving it and framing Mr. Krabs.
At the beginning of the movie, Plankton tries to steal the formula with a plane, tank, and robot. These all fail. This Plankton is soon revealed to have been a robotic dummy all along and the real Plankton is hidden inside a penny. Plankton, on the phone with Karen, infiltrates Mr. Krabs' safe and replaces the formula with a fake bottle. SpongeBob comes into Mr. Krabs' office and finds Plankton stealing the formula. They fight over the formula and suddenly, it disappears into thin air. Later, Plankton decides to go into SpongeBob's brain thinking that he is lying about not remembering it, but it once again backfires after Plankton is fed up with sweetness inside SpongeBob's head.
Plankton sneaks to the Krusty Krab at night, takes a small piece of a Krabby Patty SpongeBob left on the register, and analyses it, copying the secret formula. However, it backfires once Plankton accidentally falls in the fryer, burning the copy of the formula. Later, after he finds out that SpongeBob is the one who ruins his plans, he takes the advantage of his snail Gary taken to King Poseidon and allows SpongeBob and Patrick to ride to Atlantic City, hoping that they will never come back.
The plan actually works with Mr. Krabs falling in disgrace and giving the formula to Plankton but he feels guilty for what he did and helps them rescuing SpongeBob, Patrick and Gary from King Poseidon.
"I can turn into a skyscraper!"

This section is too short. You can help Encyclopedia SpongeBobia by

expanding it

.
Season 1
Season 2
"Imitation Krabs" - Comes to the Krusty Krab dressed up as a robot man and says he will give SpongeBob $1,000,000 for the Krabby Patty formula. Later on, builds a robotic Mr. Krabs, which he uses to attempt to get the formula out of SpongeBob. Even though it managed to trick SpongeBob to turn against Mr. Krabs, he accidentally put the penny in Robo Krabs which causes it to self-destruct on Plankton.
"Welcome to the Chum Bucket" - Cheats in poker, and makes SpongeBob his fry cook to get Krabby Patties. When SpongeBob refuses to make Krabby Patties, he takes SpongeBob's brain out and puts it in a Robot SpongeBob, but it's SpongeBob's brain that is in the robot, and SpongeBob became lazy and annoying while at the Chum Bucket so as a result, Mr. Krabs takes SpongeBob back while at the same time gets fifty bucks.
"The Fry Cook Games" - He and Mr. Krabs compete in the Fry Cook Games. When he brought Patrick into the event, he and Mr. Krabs pitted both SpongeBob and Patrick against each other. He then tells him that SpongeBob is not really his friend. Therefore, Plankton lied to Patrick so he could win the award for the Chum Bucket. However, neither side won in the end when SpongeBob and Patrick call off the battle and reconcile as best friends.
Season 3
Season 4
Season 5
Season 6
Season 7
Season 8
Season 9
"Eek, An Urchin!" - Plankton attempted to fool Mr. Krabs by wearing some fake glasses but was trampled by the fleeing customers. He then found out that it was a sea urchin causing problems and agrees not to steal the Krabby Patty secret formula until the urchin is gone.
"Jailbreak!" - Plankton attempts to steal the Krabby Patty secret formula by having his cellmates, who were all fans of him and his chum, break into the Krusty Krab. They were successful in breaking in but Plankton and his cellmates were soon arrested when SpongeBob warns Mr. Krabs about this and had the Bikini Bottom Police Force stalled in the safe marking this plan as a failure too.
"Evil Spatula" - Plankton uses the "Six Phases Plan" which mainly involves him using his spatula the Majestic Sizzlemaster to get the Krabby Patty secret formula:

Phase 1: Infiltrate the Krusty Krab: Plankton successfully enters the Krusty Krab through a fax machine.
Phase 2: Sabotage: Plankton saws off a bit of SpongeBob's spatula and when SpongeBob tries to flip a Krabby Patty, it breaks.
Phase 3: Give SpongeBob a New Spatula: Plankton waits for SpongeBob at Harvey's Spatula Emporium and offers to give SpongeBob a new spatula. At the Chum Bucket, Plankton gives SpongeBob the Majestic Sizzlemaster.
Phase 4: Gain SpongeBob's Trust: Plankton, using a voice modifier, talks to SpongeBob through the Sizzlemaster and hopes to gain his trust. This is the longest phase due to SpongeBob not trusting anyone with the grill. Plankton finally manages to get SpongeBob to take the Sizzlemaster back to his house completing this phase.
Phase 5: Further Gain SpongeBob's Trust: Plankton, as the Sizzlemaster, does various house work in order to gain SpongeBob's trust. Back at the Krusty Krab, Plankton finally manages to get SpongeBob's trust in working the grill completing this phase.
Phase 6: Burn All of the Krabby Patties: Plankton, as the Sizzlemaster, then burns all of the Krabby Patties and convinces SpongeBob to get the Krabby Patty secret formula to make more. However, Mr. Krabs finds out it's Plankton's doing and tricks him into making an explosive formula making this overall plan a failure.

"It Came from Goo Lagoon" - Plankton attempts to steal the Krabby Patty Formula by using the giant purple goo bubble he literally created by opening the crack in the Goo Lagoon sea floor but fails when a dynamite exploded in his sub once he was reading the fake formula he got from Mr. Krabs.
"Company Picnic" - Plankton tries to get Squidward and Mr. Krabs to work for him by having a company picnic with many fun games and delicacies. It was about to work but SpongeBob found out what he was up to and they, later on, find out that everything that was at Plankton's picnic were holograms.
"Married to Money" - Plankton disguises himself as a stack of dollar bills to have Krabs fall in love with him and give him the formula, but the mechanism explodes when Mr. Krabs' tears short circuits the system.
"CopyBob DittoPants" - Plankton clones SpongeBob to have the clones steal the formula, but whenever they encounter the regular SpongeBob they forget the plan, and they all disappear towards the end of the episode.
"Lame and Fortune" - Plankton creates a bunch of fortune cookies that trick people to eat at the Chum Bucket. He then gives Mr. Krabs a fortune cookie that tells him to give Plankton the secret formula or die. This plan was nearly successful, but Plankton snapped when he couldn't get to the secret formula due to the numerous amount of customers at the Chum Bucket and he yelled out that he made fake fortunes.
"Goodbye, Krabby Patty?" - Plankton plans to steal the formula through the Krusty Krab Museum's gift shop. However, he sees that SpongeBob didn't have the feeling of stopping him since the formula is now for sale, much to his chargin. He then decides to buy a frozen Krabby Patty instead. But his plan turned out to be a failure when he learned that the frozen patties are made out of sand and he immediately throws it away in the garbage.
"Pineapple Invasion" - Plankton sets off a skunk into the Krusty Krab which causes all of the customers, SpongeBob, and Mr. Krabs to leave. However, Plankton's plan was foiled after there was a safe within a safe of the one he blew up. Plankton was then crushed by Mr. Krabs and tossed out of the window. Plankton doesn't stop there as he hears that Mr. Krabs is letting SpongeBob take the Krabby Patty secret formula home with him. Plankton first disguises himself as a door-to-door Snail Product Salesman. However, Gary closes the door on him. Plankton then disguises himself as a Sweetie Patrol Girl but Gary doesn't fall for that as well. Later, Plankton distracts Gary with a cut-out of himself and manages to eat his way into SpongeBob's house. Plankton then searches the house for the formula tearing up the house in the process. Eventually, Gary catches him and gets into a fight with him. Plankton then goes inside Gary's shell thinking the formula is in there. Plankton eventually makes it to the center of the shell and thinks he has found the formula. However, it turns out he found one of SpongeBob's grocery lists and went crazy from breathing in the fumes in Gary's shell.
"Salsa Imbecilicus" - Sandy accidentally gives Plankton an idea to steal the Krabby Patty formula by making Mr. Krabs as dumb as Patrick. Plankton soon gets Patrick's DNA and makes sauce to put it in but accidentally gets it on himself making him as dumb as Patrick. Soon, still being as dumb as Patrick, tries to make Mr. Krabs hand it over thinking that Mr. Krabs is scared of him but soon SpongeBob throws Mr. Krabs his diploma which makes Mr. Krabs pretend to be smart again tricking Plankton. He told him in about seven seconds making Plankton upset. Mr. Krabs tells him he graduated months ago and was just doing extra an acting class and flung Plankton off making his plan fail. He soon lands on Karen bringing him to his post-college years making him depressed from another failure.
Season 10
Season 11
Season 12
Season 13
"A Place for Pets" - After everyone starts to make animals costumes so they can eat at the Krusty Krab, Plankton goes into his pet, Spot, so that he can get the formula. However, Plankton is digested by Spot and when he comes out, he only has his eye left.
"Lockdown for Love" - Plankton gets Patrick to dressed up as him so that he can sneak out to the Krusty Krab without Karen noticing. But that plan went awry when Mr. Krabs interferes yet again and Plankton accidentally exposes himself to Karen.
In "Plankton's Plan," he states that "If people won't come to the Chum Bucket, I will bring the Chum Bucket to the people!" It was never executed due to the fact that he was poured into a plant pot by Serena Williams.
Plankton's Color Nullifier - Plankton tries to steal the Rainbowger's color with his color nullifier. Even though he succeeded at first, the machine overloaded itself and started splattering various color's all over the place.
Battle for Bikini Bottom - Plankton creates an army of Robots to steal the formula, but it backfires, and wants SpongeBob to help him get back into the Chum Bucket.
Creature from the Krusty Krab - He turns a Krabby Patty crumb into a huge Krabby Patty that comes alive and tries to eat him. He then makes himself huge to get revenge on the Patty and in the process also destroys the Krusty Krab.
Nicktoons Racing - He takes up the title of the mystery rider who has a black car and participates in the race where the prize is a lifetime supply of Krabby Patties. When the game is beaten with good results, he is revealed to be the mystery rider.
Nicktoons Unite! - Plankton teams up with The Evil Syndicate to take down SpongeBob, Jimmy, Timmy and Danny. However, Plankton and The Evil Syndicate fail in doing so.
Merry Mayhem! - He makes an army of robot carols to get the formula.
FrankenBob's Quest - He tires to change Bikini Bottom into a Twisted place where everyone would what to eat at the Chum Bucket, but it was foiled by Frankenstein SpongeBob.
Gift Lift - He takes all of the Christmas presents.
Frosty Fling! - He uses the robot carolers to kipnapped SpongeBob.
Nick Dodgers - He plays dodgeball to beat the other Nickelodeon characters.
Patty Panic - Him and his amry invaders SpongeBob's dreams.
Trivia
Community content is available under
CC-BY-SA
unless otherwise noted.