Legends of Bikini Bottom (online game) is a SpongeBob SquarePants online game. It is based on "Legends of Bikini Bottom."
Gameplay
"I can turn into a skyscraper!"

This section is too short. You can help Encyclopedia SpongeBobia by

expanding it

.

These were the original minigames:
Coral Colossus - Patrick's new monster friend has some stink issues! Help him by plugging those smelly barnacles with Snow Globes. Use arrow keys to climb. Click to throw snow globes.
Bumpin' Bumpkins - Help Patrick win against Ma's bumpkins! Dodge punches and keep away from Ma's trash. Every move takes energy, so make sure you watch your energy!
Voodoo Un-do - Patrick finds a mysterious mask that suddenly attaches to him, and now he is running amok throughout town! Avoid lots of obstacles as you help SpongeBob take off the mask!
Suction Destruction- The mermaids prepare their giant vacuum to suck in everything in their path. Help SpongeBob dodge a lot of stuff coming through and throw TNT barrels at the vacuum. At the end of each level, you must dodge the mermaids' music notes!
Were Squirrel- It is full moon, and Sandy transforms into a huge beast! Switch between her forms to progress through the levels. Switch to her beast form to destroy rocks in your way, and switch to her normal self to avoid getting beat up by townsfolk!
Walkthrough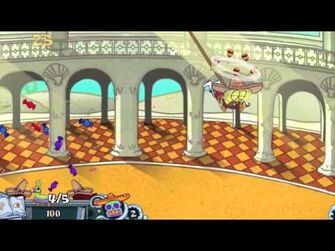 | | |
| --- | --- |
| | "Aww... I got dead again! This game stinks!" |