Unofficial name

This page contains information on a subject that does not yet have an official name. Once an official name is given to the subject or character, this template can be removed.
Object
The Krusty phone is a landline telephone used by the Krusty Krab. Customers are able to call the phone to place orders. It is usually located in Squidward's workstation.
Description
It is a metal telephone. Its most common color scheme is dark grayish-blue. It is purple in "Grandmum's the Word" and red in "SpongeBob in RandomLand." It usually has a rotary dial, but it can be seen with push buttons instead in "Grandmum's the Word."
Role in series
"Pizza Delivery"
Squidward is answering orders from a customer who is ordering a pizza.
"Big Pink Loser"
Patrick takes the position of the phone-answerer at the Krusty Krab in an attempt to get a trophy, only for him to think the callers are asking if he is a "Krusty Krab" when they are really asking about the restaurant.
Krusty Krab Adventures
It was seen in the "Pizza Delivery" segment of the book.
"Graveyard Shift"
The phone rings a few times, but no one is on the line.
And the Winner Is...
It had the some role as the episode.
Another Day, Another Sand Dollar
It was seen in the "Graveyard Shift" segment of the book.
"Plankton Retires"
The phone rings when Mr. Krabs and Plankton are fighting and SpongeBob responds to the caller by saying that Mr. Krabs is not available.
"Grandmum's the Word"
Instead of being upset that Lily Plankton stole the Krabby Patty secret formula, Squidward yells into the telephone and berates the recipient. He then hangs up the phone and pouts, ignoring the others.
"Mustard O' Mine"
Mr. Krabs uses the telephone to call SpongeBob and tell him that the Krusty Krab's customers have become ravenous due to the lack of mustard.
"SpongeBob in RandomLand"
The phone appears at the beginning of the episode, colored red.
Trivia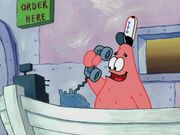 This phone is the subject of the "No, this is Patrick!" meme.
Community content is available under
CC-BY-SA
unless otherwise noted.