"Kracked Krabs" is a SpongeBob SquarePants episode from Season 7. In this episode, Mr. Krabs and SpongeBob go to the Cheapest Krab Convention.
Characters
Synopsis
In the beginning of the episode, SpongeBob starts his day at work by making kelp fries. Mr. Krabs calls him for a meeting in his office. He tells SpongeBob about the Cheapest Crab Award and that he has been nominated, and is excited to hear that he is taking him to the Awards Ceremony.
SpongeBob and Mr. Krabs take the cheapest form of transportation possible - traveling through mail at the cost of a one cent stamp. They meet up with the other crabs at a hotel, only to find out that one of them, such as Fancy McGee, did not spend a thing on their travel. Mr. Krabs teaches SpongeBob his first lesson about cheapness by giving the bellhop a tip (a quarter with a string attached to it) and then pulling it away from him. SpongeBob tries the same routine, only to fail. The two meet up again with the other crabs in time for the ceremony. A video of the nominees is shown, and Mr. Krabs gets worried about the competition. He asks SpongeBob to go up on the stage and "exaggerate" about him being cheap. SpongeBob gets confused and thinks he should lie, which he does by telling everyone that Mr. Krabs is generous, getting him disqualified from winning the award.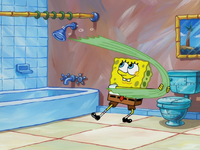 Afterward, Mr. Krabs cries about his loss, but SpongeBob tells him about "exaggerating" and Mr. Krabs becomes interested. The two begin "exaggerating" everything in their room (taking items and putting them in their suitcases). The other crabs soon realize that Mr. Krabs stole a whole room, and as a result, he wins the award. However, the award is connected to a string like the quarter Mr. Krabs gave to the bellhop, and it is snagged out of his hands. He gives SpongeBob a playful hand chop as the episode ends.
Production
Art
Music
( ‣ ) Associated production music

( • ) Original music

( ◦ ) SpongeBob music

 • Kalua Jubalee - Sage Guyton, Jeremy Wakefield [title card]
 • Ad Lib Jig - Michael Bolger, Nicolas Carr [Opening at the Krusty Krab]
 • Steel Licks 9 - Jeremy Wakefield ["Please report to me office."]
 ‣ Befuddled Gent - Phil Green [Krabs nominated for Cheapest Crab Award]
 • Lap Steel - Nicolas Carr ["Road... trip!"]
 • Jovial Pirate's Jig - Michael Bolger, Nicolas Carr ["Now, this trip... I'm gonna teach ye all the cheapskate knowledge like you were the son I've never wanted!"]
 ‣ Whimsical Walk - Phil Green [Krabs and SpongeBob arrive at the hotel]
 ‣ ? ["Attention, cheapskate attendees! I, Eugene Krabs, have only spent on me travel, the price of a one-cent stamp!"]
 ‣ Big Show Theme - Robert Sharples [everyone cheers]
 ‣ Proud Fanfare - David Farnon ["Chintzy McGee?!"]
 ‣ Cockney Capers - Ray Davies [Strip Sounds] ["Thanks for letting me hitch a ride, Krabs."]
 • Skipping to School - Sage Guyton, Jeremy Wakefield ["Your room, sir."]
 • Aye Aye Sir - Nicolas Carr ["Aye aye, sir!"]
 ‣ Harry the Hippo - Phil Green [huge guy]
 ‣ Editor's Falling Over (A) - Dick Stephen Walter [SpongeBob crushed]
 ‣ Harry the Hippo - Phil Green ["Quit fooling around!"]
 ‣ Witty Fellow - Gerhard Trede [cheapskate crab convention/"I'd like to introduce me fellow fry cook, SpongeBob."]
 • Nude Sting - Nicolas Carr [SpongeBob lending money]
 • Comic Drum Drops - Nicolas Carr [rimshot]
 ‣ Big Screen News Link (b) - Richard Myhill [shot of trophy]
 ‣ Cocksure Capers - Phil Green [Eugene Krabs in "Sign of the Times"]
 ‣ Paper Boy - Harry Lubin [Beuford BargainBottom in "Convenience Store Caper"]
 ‣ Darting Around - Harry Bluestone [Dwight T. Wad in "Tying Up Loose Ends"]
 • Nautical Hijinx - Nicolas Carr, Barry Anthony ["Aw, jeez."]
 • What's This - Nicolas Carr ["Well, that's highly unconventional."]
 ‣ Monocle And Pocket-Watch - Brian Gulland [SpongeBob and Krabs winking at each other]
 ‣ Sneaking About - Phil Green [start of SpongeBob's speech]
 ‣ Drama Link (C) - Hubert Clifford [SpongeBob's nervous]
 ‣ Watch Out! - Dick Stephen Walter [SpongeBob talks about how generous Krabs is]
 ‣ Dramatic Impact (3) - Ivor Slaney ["How can he live with himself?!"]
 ‣ Will He, Won't He? - David Lindup [end of SpongeBob's speech]
 ‣ Dramatic Cue (E) - Ronald Hanmer [Krabs faints]
 • Steel Licks 1 - Jeremy Wakefield [Krabs disqualified]
 • Great Idea Patrick - Nicolas Carr ["Ooh!"]
 • Noodly Shenanigans - Nicolas Carr, Barry Anthony [SpongeBob packing hotel towels]
 • Earl's Revenge - Sage Guyton, Jeremy Wakefield [SpongeBob and Krabs packing the entire room]
 • Unknown Goofy Cue - Nicolas Carr, Barry Anthony ["Do you have any hotel property in this bag?"]
 ‣ Dramatic Impact (6) - Ivor Slaney ["You lifted the entire hotel room?!"]
 ‣ Proud Moment - Harry Bluestone, Emil Cadkin [everyone applauds]
 ‣ Proud Fanfare - David Farnon [trophy awarded to Krabs]
 • Slide Whistle Stooges - Nicolas Carr, Sage Guyton, Jeremy Wakefield [ending]

Release
This episode is available on the Heroes of Bikini Bottom, SpongeBob SquarePants Vol. 11, The Best 200 Episodes Ever, Sunđer Bob Kockalone DVD 4, Spužva Bob Skockani DVD 4, The SpongeBob SquarePants Collection, The SpongeBob SquarePants 8 Season DVD Collection, 3 DVD Value Pack, The Best of Bikini Bottom, Easter with SpongeBob, Big Hits: Volume 2, Triple Pack 3, Kids Double Pack: Volume 2, Kids Double Pack: Volume 3, Complete Seventh Season, and Next 100 Episodes DVDs.
Trivia
General
All of the crabs look, act, talk, and laugh like Mr. Krabs. This is similar to how the other cephalopods in "Squidville" and "Cephalopod Lodge" resemble Squidward.
Coincidentally, both this and its sister episode, "Yours, Mine and Mine," have a theme of generosity and selfishness.
This is the second episode where Mr. Krabs brings SpongeBob to an award ceremony. The first was "Shell of a Man."
The cheapskate handshake:

Two cheapskates say "penny pinching, penny pinching" while sticking their claws in the air and pinching.
They pinch each other's butts.
They say "cheap, cheap, cheap" like chickens and peck on the ground.

This episode, along with its sister episode, was scheduled to premiere on May 31, 2010, but got delayed to September 11, 2010, instead. 
Of the three nominees, the only one which showed cheapness was Dwight tying toilet paper back onto the roll. Mr. Krabs charging customers $1 per step and Beuford ringing up a bag of potato chips three times (because they have "three times the flavor") could not really be considered displays of cheapness; technically, they were cheating customers out of money, not being cheap.
The crabs sneak toiletries and towels from the hotel, just like some people in real life do.
Dwight T. Wad tied old toilet paper to the roll, but it was an ineffective method: someone could rip them off, flush them, and use clean pieces off the roll instead.
Mr. Krabs couldn't spend one cent on a stamp if the envelope was heavy. The heavier a piece of mail is, the more it will cost to send it.
In the Indonesian dub, the scene where Mr. Krabs calls SpongeBob to his office with his megaphone at the beginning and chops SpongeBob's hand at the end of the episode were cut, most likely because organ/body damaging reasons because of SpongeBob's eyeball popped out at the beginning.
In the Croatian dub, this episode's title is "Rak Škrtica" or "Cheapy Krab."
To date, this is the last episode to play "Witty Fellow" APM track.
Errors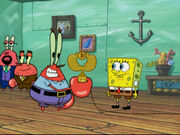 The judge puts the TV and the TV stand on the stage. However, after three videos of the nominees are shown, they are nowhere to be seen.
When Mr. Krabs snaps SpongeBob's hand off in the end of the episode, his feet are blue, but as soon as he moves, they are red again.
SpongeBob's teeth turn yellow when the trophy is yanked from Mr. Krabs' hand.
Video
References