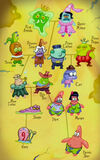 King Amoeba is Princess Tulsa, Prince Callous, and Prince Dingus' father and the husband of Queen Mildew. He is Patrick and Gary's great-great-grandfather. He appeared in the Episode: Rule of Dumb on a map. He was the King of Bikini Bottom. He was a part of Gary's and Patrick's family.
Trivia
His species is an Amoeba, only seen in the Season 5 episode Goo Goo Gas.
He hasn't had an appearance in any episode, since he is an ancestor.