Object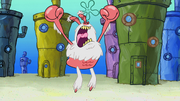 Ketchup is a condiment that is used frequently in SpongeBob SquarePants, beginning with "Help Wanted."
Role in series
This item is mainly used by SpongeBob when he makes Krabby Patties. Ketchup varies in different shapes and sizes, as seen in "Krusty Krab Training Video" and "Little Yellow Book," the former in where it is shown that the Krusty Krab carries ketchup packets branded as Krusty Ketchup.
SpongeBob uses ketchup for his sundae and squirts the entire bottle into the bowl. The ketchup bottle is also unusually big in this episode.
Plankton hides inside of a ketchup bottle in an attempt to obtain Old Man Jenkins' Krabby Patty once squirted on it. However, due to Jenkins' poor eyesight, he squirts the bottle in the wrong direction, causing Plankton to go flying across the Krusty Krab.
To prove himself tough enough to enter The Salty Spitoon, SpongeBob is handed a bottle of ketchup by Reg to exhibit his strength, only for him to fail this simple task and be denied.
SpongeBob adds a heart made out of ketchup to a Krabby Patty.
Squidward makes a Krabby Patty with a ketchup smiley face and dimples.
While trying to avoid getting dirty on his way to Mrs. Puff's Boating School, SpongeBob is squirted ketchup on by a group of teenagers and an old man attempting to squirt it on his hot dog.
During a flashback, a Viking is seen pouring ketchup on a hot dog.
Pearl wants Mr. Krabs to order a pizza for her slumber party, but since Mr. Krabs is cheap, he uses a plate of crackers and ketchup packets as a substitute, much to Pearl's disappointment.
SpongeBob collects ketchup packets as one of his sentimental items.
An artist is seen squirting ketchup and mustard on a plate to create the Fiasco.
"Little Yellow Book"
Squidward has SpongeBob deliver a bag of ketchup to the dumpster in the back of the Krusty Krab, which Patrick is inside. Patrick then takes the ketchup out and remarks that it would be a good addition to an old diaper he found.
SpongeBob spills some ketchup on the floor and a customer pours some on the sea urchin and then proceeds to bite into it.
Ketchup is mentioned when SpongeBob says, "I'm done watering down the ketchup."
Mr. Krabs tells SpongeBob to water up the Krusty Krab's ketchup, but due to the excessive amount of water inside the ketchup, SpongeBob declares that job to be "watering up the ketchup" by that point.
A brand of ketchup called Kelp Ketchup appears in the kitchen. Spongy Spongy stabs a bottle of it with SpongeBob's spatula and gets some on his face as if he is making his mark.
Ketchup and mustard exhaust pipes are seen as part of the Patty Wagon.
Role in video games
Ketchup, along with mustard, appears in Battle for Bikini Bottom at a condiment bar in the Krusty Krab. When SpongeBob is granted access to the restaurant, he is able to destroy various property of it, including the two condiments.
Ketchup appears in SpongeBob Moves In! as a cooking material made in the Krusty Krab. It requires two tomatoes to be made. It takes four seconds to make, gives 1 happiness when collected, and gives 8 coins when used.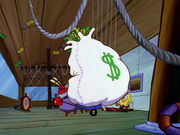 I can turn into a skyscraper!

This section is too short. You can help the Encyclopedia SpongeBobia by

expanding

it.
Trivia
See also
External links
Community content is available under
CC-BY-SA
unless otherwise noted.