Keanu Charles Reeves (born September 2, 1964, age 56), better known as just Keanu Reeves, is a Canadian actor and musician. He portrays Sage in The SpongeBob Movie: Sponge on the Run.
He began his acting career with starring roles in several blockbuster films, including comedies like the Bill & Ted franchise, action thrillers like Point Break, Speed, the John Wick franchise, The Devil's Advocate, the supernatural action horror film Constantine and the science fiction/action film series The Matrix.
He was also featured in the video game Cyberpunk 2077.[1]
Roles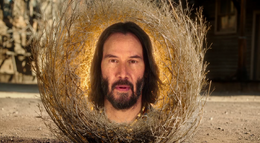 Biography
Wikipedia may have more biographical information on this person. Please see Wikipedia's article here.
Keanu Charles Reeves was born in Beirut, Lebanon, on September 2, 1964, the son of Patricia (née Taylor), a costume designer and performer, and Samuel Nowlin Reeves Jr. His mother is English, originating from Essex. His father is from Hawaii, and is of Native Hawaiian, Chinese, English, Irish and Portuguese descent. His grandmother is Chinese Hawaiian. His mother was working in Beirut when she met his father, who abandoned his wife and family when Reeves was three years old. Reeves last met his father on the island of Kauai when he was 13. Reeves attended Avondale Secondary Alternative School, which allowed him to get an education while working as an actor. He dropped out of high school when he was 17.
External links
Community content is available under
CC-BY-SA
unless otherwise noted.