Person
Kazimieras Gediminus "Kaz" Prapuolenis (born July 31, 1959; age 62) is an American cartoonist and illustrator, and one of the most renowned living "underground" cartoonists of all time. He is a SpongeBob SquarePants crew member, who had worked on season 3 and seasons 9 onwards. He returned to SpongeBob as an animation writer in the second half of the ninth season.
Biography
In the 1980s, after attending New York City's School of the Visual Arts, he was a frequent contributor to the comic anthologies RAW and Weirdo. Since 1992, he has drawn Underworld, an adult-themed syndicated comic strip that appears in many alternative weeklies.
Kaz's comics and drawings have appeared in many alternative and mainstream publications including Details, The New Yorker, Nickelodeon Magazine, The Village Voice, East Village Eye, Swank, RAW, Eclipse, N.Y. Rocker, New York Press, Screw and Bridal Guide. He has continued to contribute to comics anthologies such as Zero Zero.
Kaz has also worked on several animated television shows including SpongeBob SquarePants, Camp Lazlo, and Phineas and Ferb. He was co-executive producer of Get Blake!.
He, along with Tom Stern, are in charge and are developing and writing the script for the next movie: Saving Bikini Bottom.

Trivia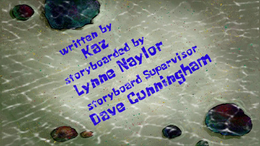 "SpongeBob LongPants" is the only episode in which he has been credited with his surname, Kaz Prapuolenis.

However, this only happens in the opening credits on USA airings, digital versions, and streaming releases. His name is shortened to Kaz on the DVD releases and international non-US airings (except for Central and Eastern Europe).

Shortly before production on the fourth season began in 2004, Kaz was invited by his colleague and the series' newly appointed showrunner, Paul Tibbitt, to work on an episode for the fourth season but he was never contacted by Tibbitt again and joined Camp Lazlo after leaving SpongeBob.[1]
He returned to working on the show in 2015 along with the creator, Stephen Hillenburg, after 11 years of being absent. He also took Casey Alexander's place due to Casey retiring from SpongeBob because he wanted to work on the Cartoon Network series Uncle Grandpa.[2]
He played the Giant man in "SpongeBob in RandomLand."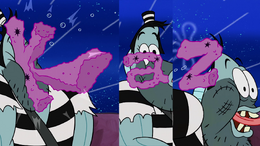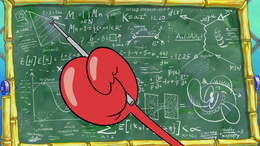 In "The Getaway," when SpongeBob drives through a coral field, Sticky Fins gets hit by three corals that spell "Kaz," a reference to the crew member that wrote the episode.

Vincent Waller said in a Twitter reply that this reference was done by either the storyboard artist or the supervising director of this episode, paying a compliment to the writer.
A similar thing also happened in "SpongeBob in RandomLand," where Kaz' name is seen amongst the equations on Krabs' blackboard. Kaz wrote that episode as well.
Gallery
External links
References