Person
Kazimieras Gediminus "Kaz" Prapuolenis
(born
July 31
,
1959
; age 60) is an American cartoonist and illustrator, and one of the most renowned living "underground" cartoonists in the world. He is a
SpongeBob SquarePants
crew member, who had worked on season 3 and seasons 9-12 and has also worked on several other animated television shows, such as
Camp Lazlo
and
Phineas and Ferb
. He returned to
SpongeBob
as an animation writer in
season 9
.
Trivia
"SpongeBob LongPants" is the only episode in which he has been credited with his surname.

However, this only happens on the TV version, as the DVD version just lists him as "Kaz."

He returned to working on the show in 2015 along with the creator, Stephen Hillenburg after 11 years of being absent. He also took Casey Alexander's place due to Casey retiring from SpongeBob.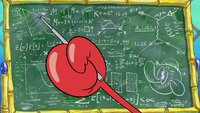 In "The Getaway," when SpongeBob drives through a coral field, Stickyfins gets hit by corals that spell "Kaz," a reference to the crew member that wrote the episode.

Vincent Waller said in a Twitter reply that this reference was done by either the storyboard artist or the supervising director of this episode, paying a compliment to the writer.
A similar thing later happened in "SpongeBob in RandomLand," where Kaz' name is seen amongst the equations on Krabs' blackboard. Kaz wrote that episode as well.

He stated that his favorite episode is "Chocolate with Nuts."
According to him, "Paul Tibbitt" contacted him to work on some season four episodes, and said he would call back. However he never received a follow-up call.
Community content is available under
CC-BY-SA
unless otherwise noted.