It's a SpongeBob Christmas! is a SpongeBob SquarePants DVD release of the episode of the same name. A special Target edition contains a bonus disc from the Target Corporation, named "It's a Nicktoons Christmas!"
Episodes
Digital
Serbian release
Special features
Specials
Animatics
Music videos
Other
Trivia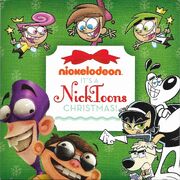 Copies of the DVD sold at Target also included an exclusive bonus disc titled It's a NickToons Christmas!, which contained the following Nicktoon Christmas episodes:
The DVD was later re-released on Blu-ray format on October 15, 2013 in the United States.
This DVD originally only had "It's a SpongeBob Christmas!" Episodes from season 7 were added on the Spanish release of this DVD.
The DVD is known as "It's a SpongeBob SquarePants Christmas!" in the UK and other international countries.
This is the first DVD to include an episode that was produced in 1080p.
The digital release only included episodes produced in 1080p.
This is the second Christmas-themed SpongeBob DVD. The first is Christmas.
This is the second SpongeBob DVD to have a PG rating from the BBFC due to mild language. The first being Karate Island.
This and The Legend of Boo-Kini Bottom DVD are the only non-movie SpongeBob DVDs that only contain one episode.

Likewise, this DVD is tied with The Legend of Boo-Kini Bottom DVD as the shortest SpongeBob DVD.

On September 11, 2018, this DVD and The Legend of Boo-Kini Bottom DVD were released together in a bundle called the SpongeBob SquarePants Holiday Collection.
Alternate covers
International regions
Community content is available under
CC-BY-SA
unless otherwise noted.