It's a SpongeBob Christmas! is a SpongeBob SquarePants DVD release of the episode of the same name. A special Target edition contains a bonus disc from the Target Corporation, named "It's a Nicktoons Christmas!"
Cover
SpongeBob is holding Christmas lights while Plankton is carrying a dirty soccer ball. In the background, Patrick is seen with Christmas lights as well on SpongeBob's house and there are snowflakes. The title is transcribed in white and red text.
Episodes
Special features
Specials
Animatics
Music videos
Other
Trivia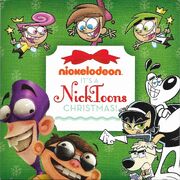 Alternate covers
International regions
Community content is available under
CC-BY-SA
unless otherwise noted.