Character
Incidental 97[1] is a background character who first appears in the episode "Valentine's Day." His incidental type is currently unknown.
Description
He is a dark teal fish with a light teal underside. He also has three dark spots above his mouth, darker teal lips, and a thin dorsal fin. He wears a lavender collared shirt.
Role in series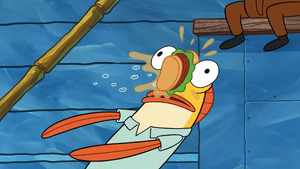 Incidental 97 has made a few appearances throughout the series. He has made a few appearances in the first two seasons and has been retired from the series for about 15 years ever since his appearance in The SpongeBob SquarePants Movie. But he later makes a comeback in the season 12 episode "Dirty Bubble Returns" and continues to make more appearances in the series. He is usually seen with Incidental 96 in a few episodes and has yet to have his own speaking role. He was firstly designed to be a patron at the Valentine's Day Carnival.
Major roles
"Valentine's Day"
He is part of the crowd that got cornered at the pier of the Valentine's Day Carnival by Patrick's tantrum.
He is seen at the Poseidome Colosseum cheering beside Incidental 42 twice in the episode.
In the original storyboard, SpongeBob introduced Squidward to him while he was walking down the road in his business outfit. In the final episode, he was replaced with Incidental 114.
He, Incidental 96, and Incidental 103 watch as the Dirty Bubble cleans the exterior of their dirty house. They all cheer until it collapses, making them sad.
He appears at the Claire St. Claire and the Low Tides concert where SpongeBob accidentally shoots Krabby Patties on his and Incidental 96's faces.
He appears in Squidward's nightmare at the beginning of the episode at the Krusty Krab complaining alongside Incidental 160 and Lady Upturn.
He is seen chewing up the carpet at the Dr. Krabton's headquarters during the riot.
He is seen standing in an open space with other Bikini Bottom citizens where SpongeBob and Squidward attempt to pull their food truck up to them until a taco truck arrives and pushes them away.
He is seen as one of the fish on the roller coaster at Glove World! that gets eaten by Q.T.-π and later appears on the roller coaster again when everyone escapes from Q.T.-π.
References