Line 7:
Line 7:
 

|gender = Male

 

|gender = Male

 

|species = Fish

 

|species = Fish

−

|image = I3 stock art.png

+

|image = .png

 

|color = Light blue and dark green

 

|color = Light blue and dark green

 

|eye-color = Dark yellow with black pupils

 

|eye-color = Dark yellow with black pupils
---
Revision as of 04:55, 22 February 2020
Character
Incidental 3[1] is a quiet blue fish with a red T-shirt who usually makes background appearances. He usually rarely talks. He first appears in the episode "Reef Blower".
Description
He is a light blue fish with dark green fins and has dark yellow eyes. He wears a red shirt.
History
"Reef Blower
He first appears in this episode. He is shown driving past a four-way road on his boat.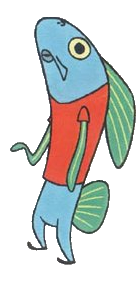 References
^ Incidental Model Sheet 1