Character

Incidental 10[3] is a fish who made his first appearance in the episode "Ripped Pants" while his production order debut was in "Squeaky Boots." He is classified as a "inbetween" type incidental.
Description
He is a mustard-yellow fish with dark orange fins, dark orange lips, and dark orange legs. He wears a black-gray shirt and also has thin black feet.
Role in series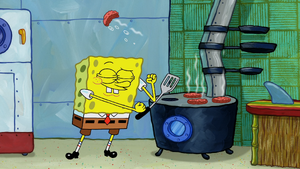 Incidental 10 has made a very few notable and speaking roles throughout the series. He mainly appears deep in crowd with other incidentals or as a customer at the Krusty Krab.
Major roles
He tells Mr. Krabs that everyone wants a refund for their pretty patties.
He appears at the Komedy Krab demanding SpongeBob to tell more squirrel jokes.
He appears as a sailor in Mr. Krabs' navy crew.
He comes to SpongeBob's house with Incidental 87, Incidental 37A, and the unnamed octopus, asking SpongeBob for Krabby Patties.
Trivia
He is heard with a feminine voice in "Patty Hype."
References
^

Incidental Model Sheet 1