"
This one's really bad, it made my eyeballs throw up!
"
 
"I Wrote This," also known as "Twinkle, Twinkle, Patrick Star," is a poem and song written by Luke Brookshier and Tom King, and by Patrick Star in-universe. It was performed by Eban Schletter and featured in the episode "Sing a Song of Patrick."
Role in episode
Patrick writes this song and submits it to Bigshot Records for $100, to make it into a song. The singers die after they finish the song. SpongeBob and Patrick decide to put the record on a radio signal antenna so the whole town can listen to it.
Everyone, except Old Man Walker, SpongeBob, Patrick, and a few other people, find the song horrible. As a result, the citizens form an angry mob with pitchforks and torches and run to the radio signal antenna.
Lyrics
Unnamed band: Twinkle, twinkle, Patrick Star!
I made myself a sandwich,
My mommy named it Fred.
It tastes like beans and bacon
And smells like it's been dead.
Writing stuff is hard so I use a pointy pencil,
Pointy pointy pointy, pointy pointy point!
PU, what's that horrible smell?!
Drum solo!
[drum solo]
I have a head, it ends in a point,
Pointy pointy pointy, pointy pointy point.
This song is over, except for this line,
You win this round, broccoli!
Trivia
The verse about the sandwich is the only part of the song that rhymes.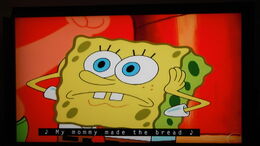 During the song lyric "My mommy named it Fred," the closed-captions read "My mommy made the bread."
This is Patrick's first written song in the series.
Video
Community content is available under
CC-BY-SA
unless otherwise noted.