Line 32:
Line 32:
 

*The pizza and the knight that fell onto a customer's table may be a reference to the Round Table Pizza.

 

*The pizza and the knight that fell onto a customer's table may be a reference to the Round Table Pizza.

 

*The episode's title card is similar to the popular t-shirt slogan "I♥NY".

 

*The episode's title card is similar to the popular t-shirt slogan "I♥NY".

−

*The hit song Surfin Bird is heard.

+

*The hit song Surfin Bird is heard.

 
 
 

==Trivia==

 

==Trivia==
---
Revision as of 15:29, 10 June 2012
Template:Infobox episode Time/Date: None
Characters Present:
Plot
One morning, Squidward is walking to work with SpongeBob, who is dancing. Squidward is annoyed by the dancing. When Squidward asks SpongeBob, "Where's the music?" SpongeBob replies, "in my mind!" SpongeBob plays some music from his head, the music considered to be from title screens. When they are at work, SpongeBob does dance routines while he is giving people their orders. He happens to be giving an order to a dance searcher and she thinks he has talent, so she gives SpongeBob a card for the dance auditions. Squidward hears and he gets jealous that SpongeBob was invited and he wasn't, so he has an evil plan, to make SpongeBob collapse so he can take SpongeBob's audition. To Squidward's annoyance, SpongeBob seems to dance better than he does. So Squidward has SpongeBob perform a series of moves that SpongeBob can't perform correctly. SpongeBob continues through the night leaving him feeling exhausted the next morning. After hours of practice and yelling from Squidward, SpongeBob finally performs the moves right. However, Squidward isn't convinced and has him do it again. When SpongeBob attempts the move again this time he finally passes out from exhaustion and Squidward heads to the audition. He passes, and he ends up with the prize: being in Squilliam Fancyson's play. Squidward is upset that he is being taught by his rival. Squilliam does the exact same thing that Squidward did to SpongeBob and does his dance from the beginning. Meanwhile, SpongeBob and Patrick are in the stands, watching and eating snacks and watching Squidward perform.
Cultural references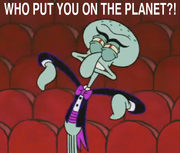 Trivia
Errors
Full Episode
Watch the full episode at the official site by clicking here.
APM Music Identification
Gallery
Community content is available under
CC-BY-SA
unless otherwise noted.