"I ♥ Dancing" is a SpongeBob SquarePants episode from season 7. In this episode, an envious Squidward tries to sabotage SpongeBob's dancing audition.
Characters
Synopsis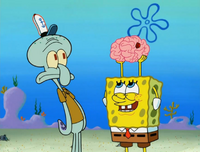 The episode starts in one morning, Squidward is walking to work with SpongeBob, who is dancing. Squidward is annoyed by the dancing. When Squidward asks SpongeBob where the music is, he states that it is in his mind and plays some music from his head, the music considered to be from title screens. When they are at work, SpongeBob does dance routines while he is giving people their orders. He happens to be giving an order to a talent scout, and she thinks he has talent, so she gives SpongeBob a card for the dance auditions. Squidward hears this, and he gets envious that SpongeBob was invited and he was not, so he hatches an evil plan to make SpongeBob work so hard, so that he will collapse from exhaustion then he can take SpongeBob's audition. To Squidward's annoyance, SpongeBob seems to dance better than he does. Frustrated, Squidward has SpongeBob perform a series of moves that he cannot perform correctly, and he tells him to keep practicing and not stop no matter what.
SpongeBob continues practicing through the night while Squidward rests, leaving him feeling exhausted the next morning. But Squidward, determined to make SpongeBob collapse, only pushes harder. After many hours of practice and yelling from Squidward, SpongeBob, at the end of his rope, finally performs the moves right. However, Squidward forces him to do it again. SpongeBob attempts the move again, but he is so tired that he finally stops and falls asleep, collapsing to the ground in the process, and cannot wake up in time for the audition.
At the audition, the talent agent disqualifies two twin fish for being "too cute". She then begins calling for SpongeBob, but because he's not there on time, she disqualifies him as well. Squidward then shows up in SpongeBob's place and dances very awfully for the audition lady, who is shocked at how great she sees his dancing. Squidward ends up winning the audition and the prize of the audition; dancing in a production led by his own arch-rival Squilliam Fancyson and Squidward is horrified that his nemesis is in charge of him now. To make things worse, Squilliam clearly plans to overwork him, just as Squidward did to SpongeBob.
At the end of the episode, while an appalled Squidward gets overworked by Squilliam, SpongeBob, having recovered from his exhaustion, watches from the audience with Patrick and popcorn and smugly says, "I was up for that part."
Production
Music
( ‣ ) Production music

( • ) Original music

( ◦ ) SpongeBob music

 ‣ Old Hilo March - Kapono Beamer [title card]
 • Goofy Conversation Continued - Nicolas Carr, Barry Anthony ["The coast looks clear."]
 • 12th Street Rag with Bass - Nicolas Carr, Sage Guyton, Jeremy Wakefield ["Hi, Squidward!"]
 • Surfing Sponge with Vocal - Nicolas Carr, Barry Anthony [brain music #1]
 • Music in the Brain - Nicolas Carr [radio fx]
 • Old Fortyniner - Nicolas Carr [brain music #2]
 • Chumbucket Rhumba - Sage Guyton, Jeremy Wakefield [brain music #3]
 • Salty Krab Jig - Michael Bolger, Nicolas Carr [SpongeBob dancing while making Krabby Patties]
 • Great Idea Patrick - Nicolas Carr ["Really? You like my dancing?"]
 ‣ Gorgeous Girl - Kurt Schick [talent agent invites SpongeBob to a dance audition]
 • Steel Licks 2 - Jeremy Wakefield ["That's right! So I gotta practice as much as I can before tomorrow. Got a dance audition."]
 • Comedic Conversation - Nicolas Carr, Steve Marston [Squidward gets an idea]
 • Lap Steel - Nicolas Carr [transition to next scene]
 • Noodly Shenanigans - Nicolas Carr, Barry Anthony [Squidward tells SpongeBob to run to the top of Oyster Peak]
 • Record Groove Noise w/ Needle Drop - Nicolas Carr [Squidward starts his record]
 ‣ The Nutcracker: Waltz of the Flowers - Peter Tchaikovsky [ribbon dancing]
 • Steel Licks 7 - Jeremy Wakefield [Squidward stomping on the ribbon]
 ‣ Gala Premiere - Laurie Johnson [Squidward's cane routine]
 ‣ Vaudeville Show - Larry Hochman [SpongeBob's cane routine]
 • Record Scratches - Nicolas Carr ["Enough!"]
 ‣ Comic Walk - Sidney Torch ["Listen, you pea-brain, we are gonna keep working on your routine until you get it right!"]
 ‣ Blue Danube Waltz - Johann Strauss II (credited to Johann Strauss I) ["And a-one... and a-two... and... aha!" / "And a-one... and a-two... and...]
 • Painful Hits - Nicolas Carr [SpongeBob falls]
 ‣ Blue Danube Waltz - Johann Strauss II (Credited to Johann Strauss I) ["And a-one... and a-two... and...]
 • Painful Hits - Nicolas Carr [SpongeBob falls again]
 ‣ Blue Danube Waltz - Johann Strauss I ["Right, Squidward, and a-one... and a-two... and...]
 • Painful Hits - Nicolas Carr [SpongeBob falls once more]
 ‣ Hawaiian Link (B) - Richard Myhill [the next morning]
 • Steel Licks 8 - Jeremy Wakefield [Squidward goes to check on SpongeBob's progress]
 ‣ Blue Danube Waltz - Johann Strauss I [SpongeBob still practicing]
 • Steel Licks 3 - Jeremy Wakefield ["Oh, come on now, after all I've done for you?"]
 ‣ The Nutcracker: Russian Dance - Peter Tchaikovsky [montage of Squidward overworking SpongeBob]
 ‣ Blue Danube Waltz - Johann Strauss I ["And a-one... and a-two..."]
 • Steel Sting - Jeremy Wakefield ["I'm still not convinced."]
 ‣ Blue Danube Waltz - Johann Strauss I ["And a-one... and a-two..."]
 • Solo Steel 4 - Jeremy Wakefield [SpongeBob falls asleep]
 • Steel Licks 1 - Jeremy Wakefield [Squidward laughs]
 • Bubbly Wubbly Huggly - Nicolas Carr [dance auditions]
 ‣ Tympup A - Sammy Burdson, John Charles Fiddy ["You're out."]
 • Vibe Q Sting - Nicolas Carr ["SpongeBob?"]
 • Lap Steel - Nicolas Carr [Squidward appears]
 ‣ Sylvia: Pizzicati - Leo Delibes [Squidward auditions]
 ‣ Starlight Revue - Alan Braden ["Congratulations! You got the gig."]
 • Nude Sting - Nicolas Carr [Squidward stammering]
 • Chumbucket Rhumba - Sage Guyton, Jeremy Wakefield [Squidward dancing]
 • Slap in the Face - Nicolas Carr [sfx as Squilliam slaps Squidward in the face]
 • Chumbucket Rhumba - Sage Guyton, Jeremy Wakefield [Ending]

Release
Trivia
General
Cultural references
Errors
Video
References