Character
Harold[1] SquarePants is SpongeBob's father and Margaret's husband. Unlike their son, who is a squared-off tube sea sponge, Harold and his wife are designed as round sea sponges. Although both SpongeBob and his parents are modeled after real-life species of sea sponges, their markedly different appearances have not been explained.
The decision to have SpongeBob's parents resemble round sea sponges was a reference to SpongeBob's original design.
Description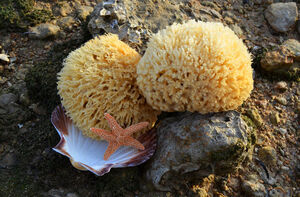 Harold has a gray mustache and wears a golden glasses with blue lenses. He is light brown with dark brown holes. He wears a white shirt, brown pants, a black and yellow belt, and a tall white hat with a brown stripe. His head, along with his wife's, is much rounder in appearance than SpongeBob's, making them look more like sea sponges, unlike SpongeBob, who is a squared-off tube sponge.
Personality
Harold usually seems to be a happy, cheerful fellow who likes to take care of SpongeBob with his wife, Margaret. He can also be a bit protective of his wife, as seen in "New Digs." He does, though, seem to like to spend time by himself, as seen in "BlackJack."
Biography
He was born as one of the five or six children of Grandma and Grandpa SquarePants. His known siblings include Captain Blue SquarePants and Sherm SquarePants.
He married Margaret BubbleBottom when he was an adult. They have one known child, SpongeBob SquarePants.
According to SpongeBob's thought in the episode "BlackJack," Margaret says "...it's so nice to spend quality time with you in the office all hours of the day," implying that he has or had, at one point, an office job.
He currently only lives with Margaret since SpongeBob moved out.
Trivia
See also
References