Character
Harold[3][4] is a Bikini Bottomite and one of the most common background characters in the series. 
Description
Like other background characters, Harold's appearance is not consistent. He is a cyan dogfish with a dark blue dorsal fin. On the sides of his head, there are light reddish-purple spots.
He has a light salmon lips and black eyes. Most of the time, he wears a white T-shirt and a red speedo with white stripes on the sides, but occasionally he is not wearing anything.
Biography
Harold has a cynical and ill-tempered personality. Despite this, he has a soft side, as seen in "Gary in Love" when he is working at the pet shop.
His name is revealed to be Harold by Nancy Suzy Fish in the episode "Roller Cowards" during the Glove World! commercial. However in "Porous Pockets," Bert AshFish calls him "Bill." His name is confirmed in "Gary in Love" as "Harold."
He has often been voiced by both Doug Lawrence and Dee Bradley Baker. Lawrence's portrayal gives him a more common American accent, while Baker's gives him an English one.
Trivia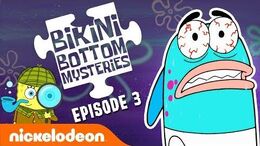 On November 20, 2018, episode 3 of Bikini Bottom Mysteries was uploaded on YouTube and that episode questioned on if Harold is really "a ticking time bomb" due to his antagonistic, hostile, and ill-tempered nature.
The episode "The Curse of Bikini Bottom" reveals that he has serene phobia, which is the fear of mermaids.
References
Community content is available under
CC-BY-SA
unless otherwise noted.